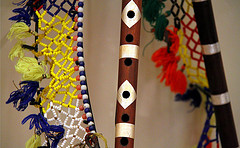 Young children are naturally musical.  It's like they live and breathe music.   My children hop and skip down aisles and sing at the top of their lungs in grocery stores. Yes, I have to admit that sometimes it can be a bit embarrassing, but most times I receive warm smiles from other shoppers. I think most people see children freely expressing themselves musically and secretly wish they could be so free themselves.
The sad thing, though, is that many schools today have taken music out of children's lives. Or if they do have a music program, it's usually one or two times a week for a half hour and highly structured. There's not a lot of time for originality and experimentation.
There are so many wonderful, creative resources available for listening to and playing with music, besides the usual music lessons and concerts.
 Here are 10 Unusual Ways to Explore Music.
1) Guitar Lesson World  Do you have a child who wants to learn to play guitar, but you can't afford the lessons right now?  Then check out this site.  You'll find dozens of free lessons for both beginning and experienced guitar players.  This site is geared towards older children who can read.
2) Creating Music.com  This is an online music site for younger children. What I like is the unique way kids can draw lines and shapes and change their writing and artwork into music. You can also play other musical games and puzzles.
3) YouTube  You can listen to thousands of music clips, documentaries about musician's lives, and even watch free beginning lessons on playing dozens of musical instruments. Don't pass up this valuable resource!
4) The Composers' Specials DVD Series  My kids have loved watching this series.  Each DVD features a fictional child who meets a famous composer. Through the child's eyes, you come to know the composer, learn about his life and work, and listen to some of his most famous compositions. The 6 featured composers are: Bizet, Listz, Bach, Strauss, Handel, & Rossini. Most likely you can order these DVD's from your local library or through an interlibrary loan.
5) Carnival of the Animals: Classical Music for Children  Composer Camille Saint-Saëns wrote a musical piece 150 years ago aimed at children. Kids can look at pictures of animals in this story book as they listen to the accompanying CD.  If you haven't already listened to it already, please check out Sergei Prokofiev's Peter and the Wolf.  My kids loved to listen to the story and music even without the accompanying book.
6) CD Baby  Did you know your 13 year old (or older child) can make money on his original compostions?  Has your young musician written and recorded music and would like to sell it?  CD Baby is the largest online music distribution company for independent music. They provide worldwide distribution of physical CDs, download sales on CD Baby's site, digitally distribute to their partner companies like iTunes, eMusic and Amazon MP3.
7) Rent different instruments from a music store. Most people consider renting a musical instrument when their child starts to take lessons. Why not rent a different musical instrument each month just for fun?  With very small children, you'll want to keep a close eye on them to make sure they're taking care of the instrument properly, but renting different instruments is a fun way to explore and experiment with a variety of instruments without committing to buying anything.
8) Animal Playground: Animal Tracks from Around the World.  This CD is a collection of excellent songs featuring animal themes and folklore from around the globe. You'll hear songs from North America, the Netherlands, Italy, Brazil, Australia, the Caribbean, France, South Africa and more.
9) Encore  A really fun game for the entire family that not only combines singing, but also language skills and teamwork. Here's how it works: one team turns over a card that has five words on it. Then each team has to sing as least six lines of a song that contains one of those five words.
10)Classics for Kids  Listen to a weekly radio show that features a different composer every month. Listen to excerpts from the composer and learn more about his life. There's also a podcast you can subscribe to hear archives from past episodes.
Photo Credit: Denise Caron
I hoped you've enjoyed this series about unusual ways to explore 10 traditional subjects. I'd love to hear from you. Please leave me a comment below or e-mail me at chris@christinapilkington.com.   Sign up for my mailing list at the upper right hand corner of this page for updates whenever there's a new post.
What unusual ways have you explored music?
10 Unusual Ways to Explore Literature
10 Unusual Ways to Explore Art
10 Unusual Ways to Explore Writing
10 Unusual Ways to Explore Math
10 Unusual Ways to Explore Science
10 Unusual Ways to Explore History
10 Unusual Ways to Explore Geography
Share on Facebook