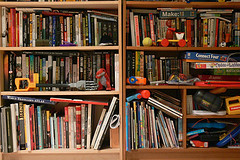 It seems like I hardly came up for air this month.
My babies turned six this month! Just knowing they will be seven next year leaves me feeling so blessed that I can have so much time with them doing the things we love.
My dad also had a heart attack. He's fine as of now (4 blocked arteries – they put in stents). It hit me that my dad is getting older, and that I'm getting older, too.
I think it's helping me to paying attention to those wonderful, seemingly inconsequential moments that come up each day.
I hope that by sharing my family's  resources and activities each month you will gain some ideas and insights you can use with your own family. (There are no affiliate links in this post.)
Books
On the Banks of Plum Creek (A Little House book)
Twenty-one Elephants and Still Standing
All wet! All wet!
Blizzard of the Blue Moon (A Magic Treehouse book)
Kids During the Great Depression
The Great Depression: an interactive history adventure
Sky Boys: See How the Built the Empire State Building
Liberty Rising: The Story of the Statue of Liberty
The Man Who Made Parks:  The Story of Parkbuilder Frederick Law Olmsted – It was so much fun to read this book because it got us excited for our trip this summer where we'll see three parks that Olmsted designed: Mount Royal in Quebec, Central Park in New York City, and some of the parks in the Emerald Necklace in Boston. Plus, the village of Riverside, which is just a five minute drive from our home, was also designed my Olmsted, too.
The Old Pirate of Central Park
ABC NYC: a book about seeing New York City
You Can't Take a Balloon into the Metropolitan Museum
Dragon of the Red Dawn (A Magic Treehouse Book)
Animal Tales: A Little Golden Book Collection
Animals in Hot Places
Charlie Brown's Encyclopedia – Featuring Your Body
Bob Books – Set 1- Beginning Readers (Books 1-6)
The Day Jimmy's Boa Ate the Wash
The Stinky Cheese Man and Other Fairly Stupid Fairy Tales
Mother Mother I Feel Sick Send for the Doctor Quick Quick Quick
Lego City: Darth Maul's Mission
Curious George Learns to Count from 1 to 100
Miss Flora McFlimsey's May Day
National Geographic Encyclopedia of Animals – Alexa just got this for her birthday. If your kids like animals, they'll love this book! She props the book up next to the computer and types in the animal name into Wikipedia.
                                                                                                  TV/DVDS
Little House on the Prairie Season 1
Star Wars Clone Wars Season 1 Disk 3 (animated series)
Scooby Doo Where are You? Season 2 episodes
Louis Pasteur – NEST Family Entertainment
Lego Club DVD – Jared loves being a member of the Lego Club. It's free to sign up. You get a little magazine that comes to the house about once a month. There are stories, lego challenges, and other games. They just sent out their first free DVD that has some Lego cartoons and also has several shows that show how they create different Lego sets.
The First Three Transformer Movies
Turtle: The Incredible Journey – A wonderful documentary of the life of a sea turtle. (Watch instantly on Netflix). Thanks Karen!
The Statue of Liberty – Worldwide Academic Programs
Episodes from Jackie Chan Adventures
Episodes from Batman the Brave and the Bold: Season 2
Episodes from Oscar's Oasis – This little wordless cartoon reminds me of the old Roadrunner cartoons.
Episodes of Wild Kratts
Japan: Memoirs of a Secret Empire- Episode 1: The Way of the Samurai (Watch Instantly on Netflix)
Some episodes of Where in the World is Carmen Sandiego?  - If your kids like playing the bored or computer game, they will love this 40 episode DVD collection.
                                                                                Games/Puzzles/Kits
Learning Resource's Skeleton Floor Puzzle
Where in the World is Carmen Sandiego: Junior Detective Edition – board game
The Seven Continents of the World Jigsaw Book
Science on a Garden Adventure Kit by The Young Scientists Club – So far we planted a small windowsill garden of spinach, marigolds, zinnias, and wheat. We also read about some bugs that like to live in garden and animals that have homes underground. We dissected a bean seed to see its "baby" plant inside, made a tiny terrarium, found out how the check the pH of the soil and water, and started to germinate a seed inside a straw.
Angry Birds Knock on Wood Game (Now this is a fun game!  It's great for kids who love to build and for eye-hand coordination)
Lego Heroica: Caverns of Nathuz
Rory's Story Cubes  After reading about a dozen different posts where people raved about these cubes, we finally ordered a set of our own. And I have to say that they ARE great! I'm really excited to bring them with us on our travels in a few months.
                                                                                Magazines
Lego Club Magazine
At Home Fun
Practiced Writing Words.  The kids asked on their own to practice writing words. I found this website at http://www.handwritingworksheets.com where you can make your own handwriting sheets. The kids each gave me a three word phrase, then I printed up the sheets, and they practiced writing the words.
Made Salt Clay Sculptures
We made a cuneiform birthday tablet by carving the date of the kids' birthday in cuneiform into dyed salt clay (We found this activity in the book the Secret Life of Math).
Dozens of hours of pretend play as usual J  Played restaurant with Grammy
Lots of Lego Creations
Outside Fun:  hide-and-seek, chase, flips on the swing set, gun fights with Steve, sandbox, dropping cap bombs from the back porch
Bike Rides – Learning to ride with no training wheels!
Egg Hunt in the Backyard with Steve's parents.  While they were over, the kids also helped decorate a cake.
Colored Easter Eggs
Out of the House Activities
Library visits & Swimming Lessons
Church
Monday Homeschool Co-op Days
-          Played the board game Sorry for the first time
-          Made up our own card games (adding cards together and subtracting them, doubling numbers)
-          Played with magnets
-          Mancala
-          Lots of pretend play games with friends
-          Face painting using the book Face Painting by Klutz Press
-          Created our own parachutes from plastic bags and talked about air pressure
Went to Friends day at a friend's preschool and then had an afternoon of lunch and playing afterwards.  It's funny because now I can say my kids technically went to preschool…. for a day!
Easter Dinner and egg hunt at my mom's house. We all went for a long walk together in the afternoon.                
Open gymnastics at Flying High
Chicago Children's Museum – Besides playing the regular exhibits, we also attended a Nature Drawings Workshop. There were plants, twigs and a clear container with crickets on each table. The kids were asked to draw one of those. We also did an art project where we painted on cloth to make butterfly wings. When we opened the cloth, we saw how the painting was symmetrical on each side.  
DuPage Children's Museum – They had a "insect zoo", which was really just six aquariums with different insects. The kids held a huge grasshopper, a cockroach, a millipede and a few more insects I can't remember right now. We also spent some time playing in the other exhibits, too.
Reptile Fest – The USA's largest educational reptile and amphibian festival is held at UIC in downtown Chicago every spring. We went when the kids were 2 ½, but we haven't been back since then. It really was an incredible experience. The kids held at least ten different types of snakes including boas and pythons. It was a little disconcerting for me to see a python wrapped around their necks, but I got over itJ. They also held a baby alligator.
Attended a theater performance of Little Red Riding Hood at the Beverly Arts Center
Went to Enchanted Castle to celebrate the kids' birthday & Birthday Party with extended family
Went to a cousin's birthday party
On the Computer, Kindle or I-Phone
Kindle:
Checkers – This is Jared's newest game obsession. He loves to play against the computer.
Angry Birds
Computer: www.pbskids.org, www.lego.com, www.pollypockets.com www.moneyville.com
http://storybird.com/  Another great suggestion from Karen at Homeschool Girls. The kids spent a long time working with each other picking out pictures for their book and thinking up the text.  They would tell me what they wanted each page to say, I'd write it down for them, and then they'd type it into the computer.
Animal Genius computer game – This was a birthday present, too. Really cute.
Photo Credit: gordsam
What have been some of your favorite activities or resources this April?
Share on Facebook