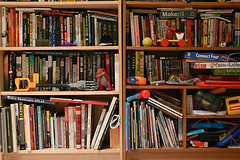 What a month!
Lots of new games, fun trips to thrift stores and a few places visited.
I'm gearing up for the next three months that will be heavy on travel, going places with friends and family, and taking advantage of all the festivals and other fun free programs that take place during the summer in our area.
Here's a list of all the resources we used and activities we did in May.
Books
Dreaming of America: An Ellis Island Story
Annushka's Voyage
When Jessie Came Across the Sea
Journey Around Boston from A to Z
The Mystery on the Freedom Trail: The Boston Marathon Mystery
Keep the Lights Burning, Abbie
Monday with a Mad Genius (A Magic Treehouse Book)
Leonardo da Vinci: A Nonfiction Companion to Monday with a Mad Genius
Batman: Dawn of the Dynamic Duo
Superman: the incredible shrinking hero!
Ecology: The Study of Ecosystems
What Plants Give US: The Gift of Life
What Plants Need: The Rabbit Who Knew
Green and Growing: A Book About Plants
Poisonous Plants
Tim & Sally's Vegetable Garden
Hand Rhymes – Alexa loved this great thrift store find book!
Magic School Bus: In Search of the Missing Bones
Why Don't You Get a Horse, Sam Adams?
Bob Books: Advancing Readers Set 2 – Jared is really starting to take off in his reading. I think it's really hit him lately that Alexa can read so well (she read her first chapter book at age 3). He's been pointing out signs and words whenever we're out and wanting to know what they say. He especially likes to know what words are on sewer covers (he wants so bad to take a tour of the underground sewer system). He pulls out this set and makes, yes makes me sit down with him and read every day. One day he sat and read for an hour straight- something very, very unusual for him.
Extreme Birds – One of Alexa's favorite books for us to cuddle on the couch and read together.
The Complete Book of the Horse
                                                                                TV/DVDS
Little House on the Prairie Season 2
Leonardo da Vinci (The Inventors of the World Series)
Leonardo da Vinci (Getting to Know the World's Greatest Artists series)
Home movies – We had a great talk one night telling the kids stories about when they were babies. The next morning the kids spent a few hours re-watching a lot of their baby DVDs.
Episodes of Where in the World is Carmen Sandiego?  
The first few episodes of Liberty's Kids – If you haven't yet watched this award-winning animated series about the American Revolution, you need to. It's really great! We've watched it through last year, but because we're going on a East Coast road trip and well be seeing so many Revolutionary War sites, we're watching it together again over the next month. You can watch the whole series on You Tube.
Episodes of Tin Tin
Episodes of The Magic Schoolbus
Episodes of Batman the Animated Series
Episodes of Jackie Chan Adventures
Episodes of Transformers: Generation 1
Coming to America: the Story of Immigration
The Great Depression and the New Deal
Rio
The Squeak Along (Alvin and the Chipmunks)
                                                                                Games/Puzzles/Kits
Lego Heroica: Caverns of Nathuz  - A Lego board game
Angry Birds Knock on Wood Game
Yahtzee – The Disney Princess Edition – Alexa came up with a great idea and activity to go with this game.
First they gather together a bunch of things they wanted to have in their store. Then we decided on how much each item was worth, and I wrote the price on masking tape and we placed it on the item. Then we played Yahtzee together. For each point they won, they received one dollar. Then I was the store owner, and they went through the store buying things with the money they had earned.
Make 'N Break – I was so thrilled to find this Ravensburger game at the thrift store. Ravensburger games are good quality games and usually pretty expensive.  Jared loves to build so this game was perfect for him. There are cards with different levels of building difficulty. You start a time and see how many building challenges you can complete before time runs out.
Science on a Garden Adventure : We finished this kit this month. We labeled the parts of a flower, placed fruits and vegetable stickers on a chart and made our own sundial and observed how it worked.
The Young Scientist Series Kit #28 – Seeds, Fruits and other Plant Parts – Lots of fun experiments: WE did the first one this month – soaking a celery stick in food colored water and watching it's leaves change color.
DK Animals Encyclopedia Sticker Book
Mystery Solver's Key Quest – A great find at a garage sale.
The Metropolitan Museum of Art's Can You Find It?  & Highlights Hidden Pictures Playground Magazine-
At Home Fun
Outside Fun:  hose fun, planting those helicopter-like seeds and hoping to grow a treeJ, hitting the ball around, swinging, hide-and-seek, swimming pool fun, making mud pies and mixing up batches of sand, mud and grass, jumping rope
Making play dough animal sculptures. This was a really helpful website.
Baking cookies, cooking crepes, doing mazes, lots of Lego building and making ups lots of pretend games and building houses and villages in the living room with blankets, towels and sheets
Learning how to draw simple animals using Usborne's I Can Draw Animals
Folding paper dinosaurs with Steve using the book Paper Dinosaurs
Little House on the Prairie Color Form Set – You can't buy this set anywhere now. I looked it up on on EBay and couldn't find it there. This was a set that I played with when I was a little girl that my mom kept.
Doing some simple two digit addition on paper – We play a lot of counting games so both Alexa and Jared are pretty good at adding two single digit numbers in their heads. They started to ask for "bigger" numbers to add together. I'd give them 15 and 16 to add together. They would get the correct answer, but they'd be adding on their hands for a long time. I asked if they wanted to learn a trick to make it easier to add up two digit numbers. So, I basically showed them how to do two column addition on paper. They were so thrilled to learn that "trick" that they asked me to make up pages of adding problems to solve.                                                         
Out of the House Activities
Library visits, Swimming Lessons , and Grocery Shopping,  Church
Attending a theater performance of Tom Sawyer
My sister's birthday party & hanging out for a weekend with relatives from out of town. Learned how to count to 10 in Chinese from one aunt who lived in China for 8 years.  Jumping on the cousins' big trampoline.
3 times visiting the Brookfield Zoo  - We went two times this month. The first time was with out-of-town relatives. We took a tram ride around the zoo, hopping on and off at different times. It was the first time I've ever heard a lion roar in person! They're usually just sleeping.
The second time they attended a Critter Covering class where they explored boxes of feathers, fur pelts, snake skins as well as petting and interacting with a rooster, turtle and guinea pig. Then we met up with my mom for lunch, climbing trees, brushing goats and skipping on stones across a pond.
The third time we met up with friends and had a great time just walking around looking at the animals. They kids spent at least 20 minutes just running round playing cops and robbers.
Going on a mile walk around the college where my mom works.
Taking a bike ride
Morton Arboretum – going through a garden maze, catching tadpoles in a pond, playing in the tree houses in the Children's Garden, walking across a bridge through the evergreen tops.
A restaurant brunch and then hanging out and Grandma and Granddad's house for Mother's Day (hide-and-seek, making disguises with their uncle, reading, playing a solider/war game with Steve)
2 Park Days with friends and one with grandparents
A McDonald's Play Place Night – Usually when Steve's out of town for more than one night on business, I take the kids for ice cream at a nearby McDonald's. They always find new friends to play with right away, and I get a good hour and a half to read a book (almost finished the third book in the Hunger Games trilogy!)
A River Walk day with my sister, nephews and mom – watching families of ducks and geese, sand in the playground, playing in the fountain, ice cream cones
4 different trips to thrift stores and a garage sale – This was a big month for stocking up on some new (well, used really!) clothes. I'm so glad I can spend about 2 hours at a time at the thrift stores now before the kids start to lose it. They camp out in the toy and book section and have lots of fun there. We found some great new games and books, too.   
An afternoon at Grammy's house – picking pinecones, playdough, reading, learning new songs from great grandma
On the Computer, Kindle or I-Phone
Kindle:  Angry Birds Rio, Angry Birds Space, Four in a Row
Computer:  www.wikipedia.com, Animal Corner,www.pbskids.org,  www.discovery.com (Alexa did hours and hours of research on her own about different dog breeds), www.youtube.com (Alexa loves to watch clips of different animals),
Animal Genius PC game
Zoo Tychoon 2 PC game
Photo Credit: gordsam
What have been some of your favorite activities or resources this May?
Share on Facebook