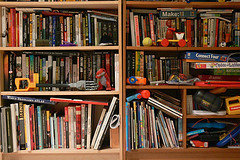 What a month! We started the month off driving back from our Rocky Mountain trip in Colorado. Throughout the month we also: tagged some butterflies, read some fun books about Egypt and Mozart, helped restore a prairie, watched circus tigers perform, and a lot more!
I'm excited to be in this fall season, even though the darker days tend to zap my energy. We have so many exciting things to look forward to!   What are you looking forward to this fall season?
Books
Ski School Sneak (Alexa's reading this) – This is a Nancy Drew Clue Crew book. I told Alexa
Extreme animals: the toughest Creature on Earth – (Alexa's reading)
The Long Winter – a Little House on the Prairie book
Moonlight on the Magic Flute – A Magic Treehouse book
The Mystery of the Stolen Music – A Boxcar Children book
The Halloween Party – a Choose Your Own Nightmare book
How the Amazon Queen Fought the King of Egypt
Muti's Necklace: The Oldest Story in the World
Skippyjon Jones in Mummy Trouble
Three Pigs, One Wolf, and Seven Magic Shapes
A Quarter from the Tooth Fairy (plus many of the activities at the end of the book)
Who's Your Mummy? – a Goosebumps book
TV/DVDS
Episodes of Dragon Tales
Episodes of My Little Pony
Episodes of Oscar's Oaisis (on Netflix)
Episodes of Transformers
Percy Jackson and the Olympians
Spy Kids – All the Time in the World
Abbot and Costello Meet Frankenstein
King Kong (the 1970's version)
Abbot and Costello Meet the Mummy
Return of the Mummy – A Goosebumps DVD
Abbot and Costello – Who's on First?
Episodes of Little House on the Prairie Season 3
Totally Tropic Rainforest – National Geographic
African-American
CDs
Mozart for Morning Coffee: Freshly Brewed to Perk Up Your Day
Finished listening to the final two CDs of The Lightning Thief – the first of the Percy Jackson book
Games/Puzzles/Kits
Around the World Art and Activities – We built a small cardboard pyramid.
Magic Schoolbus Rainbow Science Kit
The Life of Fred: Apples Chapters 2-12
Magazines
Top Secret Adventures   Here's a blub from the website: Top Secret Adventures lets your child have puzzle-solving fun while exploring the globe one country at a time. Kids get a thrill playing detective and unraveling a whodunit mystery by solving puzzles and searching for clues. The suspense builds as suspects, priceless objects and places are eliminated one by one until WHO, WHAT & WHERE answers (and super sleuth skills), are revealed.
Appleseeds – Who Did What in the Age of Exploration
Ask – What's in a Face?
At Home Fun
Played School – I wrote an entire post about this here.
Outside: riding bikes and scooters, swinging, swimming in the little kiddie pool, blowing bubbles
Inside: Playdough creations, lots and lots of pretend play, baked a cake and brownies
Out of the House Activities
The first two days of this month we spent driving back from the Rocky Mountains. In case you missed it, you can read more about that trip at this post.
Weekly: Library Visits & Grocery Shopping & Church/ Gymnastics and Swimming Lessons
A lot of bike rides around the neighborhood and to the playground
Meeting new friends at McDonald's Playplace when Steve was overnight on business.
Chicago Botanical Gardens – We met my mom, sister, brother-in-law, and nephews. After a short picnic lunch, we walked to the train garden where my uncle works. You weave your way around a garden where you see small, recreated, famous landmarks. So, you'd see Old Faithful, and Lombard Street in San Francisco, and Yellowstone, and Mount Rushmore. Everything is made out of organic materials. Several small miniature trains run through these scenes.
Graue Mill/Fullersburg Nature Center – One day we hiked in the woods around the nature center, stopped in the middle of the woods to have a picnic and read some books together, and then hiked back to the nature center where the kids found a few other kids to play with.
Brookfield Zoo – Alexa has been talking for a while about wanting to be a zookeeper. She has tons of questions about what they do, what their schedule is like, how they know what to do.
Well, at our zoo, they have regular times when they feed some of the animals and you can watch them. We were able to watch the zookeepers milk some goats and talk with them for quite a while about what you need to study in order to become a zookeeper. We also learned about a program for teens where you can volunteer at the zoo and work directly with the animals. Alexa is so excited about this possibility! Afterwards, we watched some more animals being fed, had a picnic lunch, and played in the playground.
Forest Preserve Restoration Project – We're part of a new group this year that's connected with the organization Roots and Shoots. Roots and Shoots is a program founded by Dr. Jane Goodall.  Its goal is to have young people come together to identify problems in their community and design, lead and implement projects to solve those problems.
As part of the program, once a month we will be visiting a local forest preserve and helping to restore it. This month we helped spread wood chips to create a new trail and also identify a flower that had been taking over the prairie and help get rid of it.
Kelly's Circus – This month a circus visited our village! It was pretty cool to drive by and watch them set up the tent and look at the elephants, camels and tigers. Late afternoon I took the kids, along with my mom and nephew, to see the tent performance. It was such a small arena that, even though we were just three seats from the front, any seat would have been a good seat.
Monarch Butterfly Tagging at Cantigny – We were able to work with an organization that tags monarch butterflies as they migrate down to Mexico for the winter. The woman who ran the program did a great job of showing the kids varies stages of the butterflies – from seeing a little caterpillar head poking out of an egg to looking at a butterfly's wings from inside the chrysalis.
We didn't actually catch any monarchs in the 45 minutes we had to wander the grounds to look for them, but the women running the program had about 15 butterflies already caught, so Jared and Alexa each had the opportunity to hold down a butterfly's wings, attach the tag (which looks like a little sticker), and watch it fly away. It was pretty amazing!
Several afternoons with Grandparents – It's so nice when I get a few hours to work on my writing, the house or other projects. And I know the kids will be doing some fun things, too. This month they went with Steve's parents to play at the playground one afternoon.
They also picked up lunch and brought it to Granddad's office at church. My husband's dad is the senior pastor of our church, but in the next few weeks, he's transitioning to part-time work.  So this was the last time the kids could have lunch with him in his office. They also spent two hours playing hockey in the church gym, and then went back to their house and played Pictionary.
When my mom had the kids a few times: they played on the slip and slide in the back yard, visited her neighbor who has a dog, walked my mom's dog, Jared helped to fix my mom's license plate cover, they bought used books and went to the park, had ice cream treats, found new books to read, and played badminton and ping pong.
Grandma's Birthday Party – We met at Steve's parent's house. The kids enjoyed playing ball outside with their older cousins which they don't get to see that often.
Great-Grandma's Birthday Party – We went by my uncle's house. He has a large train set which winds throughout his back yard and around a koi pond. The kids had fun looking at that and playing Bags with their cousin.
Papa's Birthday Party – The day after my grandma's party, we had my dad's birthday party at my sister's house. The kids enjoyed playing with their cousin outside on the swing set and downstairs with the train set.
On the Computer, Kindle or I-Phone
Kindle:  Plants Vs. Zombies, Wind Up Knight
Computer:  www.pbskids.org, www.discovery.com, www.foopets.com
National Geographic Great Migrations  This is a really fun game! You can get a trial version for one hour. We liked it so much that we bought the game to download. You have to guide butterflies across the screen on various legs of their migration. Throughout the game, you learn about different things that hinder the butterflies' migration like other insects, wind speed and clouds.
I Phone: Candy Maker, Stack the States
Photo Credit: gordsam
What were some of your favorite activities from September?
Share on Facebook