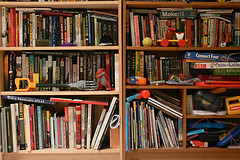 I'm almost done catching you up on our highlights from 2013. Hopefully by the beginning of next week, I can post what we did in the month of January, and we'll be all caught up! We started out November with me getting two lower impacted wisdom teeth pulled. Not fun at all! It took at least a month for the pain to totally go away. The kids were so helpful during this time; I was so proud of them!
Overall, we were extremely blessed this past year. We traveled to several great places, Missouri (St. Louis and Kansas City), Springfield, Illinois, Madison, Wisconsin, and Hawaii (the Big Island). We learned lots of fun things, hung out with great friends, and added another member to our family (see December highlights below)!
I'm looking forward to another year of making wonderful memories, lots of learning, and spending time with awesome people both in person and online. Here's to a belated Happy New Year!
Top Ten November 2013 Highlights
1. Finished reading some good spooky books – We usually try to read spooky books during the month of October. Since we were gone most of October, our spooky books spilled over into most of November. Our favorite two books? The Graveyard Book by Neil Gaiman and A Tale Dark and Grimm by Adam Gidwitz. The book by Gidwitz could be pretty gory at times for a middle grade book, but it's very well written. The Graveyard book is simply wonderful.
2. Played some fun new games – Zombie Fluxx and Buy it Right.
Zombie Fluxx is a pretty challenging card game. It's great for keeping track of lots of details, strategy and of course, it has zombies!
The Buy it Right shopping game is great for learning how to make change. We've played it both with pencil and paper and with the calculator. It's usually only takes about a half hour to play, so it's not too long.
3.  Made some Igneous Fudge .  This was a lot of fun since we had just finished up a three month study on volcanoes. We didn't use the exact recipe from the link I used here, but it was similar to this one. It really helped me visualize the role heat plays in the formation of crystals.
4. Started working towards earning Great America tickets with the Read to Succeed Program. I mentioned this program last year, but in case you weren't aware of it, Great America has a reading program for kids in Kindergarten through the 6th grade. If your child reads 6 hours of recreational reading during the program's time period (which I believe started the beginning of November and runs through March 3rd), you and your children will receive free tickets to your local Great America. It's never hard for my kids to earn these tickets since they would have read these books anyway, but it's a fun little bonus for them. Otherwise I'd be paying over $90 for all three tickets!
5. Playing spy games with the walkie talkies. The walkie talkies seemed to disappear for a while and were rediscovered this month.
6. I had my wisdom teeth pulled. This was quite the ordeal! I had two lower impacted wisdom teeth that were very close to the nerve. I really should have taken care of these 20 years ago, but the fear made me put it off until now. I am going to have some other corrective dental work done, and these teeth needed to be pulled before I could get that done.
Needless to say, I was in pain for awhile! It took close to a month before all the pain went away. But the kids were really great with helping to take care of me, especially when Steve had to go back to work.
7. Gym and Swim at the YMCA.  They have a really nice homeschool program at a nearby YMCA where kids ages 6-12 can play gym games like dodge ball, floor hockey and other games for about 45 minutes and then have 45 minutes to play in the swimming pool. And I only pay $55 for both kids for 8 sessions! You can't beat that J
8.  Meet the Masters – Several families in our homeschool co-op pitched in and purchased the Meet the Masters Group license. We study one artist every two months. I was really impressed by the first lesson. There are 5 tracks in the program that include 7 artists in each track for total of35 artists.  Each track includes an implementation guide with step-by-step instructions, PowerPoint slides, visual aids, art prints, game props and vocabulary words.
For the first lesson, we watched a PowerPoint of Degas' life, his drawing techniques and had a brief discussion. Then the majority of the time the kids produced some Degas grid drawings. Instead of doing a straight-forward grid drawing, they did one upside down. We really haven't done much drawing at our house. I guess it's because it's not something I do myself, so I don't really encourage it, but I was so impressed at how thoroughly both my kids, especially Jared, worked on and took pride in their drawings. We are thinking about purchasing this program for ourselves in the future. I'd highly recommend it.
9. Vertical Endeavors Rock Climbing Once a month, this facility hosts homeschool days, where each child can climb for two hours for only $10. Jared was in heaven when he went here! Climbing is one of his passions. One of the women who worked here said she had never seen a 7 year old climb as high or as fast as he did (the one wall he climbed was 42 feet high). It made me very proud!
Even Alexa, who is not as excited about climbing, really enjoyed herself and wanted to come back. It's a very popular program, so I wasn't able to get us signed up again until March; that was disappointing. They also have summer climbing camps we are looking into.
10. Thanksgiving- We had a fun gathering at my sister-in-law's house for Thanksgiving this year. Jared and Alexa always love spending time with cousins. There was a little Zombie Fluxx going on, plenty of Wii games, and lots of talking and sharing
  Top Ten December 2013 Highlights
1. We bought a new puppy! We brought home our not quite 2 month old puppy Jessy on December 14th. After Alexa had been begging for a dog for almost 2 years, we finally broke down and bought a purebred border terrier.  Steve and I really didn't want a dog, but we knew it was very important to Alexa, who literally spends dozens of hours a month researching and reading up on different dog breeds, and I didn't want her to grow up without having the experience of taking care of a dog.
Already it has been an educational experience for all of us. But I must say, Alexa and Jared have more than risen to the occasion. Many mornings I'll wake up and Alexa or Jared have already taken her outside for potty and fed her. She already is an important part of our family, and it's hard to imagine life before we got her.
2. Caroling at the Nursing Home-This is the 4th year we have gone caroling to the nursing home with my mom. Like usual, we met at a restaurant for lunch beforehand with my mom and a few of her friends. Then we drove to the nursing home where we put on about a 45 minute performance. Also, like usual, Alexa dressed up like Mary, Jared like Joseph, and the three of us sang The Virgin Mary had a baby boy.
I love bringing smiles to the residents and hope we can continue this tradition for many years to come.
3. Trader Joe Gingerbread House- We wanted to put together a gingerbread house this year, but I really didn't have the time to make it from scratch. Yet, I also didn't want a kit that was full of unnecessary chemicals and artificial colors and flavors. Thank goodness there's Trader Joe! This kit was perfect. We'll probably do this again next year.
4. Reading Treasures of the Snow together.  I adore this book! I remember a radio station played an audio version of this book over a period of several weeks when I was around 8 or 9 years old. For those two weeks, I didn't complain at all when I went to bed! It's a gorgeous story of forgiveness and God's love. I highly, highly recommend reading it with your children.
5. Magic Science: 50 Jaw-Dropping, Mind-Boggling, Head-Scratching Activities for Kids  After learning about Harry Houdini, we bought this magic science book and had fun performing several of the "magic" tricks- although quite a few were difficult to do.
6. Lots of fun new board games –December was definitely the month for game playing. Some of our favorites were:
Mindware Amazing Mammoth Hunt- This is a geography game that also doubles as a challenging memory game, too.
Sleeping Queens A fast-pace, quick- round game involving some easy addition equations, strategy and memory.
MathAnimals Here's from the product description: MathAnimals reinforces addition, subtraction or multiplication skills for children for all ages. With the roll of a die, players race around the colorful game board trying to land their playing piece on the animal that represents the highest number. Then they either add, subtract or multiply the number on the die to the number they have landed on. The winner is the first to have their grand total reach the "goal", a number that is set at the beginning of each new game.  We haven't played this many times, but we plan to take it out in a few weeks.
Cooking Up Sentences – Basically you have to win different parts of a sentence until you make a complete sentence using all the parts of speech required on a "recipe" card you've chosen. I was surprised at how much grammar my kids learned while playing this. We will definitely be taking out this game every few months.
Math War Addition and Subtraction  This is pretty much the same card game as regular War except that each card has an equation on it. Each game player needs to call out the answer to his or her equation and the winner takes the card with the highest answer (or lowest if you change the rules). I found this really good for reinforcing quick mental math.
7. Christmas Eve at our house- I've always put off hosting any big family dinner at our house because it's just so tiny (about 750 square feet).  But somehow we managed between the living room and kitchen (no dining room in our house L) to fit in 16 people and not feel too cramped. Everyone pitched in and we had a wonderful dinner. Since we were so close together, the teens couldn't run off to their own corners and were forced to spend time with the old people! Steve and his brother even had an impromptu jam session upstairs. The whole experience makes me a lot more open to doing something like this again in the future.
8. Jared's Death Star- Jared saved up $400 over the past two years to purchase the Lego Death Star. Steve and I were so proud of his perseverance, his go-get-it attitude with asking grandparents and others for odd jobs he could do to earn money, and for sticking to his goal.
Jared spent the week after Christmas putting together this over 3,800 piece, 17 pound set. It was a great accomplishment for him, and we're so proud of him!
9. Learning about Harry Houdini – Since we are reading though the Magic Treehouse books together and the newest book was about Harry Houdini, I found a lot of other resources about his life, too. We really enjoyed learning about this eccentric, and oftentimes, arrogant but gifted man. Here are a few resources we really enjoyed about Mr. Houdini.
Magic Treehouse- Hurry Up, Houdini!
Magic Tricks from the Treehouse
American Experience production of Houdini
The Houdini Box by Brian Selznick
10. Learning about Atoms and Molecules – Most of the magic science tricks we performed were about atoms and molecules, so we wound up learning a lot about them during December.  Some of our favorite resources were:
Physical Science in Action: Atoms and Molecules, Changes in Properties of Matter, and Elements, Compounds and Mixtures  -This is a really well-put-together science series on physics (there are 13 more DVDs in this series)
Ghosts and Atoms- a Graphic Library Monster Science book – these are really cute graphic books, especially for children who love anything scary!
Werewolves and States of Matter – A Graphic Library Monster Science book
Bill Nye the Science Guy: Phases of Matter We're always ready for Bill Nye!
What were your family's highlights from the end of 2013?
Share on Facebook