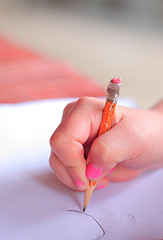 I think most kids are born natural storytellers. By the age of 5, they've already come up with hundreds of unique story plots, plays or songs. Their imaginations are incredible. Unfortunately, most kids lose that drive and excitement for creating their own imaginative worlds by the time they're 8 or 9.
By focusing on perfect handwriting, insisting on correct punctuation and forcing kids to write down their stories instead of transcribing them out loud, many adults, usually unintentionally, destroy the creative imagination of most kids. Instead of allowing them to play with words, write imperfect sentences and invent their own spelling when they first explore writing, most children are forced to complete worksheets, practice handwriting when they haven't fully developed their fine motor skills yet, and come to see writing as a chore instead of the wonderfully creative, liberating activity it should be.
Here's 10 Unusual Ways to Explore Writing. You won't find any textbook, workbook or writing exercises here.  Instead, I've looked for authentic, real ways kids can explore writing and find their own way to connect with it. Enjoy!
1) Blogger A few years ago I started by own journey blogging. I wanted to write about our family's journey in interest-led learning from the time my kids were 3 until they turned 21. You can check out our family blog at An Eclectic Odyssey.  But blogging is definitely not just for adults. Setting up your child with his or her own blog can be an empowering and creative outlet for your kids. What do they love to do? Can they create a blog around that interest? There's no end to the different topics people blog about and the blogs that people want to read. I've read so many stories of young teens who have created blogs and gone on to have publishers contact them about book deals, or advertisers willing to pay for ads. Who knows? It might even jump start a professional writing career.
2) Illustory Make Your Own Story Kit I was so excited to run across this resource! If your children love making up stories and drawing pictures, they're going to LOVE this! What do you get with this kit?  Your own book kit that will allow you to write and illustrate your own story, design your own cover and create your own About the Author page, 18 book pages, 2 cover pages, 10 washable markers, story web planner, instructions, order form, and prepaid envelope, and you receive a copy-copied, professionally type-set book in a few short weeks. What could be more exciting for your child then to have a professionally printed book they've written themselves on their own bookshelf? Check it out!
3) Create-A-Story Many kids love board games. Create-A-Story is a fun, creative board game where kids create their own stories using a variety of cards including topic sentences, setting, character, descriptions, resolution, and dialogue.
4) KidPub KidPub is the largest and oldest writing website for and by kids. It really is incredible. You can read stories and poems by other kids, enter writing contests, and post writing questions in the forum section and get advice from other kids!  Reading on the site is free, but you must purchase a yearly membership for $12.95 if you want to post your own writing. I was absolutely fascinated by the KidPub Press. KidPub has editors that will work with your child to produce a professionally edited and formatted book, and work with you to produce a full color cover design. Each book is available for sale on Amazon.com and the KidPub bookstore and the author receives 15-20% royalty on each sale!
5) School House Rock Grammar Using music to teach grammar terms like nouns, verbs, adverbs, and adjectives, the School House Rock DVD series introduces kids to songs with titles like Conjunction Junction and Unpack Your Adjectives. They really are cute, catchy songs, especially for kids who love music. Most of these songs are also available free on You Tube.
6) Write to a Pen Pal Many schools have used pen pal programs as an "extra-curricular" or something "nice" to be tacked on to the "real" writing. How much more real can pen pal writing get?  If your child is interested in writing to a child from another state or country, pen pal writing can teach them an incredible amount about writing without having to drag out other workbooks, too. It's something real, exciting and on-going. Some pen pal writers have gone on to become life-long. Plus, if you can travel, what a greater way to visit a new country than to see it with a new friend!
7) Star Wars Mad Libs Here's another fun way to learn parts-of-speech. In case you're unfamiliar with mad-libs, it's basically a story that has certain words missing. The reader of the story asks the listeners to provide words, either a noun, verb, adverb, or adjective, to fill-in-the-blanks. Then you get to read a funny, crazy story when you're done.  I remember my first mad-libs story at a birthday party when I was about 8 or 9.  I was surprised to find so many different categories of mad-lib stories now.  Check them out!
8) Chasing Rainbows While I always like to get book recommendations by people I know, I often find myself skimming through reviews written by others at Amazon.com before I buy a book. I have to admit, a well-written review giving great reasons both why I should or shouldn't buy a book can be pretty powerful. Your child might like reading reviews written by other children about books they've already read. It's fun to see whether you agree or don't agree with the reviewer. In reading the reviews, your child might be encouraged to write his own review, too. It can be great fun to go to a website and see your own words posted for thousands of other people to read.  Plus, it's a great way to sharpen your persuasive skills!
9) Silly Sentences The best way for young children to learn about writing sentences is to play around with them. Kids speak in sentences before they have the fine motor ability to write their own sentences, and they love to use words in fun and unusual ways. We picked up this DK Silly Sentence game at a thrift store and loved it! You choose different nouns, verbs, articles, adjectives and adverbs and make up as many different sentences as you can.  My son loved making up the most absurd sentences he could think of! You can easily make up your own game by writing a dozen so sentences down on index cards, each word of the sentence written on a separate card, and then mixing and matching the cards.
10) Young Poets Many children are natural poets. When they first begin to understand the concept of rhyming, they are enthralled with it. My daughter spent hours composing her own rhyming songs. Why don't you suggest writing down their new rhymes or asking an older child if they'd write their own compositions and submit them to a poetry website? Young Poets is a site written by kids ages 5-18. You can also submit an illustration to go along with the poem, too. The author of the website states that some of the poets featured have even had requests for their poems to be reprinted in newsletters across the world!
Here are links to other articles in this series:
10 Unusual Ways to Explore Science
10 Unusual Ways to Explore History
10 Unusual Ways to Explore Math
Do you have any fun or unusual ways to explore writing?
I'd love to hear your thoughts about this series. Leave me a comment below or send me an e-mail at chris@christinapilkington.com. If you'd like to receive e-mail updates whenever there's a new post, type your name and e-mail address in the box at the right-hand corner of this page. Thanks!
Photo Credit: D Sharon Pruitt
Share on Facebook