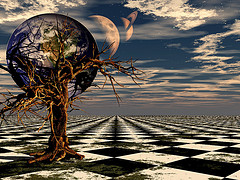 My memories of art in kindergarten: cut and paste creations, detailed instructions of how to color inside the lines and reminders to "follow directions."
High school art wasn't much better. I wanted to create art and often had pretty cool ideas of what I wanted to make, yet I often felt frustrated. While the three dimensional and complex painting projects I was assigned left me less bored than my previous cut and paste creation, I still longed for more freedom.
I've been reading a lot about play and learning lately. It's interesting that natural play progresses from a completely exploratory, discovery stage, to an experimental stage, and, then ends in a technical or complex stage. Babies go from putting toys in their mouths, to figuring out how the same toys move in space and the ground, to imagining scenarios where they toy becomes the center of the production.
So it should be with art. Instead of creating step-by-step projects for three year olds, it's better to let them explore art materials in their own way. As they get older, they might benefit from seeing some completed art projects or examples of various projects done in different mediums, but they still need to experiment with art on their own. Then, as they become comfortable with art and have kept their imaginations intact, they can truly appreciate learning technical skills to transform their abstract ideas into concrete artistic expressions.
Here are 10 ideas of unusual ways to explore art. It's great to experiment with the usual art genres and mediums, but I wanted to step outside the box a bit and encourage you to look at and experience art in new ways. Enjoy!
1) Art 21: Art in the 21st Century  This PBS series, which has spanned at least 5 seasons and featured 86 different artists, is a wonderful way to introduce contemporary, real working artists to your kids. I've only seen the first two seasons, but I've been really impressed by the diverse range of photographers, painters, sculptors, video and performance artists, illustrators and other artists who present a wide array of mediums and show how art will change our future in the 21st Century. It's a great way to show kids that, yes, you can make a living with your art, and there's a huge range of possibilities artists have to express themselves and share their message.
2) Architect Studio 3D  This computer simulation is a really fun way for older kids to experiment with architecture. With Frank Lloyd Wright as their guide, they'll design a house online. First they'll choose a client to work with and research what they're looking for.   After designing their house, your kids will then walk through a virtual 3D model. After that they'll submit their design to the design gallery where others will rate their design and they can check other people's designs, too.
3) A. Pintura Art Detective  A short, fun interactive way to learn about color, composition, subject, style and five different artists while taking on the role of an art detective.
4) Learn to draw cartoons  Most kids LOVE cartoons. I've never been a big animation fan, even when I was a kid, but my kids sure are. And they really like to draw. There are many different books that will teach your children how to draw anything from their favorite cartoon character to realistic landscapes. I would caution you, though. I think for young children it's much better for them to experiment with different materials, look at great artwork, and make up their own drawings than copy from a website or book. However, for a child who has kept his imagination strong and has had lots of hands-on, self-guided opportunities with art, these types of books can be fun. Also, the better they get with drawing techniques, the more confident older kids will be to branch out and try something different.
5) Etsy So your child loves crafting, designing T-shirts, making jewelry, doing needlework or sewing purses? Why not set up an Etsy store for them and let them sell their handmade items? Children who don't attend school have much more time to perfect their skills and some make quite a bit of money selling items they've made online. It's a wonderful way to meet different artists, learn business skills and turn their passion and creativity into a way to earn money. Since people under the age of 18 are not allowed to own their own store, parents will need to set the store up initially, but I would encourage you to make this 100% your child's business.
6) Videos of Art in Unusual Mediums  Ok. Make sure you have a big drink of tea, lemonade, or whatever you like to drink, pull up a chair and be prepared to spend a long time watching this amazing set of videos on YouTube. I was absolutely fascinated to watch these artists using anything from ketchup and fries and mascara to BBQ sauce and lipstick to create these incredible masterpieces. On second thought, maybe you DON'T want your kids to watch this. You'll have to keep a closer eye on your fridge and pantry in the future!
7) The Worldwide Art Gallery  It's a great experience for kids to go to a real art gallery and check out artists' paintings, but it's an even more thrilling experience for them to see THEIR artwork hanging up for others to see. The Worldwide Art Gallery is one of several online art galleries dedicated to kids' art. Ask your kids if they want to submit their artwork and log in to check out other kids' artwork from around the world.
8) Getting to Know the World's Greatest Artists  My kids and I have LOVED reading and watching the works of artist Mike Venezia. By combining cartoon illustrations with real prints, Mike introduces kids to famous artists in a fun, easy-to-remember way. The DVD series features the artists, Monet, Degas, Michelangelo, da Vinci, Warhol, Rembrandt, Cassatt, & Van Gogh.  There are books about 38 additional artists, too.
9) Kids Multicultural Art Book  This is a fun book to play around with your young children. Instead of the usual cut-and-paste and color activities, this book has art projects the simulate art made in different cultures including Native American, Latin American, African, Indian, Japanese. Chinese, Korean, Thai and Vietnamese. I would caution you to use the projects as guides. Let your kids be inspired by the final product, but don't require them to complete each step if they'd rather try something else.
10) Creative Art Supplies  While I LOVE digging around thrift shops and garage sales in the craft section and pulling out anything unusual I can find, sometimes I'm just in the mood to pick up a kit and have everything there for me. But I don't want the same old craft kit, either. That's why I was SO excited by this site. Some of their kits include Hinge-It (moveable art supplies to assemble 3-D creations), Math-Art Kit (with graph paper to make geometric pictures and mosaics), Ancient Egypt kit (with glass beads, metallic papers and golden fabrics), and Bugs and Beasts kit (with specialty papers, colored wire and beads). Check it out!
Here are other articles in this series:
10 Unusual Ways to Explore Writing
10 Unusual Ways to Explore Science
10 Unusual Ways to Explore History
10 Unusual Ways to Explore Math
What unusual ways have you explored art?
How do you like this series? I'd love to hear from you. Leave me a comment below or send me an e-mail at chris@christinapilkington.com. If you'd like to receive free e-mail updates, just sign your name and e-mail address into the box at the right-hand corner of this page.
Photo Credit: Maggie-Me
Share on Facebook