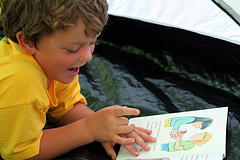 Literature is pretty straightforward the way it's taught in schools. Usually kids are read to, or read to themselves, a story or novel. Then they usually take a quiz on what they've read, or write a book report or paper. Sometimes a teacher gets a little creative and throws in a movie tie-in, lets the kids have a choice in how they want to be "assessed" or encourages a lively discussion from the class, but even then, teachers usually have to stick to the mandated literature selections that the administration deems best.
Well, I've done a little research and wanted to share with you 10 unusual ways to explore literature. I haven't included anything too different, but maybe you'll find an idea or resource that's new to you that might spark your child's interest.
1.  Science Poems  An interesting way to combine science and poetry. This site is written for younger children, but all ages would appreciate the short clever poems about animals, plants & trees, the human body, the 5 senses, biology, chemistry, earth science, physics, astronomy & the solar system. If any of the poems seem particularly interesting to your child, it's always great to have some science experiments or other hands-on activities close-by to offer as well.
2.  Shakespeare: The Animated Tales  This DVD series includes 12 of Shakespeare's greatest plays translated through the medium of animation.  It's a fun way to introduce younger children to Shakespeare, especially children who are drawn to animation.
3. Book Cooks  Most people learn best when they combine more than one of their senses in the learning process. Book Cook contains 26 recipes inspired by favorite children's books. You'll have fun cooking a fun snack with your younger child, and then later reading a great story while you eat your culinary creations!
4. Moby Games  This site lists hundreds of video games inspired by works of fiction. Some of the titles include: The Great Gatsby, Dante's Inferno, Around the World in 80 Days, The Adventures of Tom Sawyer and Alice in Wonderland.
5. Journey to Gameland: How to Make a Gameboard for Your Favorite Children's Book  The unusual thing about this book is that it's written by an 11 year old boy and illustrated by his brother. It's a kid talking straight to other kids offering advice on how to take their favorite books and turn them into an original board game that they've created. It's also a great way to integrate literature, math and logic.
6. Great American Authors: Since 1650  An 8 part DVD series featuring the lives and literary excerpts from 60 of America's most read authors. It's a nice introduction to great American authors and their works for older kids.
7. Storyline Online  The Screen Actors Guild created this on-line streaming video program featuring famous actors and actresses reading children's storybooks. Actors and actresses include: James Earl Jones, Melissa Gilbert, Sean Astin, Elijah Wood, and Betty White. My kids' favorite story? Guji Guji read by Robert Guillaume
8. Google Lit Trips  An amazing, interactive website that utilizes Google Earth to plot out three-dimensional journeys taken by the characters in different children's literature. For example in a lit trip about the Grapes of Wrath you can see a satellite image of the terrain, watch a video about dust storms, and see photos and art from the time period. Both teachers and students have posted Lit Trips on the site.
9. YA Reads Forum  An online forum for teens to discuss young adults novels.
10.  Pitara Kids Network  Most pre-packaged formal literature programs in schools and schools-at-home focus on literature from the home culture of the student. It' not usually until kids are in their teens that they get a small sampling of literature from other cultures. It's a shame many books from around the world have been translated into many different languages making it much easier for kids to read literature from a global perspective. Check out the many websites that offer reviews of multi-cultural literature. Pitara Kids Network is a great site for this. Kids can read poems, folktales and stories from around the world. There's also a small book review section as well.
What different ways have you explored literature?
10 Unusual Ways to Explore Art
10 Unusual Ways to Explore Writing
10 Unusual Ways to Explore Math
10 Unusual Ways to Explore Science
10 Unusual Ways to Explore History
10 Unusual Ways to Explore Geography
Photo Credit: John Morgan
Want to get e-mail updates whenever there's a new post at Interest-led Learning?  Just sign up for my mailing list at the right hand corner of this page. I'd love to hear your thoughts on this series. Leave me a comment below or send me an e-mail at chris@christinapilkington.com. Thanks!
Share on Facebook