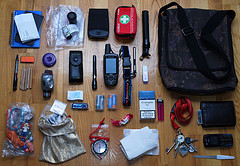 Whenever I think about gym class, I immediately flash back to my high school days. We'd start off rushing into the locker room to change.  Then we'd shuffle into the gym where we'd sit in our designated rows while the teacher would dutifully check of that we were present (in body, anyways). Then, if we were lucky, after the usual jumping jacks, stretches, and stomach crunches, we'd get to squeeze in a twenty minute game of volleyball or basketball before being herded back to the locker room.
In schools today, kids get a tiny fraction of time to move around. Even when they do get their 20-30 minutes of "physical education" it's almost always something teacher-directed. There's little to no room for students to come up with their own fitness goals. They can forget about spending an hour perfecting their volleyball serve or working up to an 8 minute mile.
But homeschooling and unschooling families have a huge advantage. They can eat nutritious, home-cooked meals daily.  My son has a hard time sitting still when he eats. He needs to take a bite, get up and run around, and then come back in a minute for more. He'd have a very hard time shoveling down his food in 15 minutes and then waiting another 2-3 hours to eat again.
Homeschoolers can also spend time outside whenever they'd like. Homeschooled kids can splash in the puddles in the spring, kick through the leaves in the fall, and slide down the snow in the winter (if you get snow that is J.)  They can do yoga for a half hour every day or spend 2-3 hours at a park playing volleyball or softball.
But besides the usual physical activities, homeschoolers can get creative and adventurous. Without being confined to one building or area all day, they can go out and do the unusual. So, here are 10 Unusual Ways to Explore Physical Fitness & Health. Enjoy!
1) Geocaching  You might already know about geocaching, but just in case it's new to you, I've included a link to a YouTube video all about it. Basically, it's a treasure hunt where you find a geocache using a GPS device.  The GPS coordinates of geocaches are listed on www.geocaching.com  There's over one million geocaches worldwide, so there's a lot of treasure to be found!
2) Orienteering  Orienteering is similar to geocaching in that participants are searching for a treasure.  The object is to locate control points by using a compass and a map to navigate through the woods.  It involves a lot of running, but is more difficult because you also need intense concentration, to make quick decisions, and keep track of distances.
3) Letterboxing  Here's one more way to incorporate treasure hunting and physical fitness. Small, water -proof boxes are hidden in public places. Inside the box, you'll find a logbook and stamp.  Several different websites provide clues to finding the boxes.  Letterboxing participants have their own logbook where they make an imprint of the letterbox's stamp, and then stamp the logbook in the letterbox with their personal stamp. There are over 20,000 letterboxes in North America alone.
4) Run a marathon  There's nothing more exciting than setting an ambitious fitness goal and then reaching it. I can't think of a more ambitious fitness goal than running a marathon. If you have a child who loves to run, or if you love to run yourself, working towards this goal on a daily basis will increase not only your physical but mental stamina as well. Check out the link for marathons in your city (if you live in the USA).
5) Getting Your Red Cross Certification  Another ambitious, but highly valuable goal is to train for and receive your red cross certification in either CPR/AED, first aid, lifeguarding, swimming and water safety, care giving, or disaster response and emergency preparedness training. It's a great way to learn about health and safety and at the same time receive skills that could transfer to a paid job, or just as a useful skill to help others.
6) Attend a Wilderness Survival School or training program  The link I've provided here is to a training program in Washington state, but there are similar programs all over the world.  You'll be getting out in nature and at the same time learning the lifesaving skills of building your own fire and shelter, learning which plants are edible, deciphering animal tracks, and so much more.
7) Kid's Around the World Play! This collection of games from countries including China, Japan, India, Mexico, Bolivia, and Russia will inspire you to get outside and get moving in new ways. The book also provides facts and history about each country, too .
8) The Curious Boy's Book of Adventure.  I'm going to quote from the inside cover of the book because I couldn't say it better myself how exciting this book will be for young boys (and a few girls, too
)
"Train a dog. Catch a fish. Send secret signals. Make a bow and arrow. You'll be amazed at the world of adventure for boys of all ages found within this compact volume. With step-by-step instructions, a detailed list of equipment, and beautiful illustrations, The Curious Boy's Book of Adventure is a journey into the dangerous and courageous art of boyhood adventures."
TheDaring Book for Girls is also a great book for girls (and a few boys, too
)
9) Nature's Playground: Activities, Crafts and Games to Encourage Children to Get Outdoors  From building a den from branches to making twig boats to sail across the pond, this book has some great ideas for inspiring your kids to get out into nature and play.
10) Go Fly a Bike! The Ultimate Book of Bicycle Fun, Freedom & Science   This is a pretty amazing book for kids who are crazy about riding their bikes everywhere. They'll learn everything from how their bikes work to steps to performing BMX tricks. It's an unusually fun way to combine some science with the art of bike riding.
10 Unusual Ways to Explore Literature
10 Unusual Ways to Explore Art
10 Unusual Ways to Explore Writing
10 Unusual Ways to Explore Math
10 Unusual Ways to Explore Science
10 Unusual Ways to Explore History
10 Unusual Ways to Explore Geography
Photo Credit: Annarella 1979
What unusual ways do you get physically fit?
How do you like this series on Unusual Ways to Explore Usual Subjects?  Please leave me a comment below or send me an e-mail at chris@christinapilkington.com.  To receive e-mail updates whenever I post a new article, just sign up for my mailing list at the right-hand corner of this page.
Share on Facebook