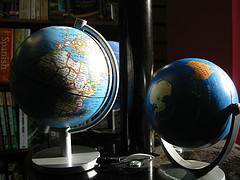 No matter what your interests are, travel can enrich and expand those interests. If your child likes to cook, taking him to restaurants in other parts of your country or foreign countries may spark ideas for new culinary creations. If you like to play an instrument, it's an incredible experience to hear musical performances in another country.
But what if you're not able to travel far, or visit a foreign country?  Can you still get the benefits of travel without straying too far from home?  While I believe nothing can compare to the real thing, I think too often people forget how easy it is to get a flavor of world cultures right in their own backyard.
For some of you this will be easy. Those who live near a big city will have more opportunities than those living in remote or rural areas. But with the internet, there are so many ways you can bring the world right to your doorstep.
Check out these 10 Ways to Take a Trip around the World without Leaving far From Home
1.  Visit ethnic neighborhoods in your region or state.  I live very close to a big city, so there are dozens of ethnic neighborhoods within a 15 to 20 minute drive from my house.  I could visit Chinatown, Greektown, Little Italy, as well as Mexican, Polish and South Asian neighborhoods. There are museums, restaurants, fairs and festivals, stores and much more to give you a flavor of those countries.  If you live further away, consider taking a day or weekend trip to your nearest city and see what it has to offer.
2. Visit a different ethnic restaurant twice a month for the next year, or cook your own recipes from around the world.  Look at the possibilities within your own or neighboring towns. I find I often get in a rut when eating out and gravitate towards the same places. Pick up your Yellow Pages and discover unexplored restaurants within a ten mile radius of your home.  If eating out isn't an option, check out different ethnic cookbooks at your library. Create your own culinary round-the-world experience this next year.
3. Home Exchange & Family Hosting Service for Home Educating Families  If you can't see the world, bring the world to you. The above site is specific for homeschooling families, but there are other sites that offer home exchange or hosting services. When families from other states or countries come to your city or town, you can offer to have them over for a meal or to take them on a tour. It's a great way to meet others from around the world and hear what it's like to live in their country. You can also trade homes with another family within a day's drive if you like.
4. Around the World in 80 Treasures  I loved this DVD series and its quirky host Dan Cruickshank.  I received the series for a birthday present a few years back; my husband and I were soon addicted to watching the 10 episodes on the discs. Dan travels to 34 countries to see 80 of the world's greatest treasures. Be careful to preview it first. There are a few questionable things you might not want your child to view depending on their age.
5. Songs Around the World  You've got to check out the free video on Amazon for the song Stand by Me that's included on this CD. The producer travels to different parts of the world and records musicians playing the same song. Then he dubs the music together to create a version of the song with all the musicians integrated seamlessly into one track.
6. Gimme Your Stuff  I stumbled across this website and am so excited to participate. Basically, you decide to offer something that is unique to your area. It might be a food that ships easily, a book, newspaper, CD, stationary, or toys. Then you contact people from other countries and ask them for something you're interested in as an exchange for what you have to offer. What an awesome way for kids (as well as adults!) to receive fun packages in the mail.  As a warning, the last update on the site (it's a blogspot blog) is from a few years ago, but there are links on the sidebar to the people willing to make exchanges. Some of them are not longer doing it, but I've contacted a few that are still interested.
7. TutorNation.com  A great way to connect to other nationalities and ethnic groups is to speak their language. Even if you only know a few basic phrases, you'll show your interest and your new foreign friends will appreciate it. You could hire a personal tutor and learn one language in depth for a year or so, or you can browse the many free language podcasts on the internet and sample five or six languages this next year.
8. Festivals.com  Try to attend several new cultural fairs or festivals this year.  It's a great way to sample the food, music, language and customs of different countries while staying at home.
9. Google Earth   I think this free software that you can download on your computer is one of the most exciting, interactive ways to travel the world virtually. You can fly to ancient Rome in 3D and see how it looked in 320 AD., you can discover other travelers' favorite places, and you can take a virtual walk around national and cultural landmarks.
10. Postcrossing.com  Would your child (or you!) like to receive postcards in the mail each week from different people around the world?  I'm really excited to do this with my kids soon.  Here's how it works. You request an address from the website and then mail a postcard to that address. Then when you receive a postcard in the mail, you register the received postcard into the system.  You can have up to 5 postcards travelling at a single time, but that number can go up. I'm envisioning pasting our received postcards around our world map on the kids' bedroom wall.
What are some tips you have for visiting the world right in your own backyard?
 Photo Credit:_sarchi
I'd love to hear from you. Please leave me a comment below or send me an e-mail at chris@christinapilkington.com. If you'd like to receive e-mails whenever I post something new to the site, just sign up for my mailing list at the upper right hand corner of this page. Thanks!
Share on Facebook