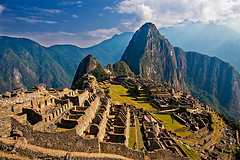 My family loves to travel. We travel as often as we can. For us travel is a way to learn more about our current interests and discover new interests, too.
The next time you're planning a trip you can easily go to your local bookstore and check out the latest edition of Fodor or Lonely Planet's travel guides (not that they aren't great J) or find the latest hotel deal on Expedia, but I thought I'd share some lesser known  resources you might not have heard of before.
Here are 10 resources to help you plan your next interest-led trip. I hope you find something helpful.   
1) Vrbo.com & homeaway.com   I've written before about how special it is to rent a home or apartment on a trip rather than stay in a hotel. When you rent someone's home, you're going to get personal touches that you just can't get at a budget hotel.  We've received complimentary wine, I've been able to read books from the owners' library, and most of the homes provide great ideas for things to do not listed in major guide books. You can also choose homes according to what's important to you. Do you want to stay in a remote area, or be in the heart of a city?  Would you like to be as close to a music venue as you can, or would you rather be next to a nature preserve?  Renting homes is also much cheaper than staying in a hotel, too. I highly, highly recommend trying it out on your next trip.
2) Museums in the USA & Museumlink.com  The first link is supposed to be the most comprehensive listing of museums in the United States. Museumlink provides a listing of international museums. It's a good place to look for some ideas, but it's definitely not comprehensive.
3) Tripadvisor  I've received many valuable tips from reviews I've read on Tripadvisor.  Although it's not always true, it usually is a sign that something is worth checking out if it's been highly reviewed by a lot of people.
4) Roadside America I've written about this resource before, but you really should check out this site if you haven't already. It lists lots of quirky, off-the-wall attractions around the United States.  If you're a person who likes to step off the mainstream path, this site is worth looking at. Unfortunately it only lists attractions within the United States.  If you have any suggestions of similar sites for other countries, please leave a link in the comment section below. I'd love to learn more myself!
5) Serve.gov  This site lists thousands of volunteer opportunities in the United States. Just in my area alone there were over one thousand different places to volunteer within 25 miles. Why not consider dedicating at least day during your trip to volunteering?  There are some awesome opportunities from assisting with restoring old homes to working in National Parks.
6) 1,000 Places to See Before You Die  This travel book is one of my favorite books to browse through when I'm dreaming up a new place to visit. You won't find many quirky ideas here, but I found some surprising gems- small, out of the way places that are off the tourist track. It's a great way to get an overall idea of an area before visiting.
7) Weird U.S. Your Travel Guide to America's Local Legends & Best Kept Secrets   There is an entire series of these books, each book focusing on a different state. What I like is that not only does the book point out unusual places to visit that most people overlook, but it also gives a witty and informative history of the state and tells some of the locals legends and lore of the state, too.
8) Print out a local history of some of the towns you're travelling through.  I guess this is more an idea than a resource, but a fun idea to do with the family is to read aloud the history of a town as you're driving through it. Before you go on your trip, pick out 6-10 towns you'll be driving through, do a quick internet search for the local town history, and read through some of the highlights as you're driving through the town or city.
9) The Most Unusual Restaurants in the World  Even if you're not going to travel, you have to check this website out. It's awesome!  You'll learn about some of the most bizarre and unusual restaurants in the world. From dining in the dark to being served by dancing robots, I'm sure you'll find a unique and interesting restaurant to visit on your next trip.
10)  Start a travel collection  This link is to a great article about how to help your child start a collection.  Why not pick an object or several different objects you want to collect on your trips?  My husband and I have done this with lighthouse miniatures since our honeymoon. We also like to pick up ornaments for the kids. Think of what you love to do, and start a collection. Visit antique stores or thrift stores in new places, or go to stores unique to that area.
 Photo Credit: szeke
What are some resources you use when you plan your travels?
I'd love to hear from you. Please leave me a comment below or send me an e-mail at chris@christinapilkington.com.  Don't forget to sign up for my mailing list so you know whenever I post a new article. Just sign your name and e-mail address in the box at the upper right hand corner of this page.
Share on Facebook