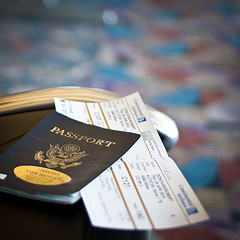 To wrap up my September travel series, I'd like to pay homage to some of the many blogs and websites by travelling unschoolers & interest-led learners who have inspired me to pursue even greater adventures.
They've shown me how travel can make learning richer and deeper. They've taught me to go outside my comfort zone.  And they've inspired me to bring as much of the world as I can to my kids.
I hope you enjoy getting a peek into the lives of these 15 amazing unschooling/interest-led learning travelers.
1. The Sattvic Family  This family of three lives in Thailand for now. They've lived in many places including Italy and South Korea. They're awesome. Check them out!
2. Raising Miro  Join Lainie and her son Miro as they continue on their 8 year round-the-world adventure. So far they've made their way through Central America and are currently in South America. They have an awesome podcast, too!
3. Soul Travelers 3  I've been following this family of 3 since they first left on their never-ending, round-the-world trip when their daughter was 5. She's 10 right now. They have great info about planning for extended travel as well as great reviews and recommendations.
4. Travels With a Nine Year Old  This blog is new for me, but I'm already in love with it. Mom is a great writer and she uses her wit and knowledge to craft a wonderful tale of her non-stop travelling adventures with her ten year old son.
5. WorldSchool Adventures  They haven't set off travelling yet, but this blog is a great way to learn more about the process of preparing for a multi-year trip. Once their home sells, Mom and Dad plan to take their two young boys and slow travel throughout Asia, unschooling and life learning along the way.
6. 1 Dad, 1 Kid, 1 Crazy Adventure  I've only briefly connected with this dad on Twitter recently, but I love his sense of energy and excitement as he shares about his plans to travel the world with his son who is 10 years old.  So far they are just about 4 months into their journey and have been to Mexico and several Central American countries.
7. Edventure Project: Combining Education with Adventure  A few years ago Mom and Dad took their four children on an adventure of a lifetime. They spent a year touring Europe and North Africa. Since then they have spent some time in the States and are now preparing to travel back to a country they fell in love with, Guatemala. They have wonderful virtual field trips for sale on their sites which are packed with exciting ways your kids can follow the family on their adventures. Check them out!
8. At Home in the World  This Canadian family of 6 sold their home in Canada and decided to travel the world.  Read about their wonderful travels and learn a little more what life is like on the road with 4 kids.
9. Our Travel Lifestyle  A family of four from Australia leaves the 9-5 daily grind to worldschool and has the adventure of a lifetime. They plan to travel through Asia and then head to the Americas.
10. Family Vagabonding   Mom and Dad have travelled to over 30 countries on 5 continents with their two youngest children. A really great blog I've been reading recently. Live vicariously through them and travel the world!
11. Hudson Family  This family of four has done it all – backpacking in India, Nepal, Asia, and Africa, running a hotel in South China, and travelling across the USA and Mexico in a camper. And that's just naming a few of their adventures!
12. With Two Kids in Tow, It's Backpacking We Go!  I've loved following this blog about an Aussie/Canadian couple who are travelling for a year throughout India and Southeast Asia with their 4 and 5 year old girls.
13. Snaps & Blabs  An unschooling family of 5 who are on Day 186 (or around there) of their at-least-a-year, round-the-world trip.
14. DiscoverShareInspire  The Dennings are probably one of the coolest travelling families I have ever heard about. I want to be like them when I grow up! Seriously, they are setting off for their latest adventure- travelling in a veggie powered truck from Alaska to Argentina – with 5 kids!   Their other trips have been equally amazing – driving from Utah to Costa Rica, living in the Dominican Republic and India, and driving from Georgia to Alaska.
15. Boyinks Adventure  This family of four, including a 12 and 14 year old, is travelling around the US in their RV. They provide great resources and tips for pre-planning a trip in an RV and what they've learned along the way.
Photo Credit: Robert S. Donovan
I hope you've enjoyed this series of posts about Interest-Led Travel. Please leave me a comment below or send me an e-mail at chris@christinapilkington.com . I'd love to hear from you!
Sign up for my mailing list at the upper right hand corner of this page. I'll let you know when I've posted something new, and will also pass along other tips, news, and ideas about interest-led learning.
Share on Facebook