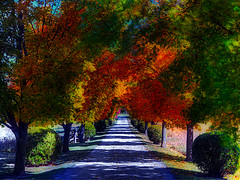 There's five more days of summer left. That's it. Not that I'm complaining. Since we're a school-free family, our lives are not that affected by the days of the year. We can still play outside all day if we'd like, or stay inside and work on projects indoors.
Instead of feeling the crispness of the air and cringing, I'm looking forward to all the fun fall things that come with this time of the year.  We're looking forward to decorating for Halloween, our annual Halloween walk, collecting piles of leaves, raking the leaves and jumping in them, planning a wonderful Thanksgiving dinner, lots of great fall hikes, and all the other annual traditions.
Here are 10 not-your-usual fun fall ideas to spice up your autumn months.
1. Instead of tulips, plant a time capsule in your backyard.  You can store away things that remind you of what you did this past summer. Then bury it to be dug up again in the spring.
2. Play spin the globe. Close your eyes and spin a globe. When the globe stops, put your finger on it and open your eyes. Where did your finger land?  What is fall like in that country?  What is the weather like?  What traditions and festivals take place during this time of the year?
3. (if you live in the United States) Check out a book that includes recipes from the first Thanksgiving celebration.  Find something you've never served before on Thanksgiving and serve it this year.
4. Collect a bag of colorful leaves, if you have them where you live, and bring them to someone who cannot get outside to see the leaves themselves. Gather leaves to bring to a nursing home or hospital for sick children.  Bring along some colored paper and glue to make leave collages.
5. Research the origins of Halloween.  When did it first start and why?  How does the way it's celebrated in the United States differ from the way it's celebrated in other parts of the world?
6. Plant a fall vegetable garden.   After an early fall or late summer harvest, instead of getting your garden ready for the winter, thing about beginning a new crop to harvest late in the fall.
7. Keep a moon journal for a month. Go outside each evening and make a drawing of what the moon looks like. What shape is it?  What color is it? Where is it located in the sky?
8.  Prepare a hibernation basket for a family in need. When animals hibernate, they prepare themselves with either food or a full stomach for the long winter months ahead. Think of a family in need who could use extra food or clothes for the winter. Then leave them an anonymous care basket on their front door.
9. Research the origin of spices. Fall is usually a time of strong, fragrant spices: nutmeg, paprika, ginger, pumpkin, and cinnamon.  Make a list of your favorite spices. Where do they come from? How are they harvested?
10. Watch some fall-themed movies. Some suggestions: It's the Great Pumpkin, Charlie Brown, Planes, Trains, and Automobiles, The Last of the Mohicans, and Fly Away Home.
 Photo Credit: paul (dex)
I'd love to hear from you. Please leave me a comment below or send me an e-mail at chris@christinapilkington.com. 
Sign up for my newsletter and get a free copy of my e-book A Thrift Store Curriculum. You'll also receive notice whenever there's a new post, plus receive bonuses, tips and news.
Share on Facebook