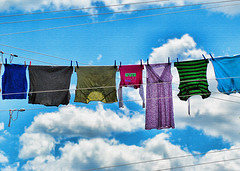 Last Saturday I started a post where I shared tips for including your young child in your daily life.
To read the first part CLICK HERE
Now on to Part 2
3. Task – Doing the laundry.
* Categorizing and separating clothes into separate piles
*working together to load the washer and dryer
*folding clothes and putting them where they belong
Learning that takes place – cooperation skills, organization, fine motor skills, patterns.
4. Task – Straightening the house.
*deciding on the best place to put things so they are there when you are ready to use them
*deciding on a game plan for straightening the room so they're not making unnecessary trips (like putting all the things that belong in a room in a basket and taking them there all at once, picking up everything off the floor first, and so on)
*going through old toys, games and materials and deciding which ones they don't use anymore and deciding whether to sell them or give them away
Learning that takes place – organization, planning, decision-making.
5. Task – Cleaning the house.
* learning about disinfectants and how to safely kill germs
*learning the steps in doing cleaning tasks like vacuuming, sweeping, mopping, washing dishes, cleaning the bathroom, washing counters, and dusting.
Learning that takes place – following directions, science, large motor skills
6.  Task – Cooking and baking.
* reading recipes
*learning ways to be safe around knives and fire
*experimenting with different measurements, food combinations and baking times.
* estimating how long something will take to make and deciding when dinner will be ready
Learning that takes place-reading, safety, math, science, creativity, estimation, clock skills, nutrition.
7. Task – Planning travel.
*brainstorming travel ideas
*going on sites like VRBO and Home Away and doing research with me about what homes we could rent for  our budget price
* going on sites like Trip Advisor, reading guide books and looking  at online encyclopedias to see what activities and attractions we would like to visit
Learning that takes place – research, reading, planning, creativity, math, history
8. Task – Packing for travel.
* looking up the weather online and deciding what types of clothes we should bring
*deciding how many shirts, pants, socks, and so on that we need based on how many days we'll be away
*learning how to pack a suitcase to make the best use of its space
Learning that takes place – science, planning, estimation, math, spatial skills
9. Task – Going on errands.
* making a list of what errands we have for the week
* deciding on which days would be best to do the errands based on our other obligations during the week.
*observing and asking questions while we go on errands to places like the post office, village hall, doctor appointments, drugstore, and other businesses around town.
Learning that takes place – writing, decision-making, language and communication skills, social studies
10. Task – Planning learning adventures.
*brainstorming fun ideas to do
*searching online and in local magazines for places to visit
*reading through catalogs, deciding on what resources look interesting, and seeing if we can check them out for free at the library or purchase them discounted someplace else.
Learning that takes place – reading, research, creativity, decision-making, math
How you help you young child develop life skills and encourage him to contribute his skills to help make the family run smoothly?
Photo Credit:mysza831
Have you signed up for my newsletter yet?  Sign up today and download your free copy of my e-book-A Thrift Store Curriculum PLUS you'll receive notice of new posts and tips, ideas, and bonuses not included here on the site.
Share on Facebook