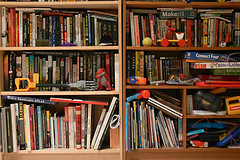 I love reading homeschooling sites and blogs. It's fun getting a peek into other families' lives, but the main reason I love to read them is to steal their idea. We've never before lived in a time when we have access to so many great ideas and resources at our fingertips at any time of the day or night.
I've come across so many wonderful ideas for resources and activities just by scanning my blog feeds on Google Reader and reading e-mails. We learn through our interests, so it's important to us to have a ready supply of rich ideas and a variety of different resources and activities to choose from each week.
I've learned so many wonderful things from the readers of this site. So, today I'd like to propose an idea. I'd like to share each month the resources and activities I've done with my family that month. It's my hope that some of these ideas might spark some interest in your family or lead you to another great idea that would work well in your family.
But I'd like you to participate, too. Please leave suggestions for great resources and activities in the comment section below. I'd like to make these monthly posts a rich resource for everyone that visits and reads the site. I will make a place for them on the sidebar so you can back whenever you need to for inspiration and ideas.
*I want to note that none of the links below are affiliate links. I've included them so you could get an idea of what the resource looks like and to read reviews. If any of these resources look interesting, I'd suggest you check first at your library or buy them used on Amazon or Ebay.
Our Resources and Activities for November 2011
Books
Good Morning, Gorillas (A Magic Treehouse Book)
Panther Dream: A Story of the African Rainforest
Breakfast  in the rainforest: a visit with mountain gorillas
Stage Fright on a Summer Night (a Magic Treehouse book)
A Midsummer's Night Dream for Kids
A Child's Portrait of Shakespeare
A Street Through Time (I highly, highly recommend this book- Awesome!)
Scooby-Doo and the Deep Sea Diver
Scooby Doo and the Scary Skateboarder
Scooby Doo and the Mean Green Mystery Machine
Scooby Doo and the Headless Horseman
Sooby-Doo and the Thanksgiving Terror
The Missing Mummy (an A to Z Mystery book)
Sleepy Hallow Sleepover (an A to Z Mystery book)
The Talking T.Rex (an A to Z Mystery book)
DVDs
Garfield: Holiday Celebrations (Thanksgiving episode)
William Bradford: The First Thanksgiving (Animated Hereos Classics)
The First Four Harry Potter Movies
YouTube
BBC Animated Shakespeare Tales: Taming of the Shrew, Romeo and Juliet & Midsummer's Night Dream.
CDS
Music of the rainforest pygmies
Shakespeare for Children by Jim Weiss (great CD!)
Kits/Experiement Books
Magic Schoolbus Germs (great, great resource)
Activities/Trips
We went to Kansas City and Branson Missouri the first week of this month. Some of our favorite activities included:
A ride on the D.U.C.K.S.
Paddle boat rides
Silver Dollar City (watching a glassblower, going on rides, watching a parade, taking an hour and a half tour or Marvel Cave, watching the plays A Christmas Carol and A Live Nativity, going on a train ride, and lots of treats!)
Visiting Anita B.Goodman Conservation Discovery Center
Making art at Kaleidoscope
Visiting Science City
Other things we did this month were:
Visited the Cernan Space Center and watched a film on the visible constellations in the November sky in our area.
The kids got a good (if not gross!) look at the insides of my nostrils on a TV monitor at the sinus doctor
Swimming lessons
And lots and lots of pretend play!
Every year on the day after Thanksgiving, it's our tradition to pick out our tree, decorate it while listening to Christmas music and then watch our first Christmas movie of the season.
Photo Credit: gordasm
I'd love for you to list some of your favorite resources your family has used this month or favorite activities in the comments below. It will greatly add to the value of this post for all readers. Thank you!

Share on Facebook