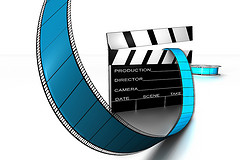 What's your favorite Christmas movie? Rudolph the Red-Nosed Reindeer? It's a Wonderful Life? A Christmas Carol?
When it starts to get cold outside (at least where I live!), I love to snuggle up in a blanket on the couch with the kids on a Friday afternoon and watch a great movie.  We love watching all the traditional Christmas movies. During December we probably watch at least a dozen or more of them.
But I've discovered quite a few movies that take place during Christmastime that are not the usual traditional movies we watch every year. Some of them are documentaries, some based on great literature and some great historical dramas.
Here are 10 non-traditional Christmas movies to check out with your family this holiday season.
Enjoy!
1. The Lion in Winter – 1968 Rated PG -Peter O'Toole stars as King Henry II.  It's Christmastime 1183 A.D. and King Henry II's three sons and his wife plot to force him to choose who will inherit the throne.
2. The Chronicles of Narnia: The Lion, the Witch and the Wardrobe -2005 Rated PG –Peter, Lucy, Edmund and Lucy find their way through a magic wardrobe into a land called Narnia where they must free its inhabitants from the evil White Witch.
3. Boys Town  – 1938 Not-Rated – A  biographical drama based on the real Father Edward J. Flanagan's work with a group of disadvantaged and delinquent boys in a home he named "Boys Town."
4. Citizen Kane -1941 Rated PG – Orsen Wells plays the part of Charles Foster Kane based on American newspaper magnate William Randolph Hearst.  The film shows how Kane's idealism changes into ruthless pursuit of power.
5. Since You Went Away – 1944 Not-Rated – A film based on the novel Since You Went Away: Letters to a Soldier from His Wife. It's set in a mid-sized American town where people with loved ones in the military during World War II try cope with feelings about the war and to make their own contributions.
7. The Crossing  -2000 Not Rated – A historical drama that portrays George Washington's famous crossing of the Delaware River to surprise the British on Christmas Day.
8. Joyeux Noel – 2006 Rated PG-13 – The true story account of the unofficial truce that took place on Christmas Eve of 1914 during World War I between British and German troops where they sang Christmas carols and exchanged gifts.
9. The Swiss Family Robinson – 1960 Rated G – Based on the same-named literary classic, the film is about a family who is shipwrecked off an island and must make a new home while fighting off pirates who want to take over.
10. Christmas Unwrapped-The History of Christmas – 2005 Not Rated – Produced by the History Channel, this documentary traces the roots of Christmas back both to its pagan and Christian to the present and how it has been further shaped by pop culture and consumerism.  
 Photo Credit: M4D Group
Do you have any other movies that take place around Christmastime that should be added to this list?
Share on Facebook