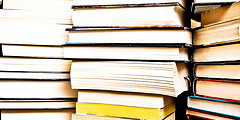 The first book I read about unschooling was John Holt's Learning All the Time.  That book totally changed the way I looked at the way kids learn best.
During my first year as a public school teacher, I had been reading articles and blog posts about how kids were learning without following a teacher-prescribed curriculum. At first I thought that is was crazy that these kids didn't even have grades in the schools I was reading about (the Sudbury Valley Schools).
I thought, "If you don't give kids grades, what will motivate them to do homework, pay attention in school, or complete their papers and worksheets?"
Finally, it hit me. That's the point isn't it? That kids need to have some type of reward system in place and coercion in order to sit through and participate in most of the things they are required to do in school.  What if they were allowed to learn those things they were interested in instead?
That's when I was introduced to John Holt and John Taylor Gatto; my world was turned upside down.
I was very, very blessed to come across some amazing authors early in my journey towards interest-led learning. Many of you might be familiar with some of these authors. I hope to introduce you to some new authors and books, too.
Here are the 10 authors that inspired me early on my interest-led learning path.  
1. John Holt – How Children Learn, Learning All the Time, Instead of Education: Ways to Help People Do Things Better.  Holt is pretty much the godfather of unschooling. He coined the phrase in the late 70's. He's written close to a dozen different books about freedom in learning and in life for children.
You can also read for free all the archives of the newsletter he founded called Growing  without Schooling (and was later carried out by others after his death) at http://www.holtgws.com/gwsarchives.html
2. John Taylor Gatto – Dumbing Us Down: The Hidden Curriculum of Compulsory Schooling, The Underground History of American Education, Weapons of Mass Instruction: A Schoolteacher's Journey Through the Dark World of Compulsory Schooling.
I had the privilege of watching Mr. Gatto speak at a homeschooling conference two years ago. He is such an inspiring person. He was a New York City public school teacher for over 30 years and even received an award for Teacher of the Year. He quit shortly after receiving that award because he said he "no longer wanted to harm children anymore."
If you only read one thing by Gatto, I'd suggest The Underground History of American Education. No one can ever look at schooling the same way after reading that book. Mr. Gatto has made the book free to read online, too. (You can find the book by clicking on the link for it above).
3. Mary Griffith – The Unschooling Handbook: How to Use the Whole World as Your Classroom, Viral Learning: Reflections on the Homeschooling Life. 
I read the first book when my kids were toddlers. It's full of very practical advice to parents how children learn so much by following their interests. Mary also gives many examples of how traditional school subjects can be learned just by living a rich, full life.
4. Laura Grace Weldon  Free Range Learning: How Homeschooling Changes Everything. Laura also writes an inspiring blog where she shares articles and essays about her life, many of which discuss freedom in learning.
Laura's book is a rich treasure trove of practical ideas of how to provide a rich, interesting learning environment for your kids.  This is such an important resource to have on your shelf. You'll find yourself going to it again and again.
5. Alison McKee – Homeschooling our Children, Unschooling Ourselves
Alison's book about how she homeschooled her children and her struggles with letting go of the idea of school at home and relaxing into following her children's interests is fascinating. I was also able to hear Alison share her story in person the last few years, too. Her two children went on to do some amazing things because they were given the time to follow their own unique path in life.
6. Nancy Wallace – Child's Work: Taking Children's Choices Seriously, Better Than School: One Family's Declaration of Independence
I also read Nancy's two books about her life of living and learning with her two young kids when my own kids were just toddlers. I loved reading the story of her children's life of freedom in learning and knew that was the same kind of life I wanted for my family, too.
Here's a description of the book I copied from Amazon:
What happens when children are allowed to spend their growing years doing what they want to do rather than what others think they ought to do? What happens when they have the time and the opportunity to explore the world in their own ways? Nancy Wallace's first book, Better Than School, was the story of how the Wallaces fought for and won the right to teach their children, Vita and Ishmael.
Now, in Child's Work, Nancy looks at what happened in the years that followed; how Vita and Ishmael explored and became skilled at music, mathematics, art, and writing, and how Nancy learned to trust their idiosyncratic ways of learning and to respond seriously and helpfully to the choices they made.
7. Sandra Dodd – Sandra Dodd's Big Book of Unschooling
Sandra has written extensively about unschooling, and in particular radical unschooling at her website.  Even if you find some of her thoughts and ideas about topics such as bedtimes, TV/video games, and food a bit too radical, I'd highly encourage you to read through her book. I love the way she talks about honoring and respecting our children. She has inspired me so many time to say yes to my kids and truly be with them in the moment. 
8. David Albert  - And the Skylark Sing Sings with Me- Adventures in Homeschooling and Community-Based Education, Homeschooling and the Voyage of Self-Discovery, Have Fun. Learn Stuff. Grow. Homeschooling and the Curriculum of Love  
I also had the privilege of listening to David speak at a homeschooling conference a few years ago. He is the father of two very intelligent creative girls who are now young adults. He has a very witty, engaging writing style and shows through well-written anecdotes and essays how children learn best in an environment of freedom and respect. 
9. Howard S. Rowland – No More School: An American Family's Experiment in Education
This is an out-of-print book, but I was able to find a used copy on Ebay a few years ago.
It's the story of a family who decided to take a year away from their commercialized, American lifestyle and live in rural Spain for a year in the 1970's.  It's a charming, wonderful story of a family who reconnected with each other, discovered how much children can really learn when they are surrounded by adult conversation and have the chance to ask endless questions, and have an unlimited amount of time to explore and learn things that interest them.
10. Wendy Priesnitz – Life Learning: Lessons from the Educational Frontier
Wendy is the editor of Life Learning Magazine, an online magazine about learning through living outside of the school system. It's a tremendous resource – very, very inspiring and encouraging. Wendy has also written several other books about freedom in learning, too.  
Photo Credit: RLHyde
What books have inspired you in your interest-led learning journey?
Share on Facebook