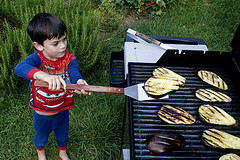 Summer is almost here!
We have exactly three weeks left until the first official day of summer.  I'm sure you have a lot of great summer fun already planned. You probably have things like swimming, hanging at friends' houses, parks and beaches on your list.
If you're looking for a few more ideas…. 
Here are 10 Out-of-the-Ordinary Summer Activities for your family to enjoy!
1. Ride bikes around the perimeter of your town. This may be difficult if you live in a really large city, but you could do it in small chunks, marking off on a map where you left off. A really easy way to find out the exact borders of your town or city is to type its name in Google Maps. That site gives you a really nice outline of the border.
2. If you have teens, let them plan out and put on a summer day camp for younger kids. They can put on a general type of camp, or have them set up a themed camp based on their interests and talents – a music camp, cooking camp, sports camp or crafting camp.
3. Let your sidewalk, deck or other outside space became your child's art area. A few years ago, the kids painted almost the entire deck with washable paint. Bring out the side walk chalk. Check out these amazing images at Extreme Sidewalk Chalk for some inspiration.
4. If you have them in your area, visit a Farmer's Market and buy 5 new fruits or vegetables you've never tasted before.
5. Make a Fall Wish List. Summer is a great time for dreaming. Sit down with your kids and a big pad of paper and dream together about some activities, trips, or projects that sound fun and interesting that you could do in the fall.
6. Attend some local concerts in your area. Many areas of the country have wonderful free concerts through park districts, village halls, and colleges. It's a great chance to check out some music you don't normally listen to. After all, it's free. You can always leave!
7. Sign up to receive a weekly summer science activities e-mail from the Museum of Science and Industry. Just today I registered for the Museum of Science and Industry Summer Brain Games. Starting June 18th, the museum will send you a weekly e-mail with fun science activities to try that week. Each week will feature a new summer science theme. You'll also receive one free voucher to visit the museum, too.
8. Let your kids plan and cook a summer BBQ for friends and family. This might be a little tricky if your kids are young, but for older kids, let them plan out a summer dinner. Give them money and let them go shopping by themselves. Let them invite whoever they want to come to the meal.  They can also set up and clean up after the meal, too.
9. Watch some great summer-themed movies with the family. Here are some suggestions: The Sandlot, Parent Trap, The Babysitters Club, Space Camp, Flipper,  and Race for Your Life, Charlie Brown.
10. Check out some great summer activity books with your kids, lie down on a blanket outside together, and make a list of some things that sound fun. Here are some books to get you started: Summer Fun! 60 Activities for a Kid-Perfect Summer.  Carschooling has fun activities for the car if you'll be taking some long trips.
Photo Credit: woodleywonderworks
What are your family's favorite summer activities?
Share on Facebook