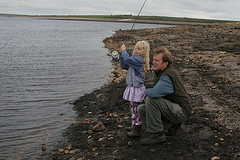 *Today my family and I are leaving the  beautiful city of Montreal, Canada (the second city on our 3 week road trip) and driving towards Franklin, Maine where we'll be spending a week at the gorgeous Acadia National Park.
 So, I'm happy to share with you a guest post by a new friend, Tereza Crump of the blog Creating Treasures. Tereza always brings such a strong voice and passion to everything she writes. She has a very powerful message to share. Enjoy!
I have met a couple of mothers who are interested in homeschooling or planning to begin this journey but have no clue where to start. Sometimes they think they have to do school at home and dread even beginning.  When I try to explain to them about unschooling or interest-led learning, I always get a blank look in their eyes. You know the one?
I began homeschooling my first daughter before she was born. How could that be you ask? Well let me begin from the beginning.
I am a native of Brazil. I met and married my North American husband in 6 short weeks. I moved to the USA in 2001 and have been here ever since. When we first got married and began talking about children he told me that he wanted to homeschool our children. I had no idea what the word meant or that such a thing existed.
As I began to read books on it, talk to people who homeschooled, discuss the reasons why my husband thought homeschooling was so important to him and seek the Word of God on the subject, I became more and more excited about it. I saw the possibility of using my gifts and realizing dreams. Let me explain…
 My Journey through Schooling
Both my husband and I had our own distinct struggles in school.  When I finished kindergarten, my teacher announced to my mom that I was the only one in the class who couldn't read. I was bullied and called names in elementary school. I was a good student, more interested in exciting subjects than scoring an A in a test. I would bring Bs home and my dad would ask me why I didn't get an A. He never asked me if anything I was learning was exciting.
When I was 9 years old, I met a neighbor who had a humongous library in her home (walls and walls covered in books). I read 40 books that year. The next year, my Dad was sent to the USA to study, and I became fluent in English within 6 months of being in the country. We lived here for 2.5 years, and I became a bookworm. I was given an award for the best student in the county I lived in and labeled a genius by the school counselor when my SAT scores were so high. (Nonsense!)
Back in Brazil, I became bored with school during my high school years. I went to a private school and most of the kids were rich and didn't respect or care for the teachers. School was the place to date and parade the latest fashion. I flunked one year when I refused to go to summer school because I hadn't learned anything. It just didn't seem right to study a few weeks to recoup a whole year. My parents were really upset but it felt good to start again and finish it right.
My last year in high school I learned a lot of interesting things but also memorized a lot of useless information so I could pass a test and enter college.
In college, I did the minimum to pass the courses that I had no interest in but were required. The courses I enjoyed I did more than the extra activities.
 Big Dreams
I had big dreams of traveling, becoming a diplomat, having children, learning languages and doing lots of eclectic things like working with plants and animals, writing books, being an artist, dancing and even singing. At one point in my life, I even wanted to open a catering business of some sort. Another time, I tried wedding arrangements and invitations. 
I clearly remember a conversation I had with my father about what career to pursue. I was so confused about what to study in college. He told me: "You can be anything you want. You can begin a career now and add to it, or change it later."
That was so freeing! That meant that I didn't have to be stuck in something I didn't like (like I had in school), and that I could learn anything I was interested in (which was not possible in school).
But here is the thing: it does not have to continue with our children! Homeschooling can be the opportunity for our children to achieve so much more than we did during our school years. Homeschooling can be the opportunity for us to learn with our children the things that interest us.
So going back to the beginning…
 Learning Things to Live a Richer Life
When we decided to homeschool our children, I began reading on the subject: the different curriculum, styles, schools of thought, and ways of having a school room, library or whatever. I decided which ones were not right for us based on our past experiences. Yes, based on things I had experienced in school that I didn't want to repeat.
I knew I didn't want my children stuck at a desk all day long. I knew I didn't want my children reading books they had no interest in just because it was in someone's list of must read books. I didn't want my children memorizing math facts so they could pass a test. I wanted my children to learn for the joy of learning and for necessity.
Two of my children are independent readers because they wanted to read on their own. They had a need and decided to learn a skill to fulfill that need. Now they read because they want to know something that is in a book. They learn things so they can live a better life. We all do that every day. We learn things to live better. One doesn't have to sit at a desk to learn something. One doesn't have to go to school to learn how to do math or read or write.
Because I loved to read, I began reading to my first born. Because I liked music and dance, we sang and danced every day. I taught myself how to scrapbook, make cards and mixed media art. She followed suit. She learned how to draw by reading books and watching videos on it. She learned how to make jewelry and write poems by watching, listening and practicing. She learned how to swim so she wouldn't drown in our pool. Her brother and sister did the same. They swim like fishes today.
Talking about fishes… they learned to fish with their Daddy who loves to fish. They learned about how to care for fishes by having an aquarium at home. They caught tadpoles and raised frogs by exploring the creeks at the park. They learned to ride our go cart by listening and doing it slowly at first. Now, they fly down the hill!!
They are learning science, cooking, gardening, history, biology, literature and so much more the same way: by living life. They wake up in the morning and ask me questions. We turn the computer on and begin our search. Sometimes, we read a book, check out a website, watch a video, and watch a TV show – discuss the possibilities of learning.
 Does Anything We Do Ever Look Like "School?"
So, do we ever sit down and do copy work? Yes, sometimes when my nine year old daughter decides she wants to practice her cursive handwriting; sometimes when my six and a half year old son wants to write a note to Grandpa and needs to re-write the note because he misspelled something.
Do we ever memorize anything? Yes, when my nine year old daughter loves a song and she will sing it by heart over and over again. Sometimes, when the poem is catchy, or when my six and a half year old son can calculate things faster than her, then my daughter decides to memorize the times table of 4. Sometimes we also take time to memorize Scripture.
I had dreams of learning languages – I speak 3 languages fluently. I wanted to be a diplomat – I am one every day in my house with 4 children who sometimes need a mediator. I wanted to have so many careers – I have worked in International Business, was an actor, a missionary, an English and Spanish teacher. Today I am a wife, a mom, a chef, chauffeur, spiritual counselor, teacher, PE instructor, nutritionist, doctor, nurse, maid, accountant, gardener and so much more.
 Dreaming Big Dreams for Yourself & Your Family
What are your dreams? What are your gifts? Begin with those in your homeschool journey. What do you want for your children? How is it different or the same as it was for you as a child?
Don't try to copy school at home, unless that is what you want in your house. Think big! Dream big. Know that your dreams or gifts will change. That is ok. Change your course as needed. It's ok to begin with a curriculum and drop it because it's not working. It's ok to try something and make mistakes. We learn when we make mistakes.
When thinking of your home life with your children, plan for long term; live like this is your last day with them. Put yourself in their shoes. Take time to give hugs and to teach them how to sweep the kitchen. Sit down and play with them. Find out what they want to learn, what they like, what their interests are. Teach and share with them what interests you.
I share Jesus with my children every day. I use opportunities to tell them what I am learning, what God is teaching me. I began a garden this past spring. My first garden! My children have helped every step of the way, and they are learning so much. I love to cook. They are in the kitchen with me everyday helping. What do you like to do?
When I look at my children they are so much more confident and joyful than I was at their ages. They are so much more secure and free than me or my husband was at their ages. They know so much more than we did at their ages. They already know Jesus, many years before we met Him. I have no doubts that they will go farther than we have come; they will accomplish more than we have, because they are so much more than we were at their age.
What are your dreams? What are your gifts? Begin with those in your homeschool journey no matter how far along you are in it. You'll be amazed with the things you will learn and how far your children will go.
Tereza Crump is a native of Brazil, a believer in Jesus Christ, saved by Grace alone, and married to a wonderful husband. She has 4 children under the age of 9. Her husband was the one who wanted to homeschool and she followed suit. She likes to be with her family 99% of the time. She also likes to see her children learn and make discoveries.
Tereza is a creative spirit. She has a small business on the side where she creates custom made wedding cards and scrapbook albums. Lately, she has been making many baby albums for babies that didn't get to stay here with their parents, but after a brief visit, left to be with their Heavenly Father. She strives to make unique keepsakes that bring glory to God.
You can see more of her work and how her family homeschools at her blog Creating Treasures.  You can also check out her custom work here, and visit her Etsy Shop.
Photo Credit: FieldsportsChannel.tv
What gifts and dreams do you love to share with your family?
Share on Facebook