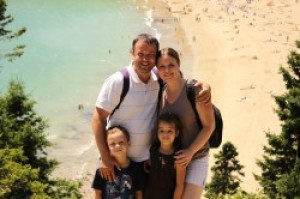 This month I'm going to share our unschooling fun and resources in two posts. Most of the month we were on a big road trip covering almost 3,400 miles in 19 days. We had lunch in Vermont and Connecticut, got gas in New Hampshire, stayed a night in Toronto and two nights in Montreal, relaxed at a cabin in Franklin and explored Acadia National Park for 7 days, saw the most gorgeous lighthouse ever in Portland, Maine, spent three hot days in Boston, had three days of adventures in New York City and spend a night swimming at a hotel in Ohio.
Here's a breakdown of the trip. If you have a chance to visit any of these places, I highly recommend it!
CANADA
Toronto
We were actually able to get out the door at a great time 7:45, which was good because we had about a 9 hour drive to Toronto.
After a Subway dinner and then lots of play at the indoor pool at the hotel, we went to bed early to get ready for our 7 hour drive the next morning.
Montreal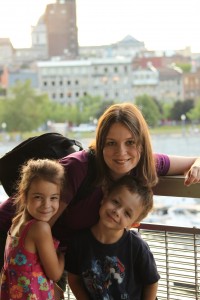 We arrived at 4 in the afternoon. After settling in to the apartment, we set out to eat in the Old Montreal area. It took one hour instead of 20 minutes because we got turned around, but we eventually made it. Every lower budget food place was closing up, so we had to grab some quick slices of pizza and Thai food at a food court.
Horse-drawn Carriage Ride around the Old Montreal section. After our quick dinner we went on a carriage ride. It was spectacular! We rode down cobble-stoned streets, lined with real gas lamps, that made me feel we were somewhere in Paris in the 1800s. We had wanted to tour the inside of the Notre Dame Basilica but arrived too late, but it was simply gorgeous on the outside. Finally, we came back to apartment and went to sleep by 11:00.
Mont Royal Park – We had a picnic in this park which was designed by Frederick Law Olmsted of Central Park fame. The kids loved watching hundreds of caterpillars hanging from trees, hiking around a lake, and playing with new friends at a playground. (They spoke French, the kids spoke English, and it all worked out!)
Pointe-a-Calliere  Museum of Archeology & History  This was a wonderful museum. We watched a very unusual, interactive presentation about the history of Montreal and then explored the rest of the museum, which was mostly underground. The museum showcased the original foundations of the city.
Eating Dinner right on the Palace Jacques-Cartier – playing in the fountain, watching a wedding party take pictures.
MAINE
Bangor
We left Montreal and drove for about 7 hours to Bangor, Maine.
Steven King's House – I just had to stop by Steven King's House for pictures. Then we stopped for a quick dinner before driving the hour to Franklin, Maine.
Franklin/Acadia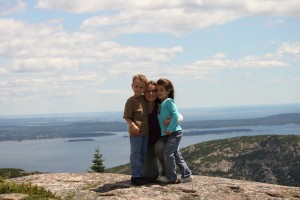 We stayed for 7 nights at a cabin right on a very large pond in Franklin, Maine. It was my favorite week of the trip.
Here's what we did around the house:
Played The World of Knowledge, Life, Chess, Checkers, & Jenga on the screened in back porch that overlooked the lake.
Kayaked around the island and hiked across the middle of it. In the middle of the pond was a little island- about a half mile long and ¼ mile wide (you can buy it for $480,000!). We climbed out of our kayaks and tied them to shore, and then we hacked our way through the middle. There was very thick foliage growth and the kids and I just had flip flops on, so it wasn't easy. On the other side, Steve and the kids decided to swim around the outer edge of the island to get the kayaks and come back for me. Steve and the kids also kayaked about two other times while we were there.
Watched many bald eagles swoop over the pond and up into their nests near the cabin.
Roasted hot dogs and marshmallows over the campfire. The kids spent a long time throwing twigs, leaves and everything else they could into the fire to keep it going. They also got a kick out of roasting marshmallows inside in front of the wood-burning stove.
Watched several episodes of Little House on the Prairie Season 3. I also would read them a chapter from By the Shores of Silver Lake most nights before bed. What made it even more fun to listen to the book at night was that the cabin was built just like the Little House cabin. Every night the kids climbed the ladder to their loft to go to sleep just like Mary and Laura.
Swimming and floating on the raft in the pond.
Here's what we did in Bar Harbor and Acadia National Park:
Doctor Office: Not what we expected to do at all one of our mornings there. I started to get a sinus infection that just started getting worse and was turning into an ear infection, too. So we spent two hours waiting out in a health clinic. Fun! I am very thankful they could see me, though, and I could get some medicine and start feeling better.
Hikes: Ship Harbor Trail, Harbor Compass Trail, Cadillac Mountain, Great Head Trail, Bass Harbor Head Lighthouse
Swimming: Sand Beach and Echo Lake Beach
Great Maine Lumberjack Show: This was such a unique, wonderful show. Tina Sheer, a former Survivor show cast member developed this lumberjack show which showcases 12 events: underhand chopping, axe throwing, log rolling, cross-cut sawing, power sawing, obstacle pole relay, chain saw carving, speed climbing and more. The kids were able to saw using a two man saw up on the stage area.
Diver's Ed Dive-in Theater Boat Cruise – This was one of the highlights of the week. It was a two and a half hour boat ride- the most unique boat ride I've ever been on. Ed, who has made at least 1,000 dives off Frenchman Bay in Acadia and his wife, who mans the boat, took us out an hour off shore, and then set anchor. We watched as Ed got suited up, and then the kids pushed him off the side of the boat. Carrying a very sophisticated underwater camera (the same used by the folks at Discovery Channel), Ed was able to broadcast on a large screen TV on the boat in real time as he collected animals from the bottom of the ocean floor including a huge lobster, crab, sand dollar, sea stars, sea cucumbers, sea urchins.
Then after he came up, he gave a little talk about all the animals and the kids had a chance to pick up and hold all the animals he had collected.
Pemaquid Lighthouse, Bristol Maine – We stopped at this lighthouse on the way to Portland, Maine. After having a nice time at the small museum there, we were then told we couldn't go to the top of the entirely enclosed top of the lighthouse because Jared was a ½ inch too short. After getting pretty upset about that (considering they let us climb all over huge rocks next to the ocean where people have been known to be washed out to sea), and them wanting us to pay to use the bathroom, we hightailed it out of there fast.
Portland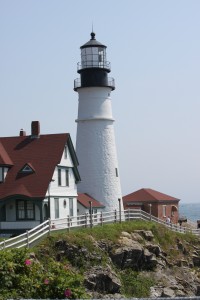 We stayed one night at a hotel in Portland. The kids spent most of the night doing their favorite thing in the world – swimming at the hotel pool.
Portland Head Lighthouse – This was the most gorgeous lighthouse I have ever seen, and I've seen some gorgeous lighthouses in California and Hawaii. We couldn't go to the top (no one could this time!), but the view around it was incredible.
MASSACHUSETTS (Boston)
We stayed at a small apartment in East Boston and had a beautiful view of the city. However, the apartment had no air conditioning and during the day it was in the mid 90's, so it was very hot at night and we had a hard time getting to sleep. Needless to say, we tried to spend as little time possible there as we could.
Walking the Freedom Trail was the big highlight for me in Boston.
Here are the stops we made along the way:
Boston Common – We took a gorgeous ride around the pond in one of the Swan Boats .
Massachusetts State House – just saw the outside
Park Street Church – My Country Tis of Thee was sung on the front steps for the first time  on July 4th 1831.
Granary Burying Ground – Found the graves of Paul Revere, the Boston Massacre victims, and Samuel Adams
King's Chapel – Went inside this gorgeous church that George Washington visited. The kids had a great time opening up the Bibles and hymn books and singing and reading loudly- to the amusement of many people….at least I hope most of them were amused!
Old South Meeting House – This was where people gathered and set out from here down to Boston Harbor to throw the Tea into the Harbor.
Old State House – The Declaration of Independence was read for the first time from the balcony here in July of 1776.
Site of the Boston Massacre & Faneuil Hall
Paul Revere House – We were able to tour the inside.
Old North Church – This was the famous church where the lanterns were lit to signal if the British were coming by land or by sea.
USS Constitution – We took a tour of the inside of the ship and then spend a few fun hours at the USS Constitution Museum.
Watched the new Spiderman movie. We wouldn't have normally paid to see a full price movie like this on a trip (actually we've never taken the kids to see a full priced movie before!), but we didn't want to go back so soon to the incredible hot apartment.  It was really, really great!
Boston Harbor Islands: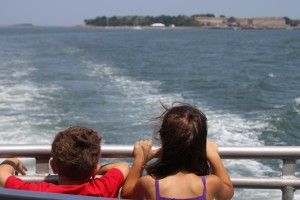 We took a ferry to two of the Boston Harbor Islands on our second day in Boston.
Georges Island:  Most of this 39 acre island is dominated by Fort Warren, a Civil-War era fort. We didn't have much time to explore the area, but we walked through parts of the fort, including climbing to the top.
Spectacle Island  We mostly (well the kids and Steve anyways) went swimming at the beach while we were here. Even though it was in the 90's, I couldn't work myself much further than poking my toes in the icy ocean water. Alexa had met a little girl on the ferry, so the girls played together for over an hour in the water while Steve and Jared went searching for treasures along the shore. We also watched a short history of the island at the visitor center.
NEW JERSEY/NEW YORK CITY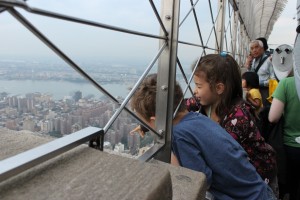 We drove 4 hours from Boston to our hotel in New Jersey. We had wanted to go to the Empire State building the first evening, but it was raining. So we picked up dinner and brought it back to the hotel while we watched a few Little House episodes.
We packed quite a bit into our two full days in New York City
Statue of Liberty & Ellis Island – We boarded the ferry at Liberty State Park in New Jersey. Our first stop was Ellis Island. It was amazing the walk through the hall where millions of immigrants waited to be "processed" before they could leave and make their new home in the United States. We couldn't go the top of the Statue of Liberty because they were renovating it (ugh!), but it was a memorable experience to walk around it.
Central Park – My favorite part of Central Park was renting a rowboat for an hour and rowing around the small lake. Jared was so proud to row us part of the time by himself. We even saw a genuine New York City rat sunning himself on one of the rocks! We also rented model sailboats for a half hour for the kids to sail around a small pond. The kids also really enjoyed playing at one of the playground.
Empire State Building – It was a long wait to get to the 86 floor Observation area, but very well worth it. I even ventured to the edge for a minute or so (I'm pretty scared of heights). The kids freaked me out by sticking their heads and shoulders out of the bars, though. I'm glad they haven't inherited my fear of heights!
Times Square  We weren't going to go to Times Square since we're not big fans of lots of flashing lights and crowds of people, but since we were within 8 blocks or so from there after leaving the Empire State Building, we decided we might as well check it out. It was an experience, let me tell you.  Lots of costumed characters reaching out to grab your kids so you can pay them to take a picture. Lots and lots of people jammed into a small space. But it's something we'll always remember!
The Metropolitan Museum of Art  This was by far the most favorite thing I did in New York City. I'm so glad we spent $5 each for an audio set for each of us. The kids ran around from exhibit to exhibit, searching for the little audio icon. After 6 hours there, Alexa and I were still going strong and wanted to stay, but Jared had reached his limit. I would love for a chance to go back here someday.
OHIO (Cuyahoga Falls)
We had a 8 hour drive the next day to Ohio –our overnight stop before arriving at home the next day. The kids swam for almost two hours in the pool. Then they had a major pillow fight with Steve before finally falling asleep.
Our drive home the next day took about 7 hours. About 40 minutes from home, we blew a tire. Thank God there was a transportation truck right behind us. He had a hydraulic jack which helped save a lot of time.
It was an incredible time filled with lots and lots of amazing memories. I'm very, very thankful for this opportunity.
Have you ever visited any of the places I wrote about? What were your favorite places to see on the East Cost?
Share on Facebook