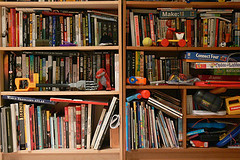 The first three weeks of July were exciting, adventurous and energizing. It's not every month we get to take a three week road trip across the East Coast, visiting 8 states and two Canadian providences.  You can read about our trip in my last post here.
But for the last 9 days of the month it's been….not as much fun. Both Jared and Alexa had fevers over 102 for about 3-4 days. Then I caught it, which led to a more serious sinus infection (I've been pretty good these past few months of fighting them off when they start with natural oils and diet), but this one really did me in. I'm on another steroid treatment with antibiotics.
It's crazy, though, how even when kids can be that sick, they still want to jump around and be just as physical- something I'm not prepared to do at all when I'm sick! They still swam outside in the pool for several hours at a time, rode bikes, and did flips on the bed. If only I could have that type of energy, too (sigh).
So we go from playing in the ocean and looking down from the Empire State Building to high fevers and three doctor visits in one day within the same month. Even so, I didn't mind the change of pace this last week, with lots of stories and games and talking. I've always craved a lot of variety in my life. I could do without the sickness being part of that variety, though!
Here are the resources we used and activities we did mostly during the last part of July.
Books
Penguins and Antartica: a nonfiction companion to Eve of the Emperor Penguin
Eve of the Emperor Penguin: A Magic Treehouse book
Can you see what I see: On a Scary Night?
The Mystery in the Rocky Mountains (A Carole Marsh Mystery)
The Ghost Town Mystery (A Boxcar Children Mystery)
Mister Monopoly's Amusement Park: A Math Adventure
The Little House Cookbook  (we looked through this book for new recipies to try)
Made in China: Ideas and Inventions from Ancient China
TV/DVDS
Lots and lots of the Olympics (which is inspiring a big interest in gymnastics. The kids also received swim goggles from my mom, and that's encouraged them to finally swim all the way under the water. Yea!)
Antarctica
Dino Squad episodes  This is a really cute series. I was surprised at how much math and science there was in most of the episodes, too.
Scooby
Doo Meets the Boo Brothers
Games/Puzzles/Kits
Lego Heroica Game: The Caverns of Nathuz
Whip Cream Abacus: This is a game I made up spur-of-the-moment. I'd give Jared a 2-diget number addition problem to solve on the abacus and then I'd squirt a big dollop of whip cream in his mouth. Then he'd give a problem to Alexa and give her a squirt of whip cream, and then, finally, I'd get my turn. Fun!
At Home Fun
Outside: sandbox play, chase, swinging, playing in the pool, riding bikes, riding scooters
Inside: Lots of pretend play games, figure games, lego play
Hieroglyphics Cartouche Project – We found this project in the book Geography through Art: International Art Projects for Kids. You cut an oval out of cardboard and then design your own hieroglyphs by thinking about what symbols people think of when they hear your name. Then we hole-punched it, run a piece of yarn though it, and hung it on their bedroom door.
Out of the House Activities
Library Visits & Grocery Shopping
Yearly Doctor Check-up (plus Jared  and Alexa had high fever from viral infection)
My two doctor check-ups (My kids have gotten quite an education on the upper respiratory system of the human body!)
Playground
On the Computer, Kindle or I-Phone
Kindle:  Plants Vs. Zombies,
Computer:  https://mascot-games.london2012.com/default.aspx  www.pbskids.org,
PC Games: Zoo Tychoon 2
Photo Credit: gordsam
What have been some of your favorite activities or resources this July?
Share on Facebook