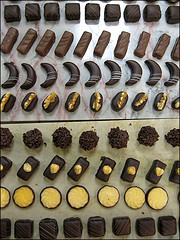 How many holidays do you celebrate throughout the year?  8, 10, maybe 12?
Did you know that there are holidays for every day of the year?
In the past two weeks I've been doing some research online about holidays. I've come across some fun sites that list strange or unusual holidays that take place throughout the year.
The more I looked into those holidays – some cute, some serious, and some just downright bizarre- I thought how much fun it would be to celebrate some of those lesser known holidays – to have lots of mini celebrations throughout the year instead of just waiting for those handful of big holidays.
So, today I'm listing a different holiday or celebration for each day in October. I'm also including one suggested activity you might do to make that day special.
If you like this idea, would you mind sharing that with me in the comment section below?  If you find it interesting, I think I'll do this at the end of every month for the next year.
 Every Day Holidays in October
1     World Vegetarian Day  (if you want to celebrate Moldy Cheese Day, skip ahead and look at what you       need to do today)
-          Research and plan out an entire day of vegetarian dishes
2     Name Your Car Day
-          Pop some popcorn and watch Herbie the Love Bug
3     Virus Appreciation Day
-          Sculpt a model of a virus out of clay.
4     National Golf Day
-          Go play a round of miniature golf
5     Pablo Picasso's Birthday
-          Read Picasso and the Girl with A Ponytail
6     Mad Hatter Day
-          Go to your local thrift store and buy a new, funky hat
7     National Flower Day (Can you name the national flower of the United States?)
-          Go to your local florist and buy a flower that you've never heard of before
8     American Tag Day
-          Play a game of tag outside
9     Moldy Cheese Day
-          Take out a piece of unwrapped cheese and lay it out somewhere outside the refrigerator the first day of the month.  Unwrap another piece of cheese the same day and leave it in the refrigerator. Today, compare both pieces of cheese. If possible, look at them under a microscope.
10     National Angel Food Day
-          Read about the history of angel food cake while you're baking one
11.      World Egg Day
- Bake something with eggs for breakfast, lunch and dinner
12     Farmer's Day
-          Visit a working farm
13     Margaret Thatcher's Birthday
-          Read more about Margaret Thatcher's contribution to politics
14     National Dessert Day
-          Bake a dessert you've never baked before
15     White Cane Safety Day
-          Read a short biography about an extraordinary achievement made by someone who is blind.
16    Dictionary Day
-          Play one of the many fun games at dictionary.com.
17     National Geographic Birthday
-          Check out the photo of the day or watch the featured video at the National Geographic website
18     Black Poetry Day
-          Read a poem by Maya Angelou, Langston Hughes, or Phyllis Wheatley
19     Mother Theresa Day (celebrated in Albania)
-          Volunteer somewhere today – a local soup kitchen, hospital, shelter….
20     World Osteoporosis Day
-          Conduct a Bend a Bone with Vinegar experiment
21     Birthday of the Electric Light
-          Go the whole day without using any electric lights in your home
22     National Nut Day
-          Bake a Pecan Pie
23     National Mole Day
-          Research what a mole measures
24     United Nations Day
-          Research the United Nations. What nations comprise the United Nations? When was it formed? How is it organized?
25     World Pasta Day
26    National Mincemeat Day
-          Make a vegetarian mincemeat pie
27     Navy Day
-          Read a story out of the book : The Greatest US Navy Stories Ever Told: Unforgettable Stories of Courage, Honor, and Sacrifice
28     National Chocolate Day
-          Watch a video on the history of chocolate
29    National Hermit Day
-          Hang out all day at home today
30     National Candy Corn Day
-          Watch a video clip of how an astronaut used candy corn to conduct experiments in space
31     National Magic Day
-          Learn some magic tricks
Photo Credit: Damaged Cupcake
Which holiday in October mentioned in this post would you like to celebrate?
Share on Facebook