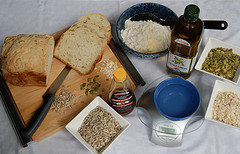 Did you know that there are holidays for every day of the year?
Last month I put together a list celebrating every day in October. It was so much fun putting that list together that I'm doing it again this month!
Most of the days' celebrations are national (United States) holidays. When it was hard to find a holiday on a particular day, I listed a famous person's birthday or something notable that happened that day.
Enjoy!
Every Day Holidays in November
1 All Saints Day
-          Read a book about the saints
2 Dia de los Muertos (first or 2nd of the November)
-Bake some Pan de Muertos (Mexican Bread of the Dead) – sounds creepy, but we loved eating this bread.
3 Sandwich Day
-When was the first sandwich invented? How did it get its name? Watch this video to find out.
4 King Tut Day
-Check out Tutenstein, a very cute three volume animated series about 10 year old King Tut coming alive and having adventures in the 21st century.
5 Guy Fawkes Day
-A story of religious persecution, conspiracy and attempted murder. Read a short biography of Guy Fawkes.
6 Saxophone Day
-Listen to recordings of John Coltrane, Stan Getz or Charlie Parker
7 Bittersweet Chocolate with Almonds Day
-You can't go wrong with a holiday about chocolate.  What better suggestion can I make than leaving your house right now and buying a dark chocolate bar with almonds?
8 Cook Something Bold Day
-Find five ingredients in your house that you would never think of putting together. Now put them together and create something great.
9 Chaos Never Dies Day
-Watch YouTube video of Chaos Theory
10 Forget-Me-Not Day
- Hand out packets of forget-me-not seeds to friends and family .
11 Veteran's Day
- Visit the grave of a veteran who has passed away in your family. If you don't have a veteran in your family, visit a local military cemetery or monument.
12 Chicken Soup for the Soul Day
-Cook up a batch of chicken soup.
13 National Indian Pudding Day
-Bake up a batch of Indian Pudding.
14 America Recycles Day
-Visit a local recycling plant or watch a video of a recycling plant.
15 National Philanthropy Day
-Brainstorm a fundraising project for a favorite charity.
16 Button Day
-Visit a local thrift store and buy buttons. Make a button necklace or a button collage.
17 Homemade Bread Day
-Bake some bread. Here are some great recipes for autumn homemade breads
18 Alan Shepard's Birthday
-Read a biography of Shepard's life.
19 Thanksgiving Day
-If you live in the United States, have a wonderful time celebrating with family and friends. If you live outside the United States, take some time to list the things you are thankful for.
20 Edwin Hubble's Birthday
-If you have an iPhone or iPad, track the Hubble Telescope's movement in the sky with the Sky View app. Or watch a video about the five part documentary Hubble Secrets from Space on YouTube.
21 World Hello Day
-This holiday was invented to promote world peace. The object is to say hello to at least ten new people today.
22 National Book Awareness Week
Many people put together food baskets to give to families in need around this time every year. Put together book baskets to give to children in need.
23 National Cashew Day
-Buy a can of mixed nuts and separate them. What percentage of them are cashews?
24 Celebrate Your Own Unique Talent Day
-I'm double jointed. What unusual talent do you have?
25 Shopping Reminder Day
-This is a good day to brainstorm Christmas or other holiday present ideas for friends and family.
26 Charles Schultz's Birthday
-Watch a Charlie Brown Special or check out some Peanut's comic books from library
27 National Game and Puzzle Week
-Buy a new game or puzzle to do together as a family.
28 Red Planet Day
-Learn more about the Mars Curiosity Rover
29   Square Dance Day
-Watch a Square Dance Championship and then go out and make up your own dance.
30 Mark Twain's Birthday
-Start reading lesser known book by Samuel Clemens like A Horse's Tale or a Dog's Tale
Photo Credit: Witches Falls Cottages
Which one of these holidays sounds the most fun to you?
Share on Facebook