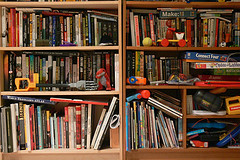 I don't know when I've had a month where I've had so much fun and made so many memories, yet I've been so stressed and overwhelmed at the same time.
We did a lot in October. Part of the problem, which really shouldn't be a problem, was all the birthday and other special family celebrations we had. Add those to the trips, classes, co-op days and other activities we did at home, and I was ready to make a change.
I'm hoping this month moves much more slowly. We have some trips we've committed to, and of course, there's always quite a bit of preparation with Thanksgiving, but I'm hoping to have many more stay-at-home days with the kids and just hanging out around the house.
We found some fun new resources this month. It's a long post, but I hope you find a few nuggets you might enjoy, too
Books
We're sailing Down the Nile: A Journey through Egypt
Bimwili & the Zimwi: a tale from Zanzibar
Zarafa: the Giraffe Who Walked to the King
Princess Gorilla and a new kind of water: a Mpongwe tale
The Vingananee and the tree toad: a Liberian tale
Oh, Kojo! How Could You! : an Ashanti tale
What's so Funny, Ketu? : a Neur tale
Bob Books: First Grade Sight Words – Jared's reading
Frog and Toad Together, There's a Wocket in my Pocket, Little Bear's Visit, Five Little Monkeys Jumping on the Bed– Jared's Reading
How Much is the Guinea Pig in the Window? & doing the activities at the back of the book
Faraday: Pioneer of Electricity
The Mystery of the Chicago Dinosaurs- A Carole Marsh Mystery
Your Dog:A Complete Guide to the Health, Care & Behavior of Dogs
Diane Goode's book of scary songs and stories
Halloween Night on Shivermore Street
Jeb Scarowcrow's Pumpkin Patch
TV/DVDS
Episodes of Power Rangers: Samuri
Episodes of Power Rangers: Night Storm
Episodes of Pound Puppies
Episodes of Little House on the Prairie Season 4
Tutenstein Volumes 1 & 2  The kids have learned a surprisingly amount of knowledge about Egyptian myths and customs from this cute little animated show.
Wallace & Gromit's World of Invention – The first three episodes. This is a really great program.
First Snow in the Woods: the movie
Reading Rainbow: Bringing the Rain to Kapiti Plain
Reading Rainbow: Mufaro's Beautiful Daughters: An African Tale
It's the Great Pumpkin, Charlie Brown
A Very Brave Witch: and more great Halloween Stories for Kids (Scholastic)
Goosebumps: A Night in Terror Tower, Monster, Attack of the Mutant, Attack of the Jack-o-Lanterns, The Scarecrow Walks at Midnight, The Headless Ghost
CDs
These ghoulish things: horror hits for Halloween
Wee Sing for Halloween
                Games/Puzzles/Kits
Do & Discover by Eduscience : 10 in 1 Electrical Experiment Set – I have both positive and negative things to say about this kit. Overall, we really enjoyed most of the experiments in this kit- especially Jared. We made a light, a fan, a bell, experimented with resistors, diodes and static electricity, made a morse code machine, a light control alarm and an electromagnet.
The fun thing was watching how excited Jared was to do each experiment. I've been hearing great things about the Jr. Snap Circuits set, so I think he'll love getting a set this Christmas. Ever since he loved playing with Legos when he was two, I've wanted to get him a set. I think he's finally ready for it now.
The problem with this kit is that the instructions are very complicated and the model pictures are very small and hard to see. Several of the experiments I couldn't even do and had to get Steve's help.
If the experiment went long, the kids usually didn't want to stick around to hear the explanation, but I became really fascinated with the way circuits worked, so I learned a lot from our experiments!
Reader's Digest Q & A Electronic Game  The link to this game will take you to a games museum site, so that should tell you something already about the game! My mom bought me this game when I was about 7 or 8, so it's about 30 years old…..and it still works! My mom found it and gave it to me a few years ago. Alexa discovered it and loves playing with it. It's a quiz type game- sort of like the GeoSafari laptops. She's a girl after my own heart. I always loved taking trivia quizzes and testing myself.
The Life of Fred: Apples Chapters 13-end of the book
The Life of Fred: Butterflies Chapters 1-9
Scratch Art – Princesses & Fairies – My mom bought this for Alexa at the Discovery Center Museum in Rockford, Il.
 Magazines
Top Secret Adventures  – This month was all about Thailand. I know I said this before, but this is a wonderful magazine. We sit on the couch together for three hours straight to complete the magazine from start to finish.
 Halloween Happenings
Halloween Paper Chain- You know how you make those paper chains that go around a Christmas tree? You cut strips of colored construction paper, and then link them together to make chains? We decided to do this with orange and black paper to count down the days until Halloween.
Hershey Kiss Memory Match Math Game- You write on the bottom of a Hershey kiss ten equations, say 8+3 or 7-2. Then you write the answers on the bottom of ten more Hershey kisses. When you match the equation to the correct answer, you can eat both Hershey kisses!
Built a gingerbread spooky village
Went on our yearly Halloween Walk – We've been taking a walk around the neighborhood to look at Halloween decorations since the kids were three. Fun memories!
Watch The History Channel: The Real Story of Halloween on YouTube.
Carved Jack-o-Lanterns – We didn't get to a pumpkin patch this year (just too much going on), so we picked up a pumpkin for Alexa (named Princess), Jared (named Scary Skeleton), and for me and Steve (named Heidi because we always name our pumpkin with an H name. Also because we're reading the book Heidi now) at a local grocery store.
Cooked Pumpkin Seeds – This was the first year Alexa helped me from start to finish.
Every year, starting a week before Halloween, we have a tradition of lighting our jack-o-lanterns before we go to sleep and turning off the lights. Then I read a Halloween book and we sing Halloween songs before blowing out the candles.
Trick-or-Treating….of course!  This year Jared dressed up as Black Spiderman and Alexa was a bride. Both sets of grandparents went with us.  My 94 year old grandma even walked with us for a few blocks, too!
At Home Fun
Outside: swinging, doing cartwheels on the lawn, water and sand play, playing chase in the backyard with neighborhood kids, jumping in leaf pile, riding scooters and bikes, throwing a boomerang
Inside: Made a "Spy" Cave, lots and lots of pretend games (love that they can make up long pretend games for over three hours at a time while I can get other things done- finally!), drawing, building "booby traps" around the house, cap gun fights with Steve
Colored a blank copy of a flag of Botswana
Math Games
Played with Tangrams – The kids would make a shape with all 7 tangrams, draw an outline around the shape, and then I'd have to put the tangrams in the correct spots in the outline. They also would make a shape, remove one piece, and I'd have to guess which piece was missing.
Played some money games-We looked at different coins for a while, noticing what words and pictures are on each coin. Jared didn't care about this activity too much, but Alexa spent quite some time telling me the dates on each coin, and I'd have to tell her what I was doing during that year (sad to say none of the coins we found were older than me!) She also liked how you could tell in which state the coins were minted.
Blindfold Money – I put a bunch of coins in a paper bag and they had to pull out the correct coin – a dime, quarter, penny, nickel or dime.
I also wrote out a set of numbers and they had to decide which coins they need to put together to equal that number.
How Many Ways to Make 25 Cents? – We made a little graph of all the ways we could combine pennies, nickels and dimes to equal 25 cents.
Played with Cuisenaire Rods – We saw how many of the white blocks (1 unit) it took to make each of the other colored blocks.  We also put the blocks in order from smallest to largest.
Out of the House Activities
Every year Steve goes away to a conference in October. So last year we started an annual tradition with my mom where we'd take a mini-trip somewhere with the kids.
This year we went to Rockford, Illinois for a one night, two day trip. Highlights from the hotel: swimming at the pool at night and in the morning, watching a Little House on the Prairie episode, eating breakfast at the hotel (I just love when it's included in the price!), and getting ice cream treats.
-Discovery Center Museum  This Rockford children's museum is rated the #4 children's museum in the US. It really was an incredible museum. They had so many exhibits that I've never seen in any other children's museum. We stayed there 6 hours the first day and 2 hours the second day. Some of our favorites were: Figure it out! – making origami, Team Up! Explore Science and Sports, Wild Weather, Body Shop, WIFR Kids News Studio, and  the Ag-Zibit about agriculture.
They also have an amazing outdoor area. We were so disappointed it was raining hard both days we were there, so we couldn't go in the outside section. We'll just have to come back another time then J
-Burpee Museum of Natural History  This is a small natural history museum in Rockford. I thought the kids would have like this museum, but they really weren't into it that much. The most interesting thing we saw there was an interactive multimedia presentation that focused on diagnosing a bump found on the leg of a T-Rex skeleton. They also had a nice presentation of rocks and minerals. We only stayed about 2 hours.
Co-op Group at the Library
-          How Big is the Solar System?
-          Made a model of a comet
-          Writer's Workshop: The kids received a little baggie with five objects inside. They had to use those five objects to write a      story. Jared's story was called "A Slice of Cake," and Alexa's story was called "Mimi in Dinosaur Trouble."
-          Writer's Workshop: Homophones – Listened to a picture book featured homophones and then they dictated and illustrated a short story using pairs of homophones
-           Life Cycle of Stars Activity – Really fun with a group!
Weekly: Library Visits & Grocery Shopping & Church
Gymnastics (they had a special Halloween week where they came dressed in their costumes and played games) and Swimming Lessons
This week we also added Awana on Wednesday nights.
Peggy Notebart Nature Museum – We saw a water snake eat live goldfish, which left me feeling pretty nauseous. My favorite part of the day was spending time in the butterfly haven which houses 1,000 different butterflies and 200 different species. We saw the butterflies that had just hatched from their chrysalis's released into the haven with the rest of the butterflies and then played in other areas of the museum.
Wheaton College Symphony – Every year the college puts on an excellent, free children's performance. This year the program featured a selection of classical pieces while magician performed.
Several afternoons with Grandparents:
-          Ice cream and Playplace at McDonalds, Hockey in the church gym
-          Went to Grandad's office for last time to eat lunch (this time with me and Steve, too) and played hockey in the gym
-          Hung out one evening at Steve's parents house while we went on a date
Enchanted Castle- We surprised the kids after Jared's haircut and drove out to this indoor arcade-type amusement park.
Jared & Alexa went with Steve to a tuxedo fitting
Bowling Birthday Party for one of their cousins
My Birthday Party – Two days before my real birthday we celebrated with extended family at my in-law's house (ours is too small to have everyone over at the same time). It was a relaxing, low key time with everyone hanging out and having pizza and cake. Then, on my real birthday, Steve took off work. We played together in the morning, went out to lunch before the kids' swimming class, and then my parents watched the kids while Steve and I went out for dinner and to see a movie. It was a great day!
An Uncle's Birthday Party- The kids showed off their cartwheels and handstands for their aunt and uncle. They also built a village with the blocks. The best part of all, of course, was the delicious cake!
Met friends at a playground two afternoons
Attended an Aunt's Bridal Shower- Alexa and I had a girl's afternoon together at the shower, where Alexa loved helping her aunt open her shower gifts, while Steve and Jared met his dad and two uncles that were in from out of town at a pizza place. Afterwards they went to Steve's parents' house where Jared and his cousin set up "booby traps" around the house.
On the Computer, Kindle or I-Phone
Kindle:  Wind Up Knight, Angry Birds (Back to School, Piglantis, Cherry Blossoms, Year of the Dragon, Halloween), Bad Piggies, Temple Run
Computer:  www.pbskids.org, www.discovery.com www.petfinder.com www.classicalkids.com, www.abcmouse.com,
http://www.eduplace.com/tales/  We've had a great time making up stories on this site (Wacky Web Tales). They're like Mad-Libs. You'll be asked to enter into certain words ahead of time (adjectives, numbers, plural nouns, past tense verbs), and then you can read the story your words helped create afterwards.
National Geographic Great Migrations
I Phone: Candy Maker
Photo Credit: gordsam
What were some of your favorite activities from October?
Share on Facebook