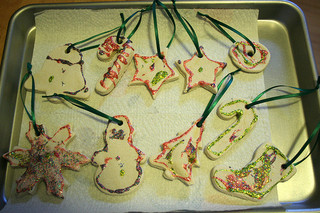 It's the most wonderful time of the year!
It's a time when, for just a few short weeks, we get to do things that we won't do for another whole year.
We can: drink eggnog, sing Christmas songs, bake special cookies, light Christmas candles, hang ornaments and give gifts to everyone in the family at the same time.
Of course, you COULD do those things any time of the year if you wanted to. But having a special time of the year when you do certain things helps make those things memorable. I love eating crab legs, but I think if I had them several times a week every week of the year, I wouldn't think they were so wonderful any more.
Today I'm sharing our Christmas Activities Wish List with you. Some of these ideas are old family traditions, some are new traditions, and quite a few are ideas I've run across in the past few weeks while browsing other blogs and Pinterest.
Enjoy!
1. Caroling- We're going to go twice this season- once with my mom and a few other people, and the second time Steve and his parents will come along. Both times we'll carol at nursing homes.
2. Dollar Store present shopping- Every year the kids make out a list of everyone in the family they want to buy a present for. Then we go to a dollar or discount store, and the kids buy presents for everyone on their list. When we come home they wrap their gifts and write labels. I'm thinking about changing this to going to a thrift store this year.
3. Rice Krispie Christmas Cottages – I like this alternative to the gingerbread house.
4. Lego Advent Calendar – I saw this idea in a blog last year, but it was already a week before Christmas at that point. I know Jared would like a Star Wars Calendar, but I'm debating whether it's worth the extra money.
5. Christmas Chain – This is just like the chain we created for Halloween. We cut out strips from construction paper and tape them together into interlocking chains. Then each day we cut a chain off until it's Christmas Day!
6. See a Christmas Carol – On December 6th, we're going to see a production of A Christmas Carol. We've also read the Magic Treehouse book A Ghost Tale for Christmas Time, and the books- Rags and Riches: Kids in the Time of Charles Dickens and The Value of Imagination: A Story of Charles Dickens (A ValuesTale book)
7. Read Picture Books about how Christmas is celebrated in other countries – Christmas in Switzerland, Annika's Secret Wish, Christmas in Noisy Village, Las Posadas, The Legend of the Poinsettia, The Family Under the Bridge, Faraway Home, Christmas Around  the World, Fire on the Mountain, The Jolly Christmas Postman, Father Christmas, The Christmas Day Kitten,
8. Watch Christmas DVDS- Elf, The Polar Express, It's a Wonderful Life, A Christmas Story, Frosty the Snowman, Rudolph the Red Nosed Reindeer, The Grinch That Stole Christmas, The Nightmare Before Christmas, The Muppets Christmas Carol, National Lampoon's Christmas Vacation
9.Cut out some Christmas Tangrams
10. Write a book for my nephew using Illustory Make Your Own Story Kit. I am so excited to make this with the kids! We're going to write an 12 page, double sided printing, hardcover book for my sister's year and a half old son. The kids get to make up the story and illustrate the pages. Then we will get back the final, hard-covered book in the mail.
11. Make sugar cone Christmas Trees
12. Bake a different type of Christmas cookie or sweet treat each week in December – Some cookie ideas we're checking out:
White Chocolate Cherry Chunkies – These are awesome! We've been bringing them over to family Christmas parties for the past three years now. We always get requests.
13. Make some Gingerbread Playdough
14. Learn more about George Frederic Handel- Here are some resources we might be using:
My name is Handel: The Story of Handel's "Water Music"
15. Visit the Museum of Science and Industry for Christmas around the World.
16. Go on a drive to look at Christmas lights.
17. Light a Candle each night the 12 days before Christmas. The candles are placed along the outline of a Star of David which is carved into a wooden board. On Christmas Day we light all 12 candles and the entire star is lit.
18. Participate in Oak Park's Winterfest which includes a Cookie Walk
19. Play the Gingerbread Dice Game
21. Bake some Christmas Coal
22. Make a Memories Christmas Ornament – I just loved this idea! You get a cheap ball ornament and with a permanent marker write down memories from the past year. I wish I would have started this the year the kids were born. I think we might even make one for each set of grandparents of memories we shared with them throughout this year.
23. Cut out some Six-Sided Snowflakes
24. Create some Borax Christmas Snowflakes
25. Bake Some Glittering Salt Dough Ornaments
Photo Credit: abbybatchelder
What are some of your Christmas or other holiday activities you're looking forward to?
Share on Facebook