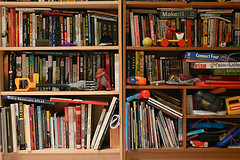 January was a whirlwind of a month. The first start of the month started off with out-of town family members coming to stay for 4 nights for a wedding (Alexa was the flower girl!). And then after that came a flurry of the usual gymnastics and swimming lessons, a pulled tooth for Jared, bowling, playing with cousins, lots of science experiments, a lice scare, and ending in an overnight stay in the hospital when my husband hit his head and suffered a major concussion and by the last day of January, Alexa and I both had high fevers.
February, can you please slow down for me?
Books – Together
The World of Animal Life
Houses of snow, skin and bones: native dwellings: the far north
Polar Bear Rescue
Tundra and Cold Deserts
The Story of Snow: The Science of Winter's Wonder – Wonderful book.
A Drop of Water: A Book About Science and Wonder – This is such a gorgeous book! Great explanations.
The Mystery in the Snow (A BoxCar Children Book)
A Crazy Day with Cobras ( A Magic Treehouse book)
Snakes and other Reptiles (A Magic Treehouse Research Guide)
The Foolish Men of Arga: and other tales of Mogul India
Honey, Honey…lion! A Story from Africa
Alexa's Reading List
Vet Volunteers #1-Fight for Life – If you have an animal lover, these books would be perfect for him or her. Alexa loves this series of books about kids who help a veterinarian. Lots and lots of great facts about animals, too.
Stories from the Children's Bedtime Treasury
Jared's Reading List
This Book is Haunted
Curious George and the Puppies
Curious George and the Firefighters
Curious George Feeds the Animals
Curious George Goes to the Beach
Curious George at the Aquarium – Jared said he wants to read all the Curious George books ever written- can you tell? J
TV/DVDS
Born to Explore (episodes on Botswana, Canada, and Hawaii) – I really love watching these half hour shows on the PBS channel. Richard, the host, sets off on adventures around the world. If you have this program where you live, I'd highly recommend checking it out.
Dog Tales  This is a new show I started to record for Alexa. It gives a lot of great info about different dog breeds and training- also on PBS.
The Science of Winter- a 45 minute National Geographic channel documentary (you can watch the entire show online). It was so interesting! Did you know that you breathe out water molecules that may eventually turn back into snowflakes? That snow plows have been around since 1860?
Reptile (An Eyewitness Series DVD)
India (A Schlessinger Media Production)
Return to the Secret Garden – This is on Netflix Instant Watch
Episodes of American Idol
Episodes of Star Wars Cone Wars: Vol 1
Episodes of: The Ultimate Spiderman
Episodes of Power Rangers: Jungle Fury
Episodes of Power Rangers: Mystic Force
Rudolph the Red Nosed Reindeer
Episodes of Little House on the Prairie Season 5
Marvelous Math (no, I'm not being sarcastic either!)
Life of Fred: Dogs Chapters 1-17
                Games/Puzzles/Kits/Activity Books
Did lots of science experiments taken from these science experiment books: Janice VanCleave's Science around the World: Activities on Biomes from Pole to Pole, Janice VanCleave's Science around the Year, and Janice VanCleave's Chemistry for Every Kid.
-Did an experiment showing how halophytic (plants that are tolerant of salts in the soil) eliminate excess salt
-froze a cup of water and then one with sugar water to see how sugar slows down the freezing process (did you know fish in the Arctic produce a sugar substance that flows through their blood so the blood doesn't freeze?)
-Made homemade popsicles with jello, paper cups and craft sticks
-Wind experiment-blow on back of hand with mouth open and then with lips pursed. What is difference in air temp? Why?
-Grew a layer of lacy salt crystals in a jar
-An experiment that shows how salt makes it harder for water to freeze
-Looked at a lamp through a tiny hole cut into a 2 inch square piece of black construction paper as a kind of homemade sunglasses similar to the ones the Inuit people made out of wood or bones.
-Learned about why polar bears can grip the ice by sliding down a can of tuna fish down an inclined cookie sheet and then sliding down another can first with a rubber band tied around it and then tied up in a wash towel.
-Made a yummy model of permafrost by making a layer of strawberry jello on the bottom (the permafrost), a layer of crushed Oreos on top of the jello (representing the active layer of the permafrost), and vanilla ice cream on top to represent the snow. The best part….eating it!
-Filled a glass with snow and predicated if it would have the same volume when it melted
Star Wars Glow in the Dark Puzzle
Snap Circuits Jr. – Projects 1-3 – Jared got this set for Christmas. He loves it! He wants to start of our activity time together by doing that first.
BrainQuest First Grade – Jared and I cuddled up together one evening and went through these questions and answers.
Writing/Spelling/Grammar
HEV Project Spelling Lessons 3-5 & A 46 word spelling bee (they were so excited to do this!)
Jared spent quite some time this month drawing in a sketchpad.
Word by Word – a game I found in the book Games for Writing – We co-wrote a short story together by throwing a die. The first person throws a die and writes however many words as there are dots on the die. Then the second person throws the die and adds that many words to the same story. We did for 15 minutes each day for 5 days until our story was finished.
At Home Fun
Outside: Looking at snow under magnifying glass, shoveling snow, shooting basketballs, ice skating on our backyard rink, playing chase, teeter totter, swinging, eating snow, playing in the sandbox, snow ball fights.
 Inside: Lots of pretend games as usual, also lots and lots of Lego creations built, mixing up concoctions as medicine for play animals, cap gun fights with Steve, jumping from top of basement stairs to bottom onto a mattress, wrestling.
Imaginex Big Foot Monster – My best friend bought this for the kids as a joint Christmas present. A really fun gift! They'd play with it for hours at a time and make up lots of stories and games.
Ralphie and Pit Bull Wrestling games- Jared made up a game where he is a dog named Ralphie and I have to be a pit bull. Then we fight each other. Boys! We also sat on the couch watching some YouTube dog training videos, and then "Ralphie" would have to perform the same tricks. Alexa wanted to do this, too.
Alexa loves to play veterinarian: She brings a stuffed animal to me and I have to tell her what's wrong with it. Then she will wash it in the sink, dry it with the hair dryer, pretend to give it a checkup, shots, ear drops, ect.
Alexa made up a game with an animal encyclopedia and a cube that has animal pictures on it. She rolls the cube and whatever animal it falls on, she looks up the animal in the encyclopedia and on the Kindle.
Playing the trumpet- Steve used to play the trumpet; he brought it up from the basement and showed the kids how to play a few notes.
Made some homemade white hot chocolate. Not healthy- but, oh so good! Jared also helped make Snicker Doodle muffins….yum!
Made an ice rink in the backyard- Steve worked so hard on this- probably putting in 15 hours. He set up a perimeter with boards and laid down plastic tarps. Then he'd flood the area with water, letting it free in half inch sections. One day the ice was thick enough. We bought the kids used skates and hockey sticks and we all skated in the backyard. It was pretty cool.
Then Steve went out that night (in the dark), fell while skating backward and suffered a major concussion. He still has no memory from half of that day. I stayed overnight with him at the hospital. It was the first night I've ever spent away from the kids. Thank God Steve should be fine and will have no permanent injury. He still gets very tired and has trouble concentrating.
Played with out-of-state cousins – Shoveled sand across the blacktop, sandbox play, swinging, teeter totter, chase, water beads, baseball, singing along with the keyboard, painting, building with Lincoln Logs, scooters and bikes.
A lice scare – Thank God they didn't catch lice after being exposed to it. We had some real impromptu learning that evening by watching quite a few YouTube videos on what a louse looks like, their eggs, and how to get rid of them.
Out of the House Activities
Weekly: Library Visits, Grocery Shopping, Church, Gymnastics, Swimming Lessons, Awanas
Homeschool Co-op
-Experiments with M &Ms www.inquiryinaction.org
-Book group discussion of The Secret Garden – lead by me
Haircuts for their aunt's wedding
More Dentist appointments for Jared L
Bowling with my parents and extended family
Ice skating with cousins
Rehearsal and Rehearsal Dinner
Wedding Day-ceremony, drive to reception, hours of dancing, up until 12:45 in the morning. The next morning Steve and the kids went swimming in the hotel pool (I was very content to sleep some more!) and then met everyone for breakfast at a nearby restaurant.
A morning and afternoon with my sister and nephews- Playing at a Kids Play Place and then lunch and more play at my sister's.
On the Computer, Kindle or I-Phone
Kindle: Zoola Animals, Daily Bible, Plants vs. Zoombies
PC Games: World of Zoo, Sims 3 Pet Expansion, National Geographic Migration
Websites: http://moneyville.ie, www.pbskids.org, http://www.dogchannel.com/,
Wii:  Vet Life, Lego Star Wars, Big Brain Academy: Wii Degree  (I thought we would like this more, but we only played it once before returning it to the library, Sports (Bowling, Baseball),Super Hero Squad
Gold's Gym Dance Workout and Zumba Fitness: Join the Party – I've been working out to these two Wii games this past month. Several times both kids wanted to work out with me, and they worked out on their own, too.
I Phone: Stack the States, Bride Maker,
Photo Credit: gordsam
What were some of your favorite activities from January?
Share on Facebook