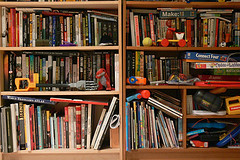 How was your February?
We stayed at home a lot more than last month which was very refreshing, especially since next month will be a travel month for us. As usual we had an eclectic range of learning: rescue dogs, Milton Hershey, Rosa Parks, Because of Winn-Dixie, bar graphs & origami, salt painting & crystals, marshmallow snowflakes and Lego Batman.
What did your family learn about this past month?
Books – Together
Dog Heroes: A Magic Treehouse Research Book
Dogs in the Dead of Winter- A Magic Treehouse Book
Animal Rescuers: a chapter book
Hero Dogs: Courageous Canines in Action
Buddy: The First Seeing Eye Dog
Milton Hershey: Hershey's Chocolate Creator
A Very Scary Valentine's Day #29 Scooby Doo
Alexa's Reading List
Manatee Blues- Vet Volunteers #4
Chapters from Genesis in the Bible
Jared's Reading List
Nate the Great Goes Undercover
Nate the Great and the Mushy Valentine
Curious George Walks the Pets
Curious George Visits the Library
Curious George Goes to a Chocolate Factory
Curious George and the Pizza Party
TV/DVDS
Rosa – A DVD presentation of the book Rosa by Nikki Giovanni
Bears
Deserts – A Bill Nye production – You might already know about Bill Nye, but in case you don't he's a quirky, wonderfully weird and funny man who puts out fun science shows that are really interesting and entertaining to watch. When the kids were 4, we checked out and watched about 20-30 DVDs in the series.
Tundra – A Schlessinger Media production – Love everything by Schlessinger Media!
Habitats- from the Real World Science series
Snowy Day: Stories and Poems- A Reading Rainbow episode
Be My Valentine, Charlie Brown
The Time Machine – This is the 1960 version which I loved watching when I was a girl. Steve and the kids were not that excited about watching it in the beginning (it was my choice to pick a movie….that's when I get to sneak in stuff they wouldn't normally choose on their own J ) And……..they loved it! I knew they would J If you get Amazon Prime, you can download it for free.
The Secret of the Wings- an animated Tinker Bell movie
Episodes of Little House on the Prairie Season 5
Episodes of Power Rangers RPM, Wild Force, Time Force, Super Samurai, & S.P.D, Dino Thunder,
Marvelous Math (no, I'm not being sarcastic either!)
Life of Fred: Dogs Chapters 18-19
Totally Tut- Love this game!
Rat-a-Tat-Cat-I had high hopes for this game since it was a Mensa Select and Dr. Toy winner. And…..it was really, really fun! It had just the right amount of difficulty for the kids to make it interesting. It's a card game where the winner is the person with the lowest points. Most the cards lay face down during the game, so players have to remember their card values, keep mental count of their score and other players' scores throughout the game.
Hershey Kiss Memory Match Game – You write on the bottom of a Hershey kiss ten equations, say 12+3 or 15+8. Then you write the answers on the bottom of ten more Hershey kisses. When you match the equation to the correct answer, you can eat both Hershey kisses!
Made a Bar Graph of Sweet Hearts on Valentine's Day – We first thought we'd graph all the different saying on the hearts, but since there were so many of them we decided to create a graph of the different colors of hearts. All I can say is the sayings on the hearts have sure changed a lot since I was little!
Math….made fun: Dance DVD – A little weird for me….even the kids didn't like this as much as I thought they would
Addition DVD– a Schlessinger Media production – The series Math for Children is pretty good. In this video they shared six different ways or tricks to do addition.
Money DVD– a Schlessinger Media production- part of the Math for Children series
Valentine's Day Origami – This was so much fun! We folded paper hearts. The kids wrote messages to their gymnastics teachers and to Steve and gave the hearts to them on Valentine's Day.
Solving Equations without Paper – Some kids might not like doing this, but Alexa loves solving two and three digit addition problems, including those that involving carrying over numbers in her head. She usually asks me to give her problems when we're driving in the car. Jared will do this sometimes, too, although I think he mainly does it because she wants to do it. I've been so impressed with her ability to do this type of mental math. We play games and answer questions in the Fred books, but the kids never sit down with a workbook to solve equations, yet they both are pretty good at it.
                Games/Puzzles/Kits/Activity Books
Rivers, Roads and Rails – a Ravensburger game.  I picked this up at a garage sale. It's a unique matching game because the cards can be connected in many different ways, so each game you create an entirely new transportation system. Hard to explain- fun to play!
Lego Heroica Caverns of Nathuz, Draida Bay, Iliron. You can connect all the Heroica games together to play one huge game. Jared's hoping to get the final three games for his birthday.
Snap Circuit's Jr. – Made a Space War Alarm circuit and one other experiment.
Valentine's Fun
Made frozen yogurt hearts using heart cookie cutters
Winter Games and Experiments
Experiments from Janice VanCleave's Science around the Year and Science around the World
-Used water, cooking oil and dishwashing liquid to show how fat is broken down into small globs similar to the way liver produces bile to digest fat for animals in cold weather climates
-Determined how blubber insulates by placing shortening in the palm of one hand and nothing in the other. Then place both hands inside plastic bags. Place an ice cube in both hands. Compare how cold each hand is.
-Printed with salt water on black construction paper, "cooked" the paper in a 150 degree oven for 5 minutes, and made a salt printing.
-Did an experiment with black construction paper, foil and a lamp to show how plants in the Arctic tilt their pedals towards the sun to direct its energy into the center of its flower. Not a very successful experiment.
-Pretended to be the wind blowing around snowflakes by using a balloon as the snowflake and the eraser end of a pencil as the wind; We also held an inflated balloon and non-inflated balloon and dropped them to the ground at the same time to demonstrate the difference between the rate of fall between a snowflake and a raindrop
-Determined our BMI by weighing ourselves, measuring ourselves and using calculators.
Created Six Pointed Snowflake Structures Using Toothpicks and Mini Marshmallows  – Project found in Winter Day Play
Writing/Spelling/Grammar
HEV Project Spelling Lessons 6-10.
At Home Fun
Outside: Played in the snow, shoveled snow, made a snow castle with plastic block molds, had snow ball fights with Steve, built a snow man
Created rabbit, leopard, sheep, and alien snow sculptures
Inside: Bugaboo dogs (their made-up game), wrestling, of course hours and hours of pretend play, setting up soldiers, blocks and other figures for castle play, cutting dolls and stuffed animals' hair, jump roping, hitting around balloons
Jared built dozens of robots, ships and other Lego creations
Alexa "groomed" her stuffed animals by washing them in the sink and blow drying them.
Set up Wish Lists for their birthday. Jared put over two dozen Lego sets on his list!
Jared likes bring me the BrainQuest First Grade cards, curl up on my lap, and have me ask him the questions.
Helped bake Lofthouse style cookies and make the frosting
Friends came over one day for a play date and lunch
Out of the House Activities
Weekly: Library Visits, Grocery Shopping, Church, Gymnastics, Swimming Lessons, Awanas
Homeschool Co-op
-Did several experiments involving crystals. We looked at salt, sugar, MSG and Epsom salts under magnifying glasses and wrote down our observations about the characteristics of each crystal- texture, size, and shape, if it was transparent or opaque. Then we looked at an unknown substance (Kosher salt) and compared and contrasted with the other four to see if we could guess what the substance was.
-Book Club. We discussed the book My Side of the Mountain as a group.
Eye Doctor Appointment – We found out that Alexa needs to wear glasses and wear an eye patch. We never noticed that she had any vision problems, but when she tried to read the chart with just her left eye, she could only read the top E. Turns out she had been relying too much on her good eye and now her left eye is becoming lazy. The doctor said if she doesn't use the patch several times a day and strengthen the eye, she could become legally blind in that eye by the time she's a teenager. She's been so responsible about wearing the patch, though. She's usually the one to remind me that she needs to wear it.
Drove to Steve's work with him one afternoon and then stopped by a chocolate store on the way home for a treat
Went Sledding
Black Bear Exhibit at the Lakeview Nature Center – We spent about an hour and a half at this small natue center. Every year they put up a winter exhibit. They had a real stuffed bear, a pretend bear cave, blocks, bear figures and other objects to play with, puzzles, lots of hands on things about bears to look at.
John Hancock Observatory – On Valentine's Day evening Steve surprised me by taking me and the kids to the Hancock Observatory-the same place he proposed to me almost 10 years ago. We had never gone with the kids before because it's pretty expensive (it was $58 for all four of us to go up there).
We took pictures and walked around for awhile. Then Steve said wanted to reenact for the kids his proposal. When he got down on one knee, pulled out a box, and there was a wedding ring inside I burst out crying! I had lost my wedding ring and band a year and a half ago. I probably cried for two weeks afterwards. Steve completely surprised me. What's even more surprising was he had taken the kids with to pick out the ring a few weeks before this, and they knew he was going to "propose" to me that night…..and they never said a word!
An evening with Granddad and Grandma- The kids surprised us a few days later with Valentines they had filled out.
Attended a performance of Going on a Bear Hunt
Oak Lawn Children's Museum – We went with my mom. There was veterinarian play, dressing up for a "theater performance", puppet play, pretend grocery stores, water and sand play. Afterwards the kids went to my mom's house for awhile. They played with balloons and set up the soldiers for a war.
Birthday Party for my sister's husband
Birthday Party for my sister-in-law's husband (went to a Chinese buffet).
Attended a wake – A friend of my husband's died this week at the age of 33. It was incredibly sad. He left behind a wife and a baby girl not yet one year old. His memorial service was packed- probably over 700 people.
On the Computer, Kindle, I-Phone, or LeapPad Explorer 1
LeapPad Explorer 1, Pet Pad, Sugar Bugs, Story Studio- They really loved making their own "video" story with this.
Kindle: Angry Birds, Monster Galaxy Exile, Bad Piggies, Temple Run II
PC Games: Zoo Tychoon 2, Sims 3, World of Zoo, World Explorer
Websites: www.switchzoo.com, www.pbskids.org,
Pet Grooming Studio, Net Pet Adopt -These games are at the website www.girlsgogames.com, There are a lot of really cute games at this site.
Maze Games: African Animals,-This game is at the National Geographic Kids website.
Wii:  Lego Star Wars, Lego Batman, Gold's Gym Dance Workout, My Fitness Coach, Just Dance 3
I Phone: Stack the States (Jared and I usually play this together while watching the ending of Alexa's gymnastics class). Martha Speaks Story Maker app
Photo Credit: gordsam
What were some of your favorite activities from February?
Share on Facebook