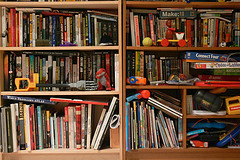 I'm almost done catching you up on all that we've been up to these past few months. Yea! Next week I'll actually have June's Learning Log posted on time
Most of May we weren't even home, so the rest of this learning log won't be as long as previous months. As I posted last week in a special Travel Edition of our Learning Log, we were in England, Wales and Ireland from April 26th through May 12th. Here's the link in case you missed that post and would like to check it out.
I'd say besides our travels the other highlights from the last half of May were: starting our first ever session of Minecraft Homeschool and attending a really fun workshop at the Oriental Institute in downtown Chicago where we worked as a group to make small Mesopotamian mud huts, looked at early Mesopotamian artifacts in the museum and made small clay replicas of those artifacts.
Next week I'll bring your our June Unschooling Resources and Adventures. I have a lot to share with you! It was a busy month with yet another trip as well as lots of out of the house adventures. See you next week!
 Books – Together
Inkheart – still working on reading this together during lunchtime and before bed. We often miss days doing this, plus the book is 538 pages, so it's taking a long time to finish this book!
Alexa's Reading List
The Subtle Knife – she read a few chapters from this book
Jared's Reading List
not much this month
TV/DVDS
Episodes of American Idol & 24
Episodes of Jackie Chan Adventures
Episodes of Once Upon a Time
Games/Puzzles/Kits/Activity Books
Minecraft Homeschool- 7 Wonders of the World – I was surprised at how much the kids, especially Alexa, wanted to do this Summer Camp when I first presented them with the idea. The first official day of the 12 week camp is the 2nd of June, but we could do the Orientation Lesson and Quiz and also the Learn It section  of the first week's assignment.
To give you an idea of what we did for the first week of the camp in case you are thinking of signing up for this in the fall:
-read several pages about the Grand Canyon and about Geology from the National Parks website
-built their own building that had to blend in with the Grand Canyon environment within the Minecraft world.
Sticker Dolly Dressing Around the World from Usborne
Muzzy Spanish – We decided to learn some Spanish over the next 9 months before we go on our next big adventure to Costa Rica.
730 Easy Science Experiments with everyday materials
-Made our own paper straws
-Tried to make our own water trombone using the paper straws we had made. That was pretty much unsuccessful
But when we watched this YouTube video and used plastic straws it worked perfectly!
-We also unsuccessfully tried to make a straw balance scale. But we did really enjoy watching this Bill Nye video on YouTube about balance.
-Bending a straw without touching it (discussed light refraction)
Chicago History for Kids - We're starting a huge multi-year unit study (one we are creating ourselves) about the History of Chicago. I am so excited about all the fun things we're going to be able to do! In fact, I plan to write several posts about how we're putting together the unit study and how you can do this to for your own area.
For this month we just started reading the first chapter together called Chicago Before Chicagoans. We discussed several topics including: the Ice Age, Glaciers and Moraines, and the Cahokia Mounds right outside St. Louis Missouri (which we are going to visit next next month!)
Writing/Spelling/Grammar
Sequential Spelling Lessons 89-94
Still working on learning cursive with their Kumon My Book of Cursive Words book and are almost finished
This month Alexa decided she wanted to write her own novel
She wrote her first "chapter" (about a half page typed) without any help from me.
The kids wrote occasional notes back and forth to each other over the past few weeks.
Marvelous Math 
Life of Fred: Ice Cream Lessons 11-17
At Home Fun
Inside: Building with Legos, pretend games, making "soup" by pretty much dumping every single spice I have into a pot of water!, setting up a pretend bakery and bookstore
Alexa is still into watching music videos on YouTube and listening to music on ITunes
Outside: Lately Steve and Jared have been putting together Lego sets inside the tree house, shooting bow and arrows in the backyard, playing chase with Jessy, swinging, practicing on their skateboard
Out of the House Activities
Weekly: Library Visits, Grocery Shopping, Church
Homeschool Group:  Just went to one park day this month
Went to free day at Blackberry Farm- The first time we came to Blackberry Farm when the kids were 5, the kids spent at least an hour just floating leaves down this little stream that runs down the center of the farm. When I reminded them of this, they spent time doing this again. There is also an "adventure" playground there with a small zip line. They also went on a short pony ride and checked out the farm animals before we went on a 20 min paddle boat ride together.
Registered for the Summer Reading Program at the library.
Kids' went by my mom's house one day this month: Video game playing with my dad, visited an area called "The Stairs" which is a huge hill with 125 stairs built into the side. Also played tennis at a tennis court.
Memorial Day – Both our parents and well as my brother and grandmother came over to our house to hang out. We watched the DVD and saw pictures from our Europe trip. The kids also played around in the little swimming pool and had squirt gun fights. They also set up a drink and ice cream stand to serve all the family that day- something they were SO excited about!
Oriental Institute Museum - By Our Birdhouse homeschool workshop – We arrived early in the morning to do the self-guided audio tour for a few hours and then walked a few blocks away for a picnic lunch on the green area in the quads (University of Chicago).
Then we attended the 2 hour workshop which featured Mesopotamia architecture and culture. We went on a guided tour of part of the Mesopotamia section of the museum, discussed what made a structure a home, made our own Mesopotamia model homes of straw, mud and water, then built a clay roof for the larger Mesopotamia home the older kids had built, and finally made replicas with clay of some of the artifacts we had seen in the museum. We will definitely be coming back to one of these workshops in the future. Very well done!
First family bike ride of the year! We rode at a forest preserve near our home for a few miles. Steve also took the kids on a few shorter bike rides in the evenings.
Biking on the bike path next to Lake Michigan and the Lincoln Park Zoo - We started off the early afternoon with a picnic along the lake. Then we rode bikes along the lakefront next to the beach most of the time. We went pretty far too, riding from Lincoln Park Zoo down to a little past Navy Pier when me bike got a flat tire
So, I had to ride back, clinking and clunking away – very embarrassing! After we put the bikes back in the car, we went into the zoo for about an hour.
Went to the movie theater together and saw Divergent
Computer Games/Websites/Electronic Games
 PC Games/ Websites:  www.pbskids.com, www.wikipedia.com, www.shepherdsoftwear.com
Nintendo Wii:Skylanders Swap Force
Nintendo DS- Final Fantasy 3 
Photo Credit: gordsam
What were some of your favorite activities from May?
Share on Facebook