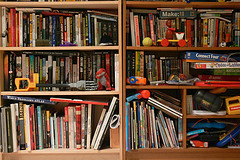 It's finally summer after months of never quite feeling warm most of the day…and I'm posting our June 2014 learning log at the very beginning of July, too!  Things are off to a great start this month
We had the opportunity to do some more travel again this month. We took a 4 day weekend trip to St. Louis to see Steve's cousin's family. It was so nice seeing everyone again and checking out some new places in the area we had never been to before.
On the way there, we stopped off at the Cahokia Mounds for a few hours. After looking over the awesome displays in the visitor's center and watching a brief film, we climbed up to the top of Monk's Mound. It was so impressive to climb to the top of the tallest prehistoric man made structure north of Mexico.
And what made the visit even more memorable was seeing the earthen burial mounds at Cahokia in the same year we had the privilege of seeing burial mounds at Stonehenge in England, and Newgrange and Knowth in Ireland. It made our readings and studies much more meaningful than they would have been otherwise.
The kids have also really enjoyed their Minecraft Homeschool class this summer, too. It was a challenge in the beginning to understand how to navigate in the environment, but we are finally finding our groove and have learned so many fun new things, too.
Some other highlights include: an all day hike at Starved Rock State Park, a two day cousin sleepover, attending Brickworld 2014 (a Lego convention), and several zoo days.
Books – Together
Inkheart – still working on reading this together during lunchtime and before bed.!
Read more sections from Chicago History for Kidsr
Alexa's Reading List
A Series of Unfortunate Events: The Bad Beginnings
A Series of Unfortunate Events: The Reptile Room
Jared's Reading List
Ranger's Apprentice Bk 1: The Ruins of Gorlan - started this 
TV/DVDS
 Ice Age Death Trap: Uncovering Mammoths, Mastadons, and other vanished beasts (PBS)
Cahokia Mounds: Ancient Metropolis
Episodes of Jackie Chan Adventures
Episodes of Once Upon a Time
Episodes of Master Chef and 24
Episodes of The 100
Episodes of Lego Chima
1 episodes of R.L. Stein's The Haunting Hour
Muzzy Spanish
Games/Puzzles/Kits/Activity Books
Minecraft Homeschool- 7 Wonders of the World -
Every week there is a Learn It section and Quiz before you begin the weekly build assignment.  Some things we did during our Learn It assignments included:
-read several pages about the Grand Canyon and geology from the National Parks website
-watched several clips off the National Geographic website and Smithsonian website about coral reefs, climate change, unethical fishing practices and the ocean.
-watched several clips about how volcanos are formed. Read several webpages about Paricutin, a fairly recent volcano that was born in the middle of a Mexican cornfield.
-read a long National Geographic article about a scientific team's journey to Mount Erebus
-This was a really fun one! We watched a 5 minute video made by an architect who explains his process of designing a building using the questions, what, where, how and why. And we looked at 50 of the most unusual buildings in the world. I'd highly recommend checking out this link if you get a chase. Some of these buildings are incredible! The Minecraft building assignment this week was to take one of these 50 building designs and replicate it in the Minecraft environment. Alexa chose the Pickle Barrel building and Jared chose the Asian Bank or Robot building.
-learned how to build in the Minecraft environment. Their first assignment was to build a structure that blended into the canyon landscape. Second assignment: build part of a coral reef: Third assignment: build a farm, cornfield and volcano: Fourth assignment: design something made out of ice like an ice castle or cave.
BrainPop videos - I'd been eyeing the Brainpop and Brainpop Jr. subscription package for several years now. We have enjoyed watching the free videos at these sites for the past 2 years, but I'd always balked at the idea of spending so much for a subscription.
But I broke down and bought a year's subscription for $75 when I saw this great deal from the Home School Buyers co-op. If you haven't checked out Co-ops website yet, you need to! You can often find resources 50-80 % cheaper if you're lucky.
We haven't watched too many Brainpop videos yet, but did look at one on the Ice Age so far.
Writing/Spelling/Grammar
Sequential Spelling Lessons 95-97
Finished their Kumon Cursive Words book!
From the Digging Deeper section one week in Minecraft Homeschool, they "wrote" a paragraph about what they had learned from either the videos we watched or websites we read from. I typed down their sentences as they said them out loud.
We also started the first book in the Editor in Chief series by The Critical Thinking Co – Beginning 1- and did Lesson #1 on Capitalization. I've been debating whether this is a good thing to try with the kids or not. I don't want to rely too much on workbooks- organic learning is usually more effective and long-lasting in my opinion-but I do know that with many grammar and punctuation learning, working through a system can speed the process up, if your child enjoys that type of thing. We're giving the first book a try and see how it goes.
Marvelous Math 
Life of Fred: Ice Cream Lessons 18-19 & Life of Fred: Jelly Beans Lesson 1 – hard to believe that we're on the last book in the Elementary series already and the kids just turned 8 a few months ago! We have 3 books to go through in the Intermediate series before beginning the 5 books in the Before High School Mathmatics series which includes: Fractions, Decimals and Percents, Elementary Physics, Pre-Algebra I with Biology and Pre-Algebra 2 with Economics.
Travel: St. Louis 
 Cahokia Mounds – I wrote quite a bit about what we did here in the beginning of this post. We have started reading a book about the History of Chicago, and there's a chapter about the Cahokia Illinois tribe, so it worked out perfectly to visit this site while we were so close to St. Louis. If you are interested, check out the link. If you leave near this site, I'd highly suggest visiting.
We spent about half our time in the St. Louis area just hanging at Steve's cousin's house. They have 5 kids so needless to say, the kids had quite a fun time playing! They: jumped on the trampoline, made a "water slide" by running the water hose down the playground slide in the backyard, made bracelets with rubber bands, watched Frozen and The Lego Movie, played checkers, played "school," and rode bikes and scooters around the blocks surrounding the house.
Indian Camp Creek Park The first full day we were there, we went to a cute little spot with a playground and a long creek. Steve's cousin was so kind to put together a little kit of a sand bucket, a plastic container to put bugs and little fish in, butterfly and fish nets and sunglasses. The kids spent several hours catching little bluegill and crayfish, and splashing around in the creek. We ate a picnic lunch there, too, and spent a little time at the playground before heading home.
Grant's Farm – The second day we spent most of the afternoon at this cute little animal park. You enter the park by tram, passing through acres of land where deer, elk, and horses. Once inside the park you could pay to buy baby bottles and feed the goats, buy snow cones, ride a carousal, hand feed camels, and check out some of the other animals in the park including an elephant, parrots, and baby chicks.
At Home Fun
Inside: Built lots of structures out of chairs, pillows, sheets and blankets, made up lots of new pretend games – I can really see a difference in these pretend games vs. the games they'd played when they were 5 and 6- more of a concern with complicated rules (less running around in the beginning and more sitting down and world-building first – very interesting!)
Other pretend games: Built with the Cootie bugs and made up lots of stories with them, also (and they spent days and days on this one) placing lots of figures in the sandbox and having a giant war with them. Play dough has also had a big comeback in our house – lots of sculpting going on.
Alexa decided to make chocolate chip cookies by herself one afternoon. Besides getting out the ingredients and answering a few questions about measurement, she did everything by herself!
Steve, Alexa, and Jared had a big water balloon fight in the backyard one evening.
The kids have also been great about helping me straighten the house throughout the month and organizing and getting rid of toys in their playroom they no longer want anymore.
I spent some time being target practice for Jared and his 60 foot range Nerf gun rifle. It really stings when you get hit! Playing sniper is one of Jared and Steve's favorite things to do. Jared puts on a backpack and run up the ladder of the treehouse, takes aim (the rifle actually has a working scope) and fires at Steve while he's running. Jared's actually really good at this. I guess I should be proud that he's such a great shot, right??!!!
Alexa bought a pair of "spy glasses" a video camera inside a pair of sunglasses. Lots of recording, downloading and watching.
Outside: Swinging on the swings, playing with Jessy in the backyard
Out of the House Activities
Weekly: Library Visits, Grocery Shopping, Church, Gymnastics
Homeschool Group:  We went to one park day this month.
Cermak Aquatic Center with friends – One day the kids invited over two friends to go to a small waterpark near our house. Before going, they played for a while in the backyard, and also played with the Sculpty clay and Snap Circuits for awhile. They wanted to take their lunch up to the treehouse and have a little picnic up there. It was so cute! Afterwards they played for 3 hours at the pool. I enjoyed the kids when they were little, but it is so nice to have times when I can read for several hours at a time without interruption. Ahhhhh!!!!
Brookfield Zoo day with grandparents – This was our first zoo day of the year. We took the tram around the whole zoo- jumping on and off at several of the stops. Our animal highlights: the tiger, bears, sea lions, reptile house and living coast. We ended the day picking up Chinese food and eating at Steve's parents house, with his sister and brother -in – law joining us.
Brookfield Zoo with a friend – Had a really fun day – went to Hamil Family Play Zoo and played veterinarian, pet a hissing cockroach, sat in on a Zoo Chat and pet a skink, went to the Reptile and Swamp houses, played in the playground, ate some Dip n Dots and played for almost an hour in the splash pad.
Annual Naperville Riverwalk with my mom and sister - Walked about a half mile from my sister's house to a gorgeous walk along the river and stopped by picnic tables for lunch. My mom brought milk weed pods and the kids loved blowing the seeds around. Then we walked to the playground where the kids played on the equipment- in the sandbox and climbing trees. Afterwards we walked to a create it yourself yogurt shop. Then we walked back and hung out watching the kids while my sister and brother in law went to see a house.
Starved Rock State Park - We drove an hour and 45 minutes away to a beautiful state park and spent most of the afternoon hiking up and down canyons, up to beautiful lookouts over the river and saw several small waterfalls.
Brickworld 2014 – First time attending this Lego convention. We saw very impressive exhibits. There were some creators who have been working on their exhibits for over 10 years, spending well over 10 hours a week in building and spending over $35,000. Besides looking at all the great Lego displays, the kids had a chance to build for themselves and also play for a while with a remote controlled Lego car.
Swam with Steve at the pool near my mom's town – My mom usually takes the kids to her pool once a week during the summer, but they had never been there before with Steve. I'm always a baby about the cold, and as it was cloudy and cool, I sat out the whole time, talking with my mom and watching the kids slide down the waterside and dive off the diving board.
Two days at Grammy's house - Alexa did dishes and watered plants, played video games, Legos, went swimming at the outdoor pool, and my mom took them out to eat one evening, too.
Splash pad and Oak Lawn Children's Museum - My sister's 2 oldest boys came over this month for a 2 day sleepover. After picking them up and coming back home for lunch, we headed out to find a splash pad and playground. At home before dinner, the kids had squirt gun fights and nerf gun shooting outdoors. The next morning after breakfast and before heading to the children's museum, there was lots of Lego play and pretend games. Alexa did a great job the entire two days taking car of her 3 year old cousin.
The next day all the kids slept over by my Mom's house. I met my mom at the children's museum where we ate lunch and hung out for a few hours before I dropped them off at my mom's house. They drew a railroad track with chalk in garage and pushed their cousins in strollers around the track stopping at different "stations" along the way. They also played pingpong, made English Muffin pizzas, had a "snowball" fight with white cloth balls, and watched the Lego Movie and The Incredible Journey.
Father's Day - This year our anniversary happened to fall on Father's Day. To celebrate, we had the kids stay over at their grandparent's house. While they were there they made  a card for Steve and bought their own presents for him at the dollar store,played hide and seek and told ghost stories with their aunt and uncle, and watched a movie. Steve's parents brought them to church the next morning.
After church we all went back to Steve's parents' house and ate lunch there. After hanging out for a few hours, we then went to my parents's house to spend time with my dad. While there we watched American Ninja, played badminton in the back yard and watched the kids put on a little gymnastics show.
Attended a wedding -  The kids went with us to a wedding ceremony for friends. Later my brother came to our house to watch them while Steve and I went to the lunch reception. They played the Game of Life with their uncle, picked up something to eat, played with Jessy outside and started to watch a movie together.
On the Computer, Kindle, I-Phone, or LeapPad Explorer 1
PC Games/ Websites:  www.poptropica.com, www.lego.com, http://www.coolmath-games.com, www.avirtualhorse.com,
Nintendo DS- Final Fantasy 
Photo Credit: gordsam
What were some of your favorite activities from June?
Share on Facebook