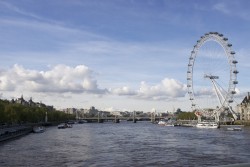 At the beginning of this spring, my family and I were able to take a two and a half week trip to England, Wales and Ireland. Besides Canada and a British territory, we had never been able to travel to a foreign country on our travels, so this was a very big and exciting trip for us!
I know you might be wondering how we could afford this type of trip. I won't go into a lot of detail here, but I will say that my husband has to travel quite a bit for his job (he also has a flexible job where he can work from home quite a bit and work while we are traveling, so we do get to be with him just as much or even more than if he had a job with no travel and set hours). He usually accumulates a lot of frequent flier miles, so we rarely have to pay for airfare. I can often get a good car rental deal, too, from coupons from Entertainment book offers.
We also rent homes or apartments whenever we travel, too. This may seem more expensive, but it's really not. The homes we rented for this trip were by far the most costly we've rented before but that was just because of the very high exchange rate we had to pay. We also paid for a lot more attractions than we've ever had to pay for in the past. My favorite sites for rentals are www.vrbo.com and www.homeaway.com. You can rent a home with 2-3 bedrooms and 2 baths per night many times for less than the cost of a single medium quality hotel room.
Also, we don't eat out that much when we travel. We buy food at local grocery stores, pack picnic lunches most days, and cook food at home at the end of each day. You'd be spending close to the same amount for food at home, too, so food isn't even really an added expense for us. On this trip, we did eat out more than we had in the past, but it was more like an outing for us – something new to experience.
So, it was a more costly trip this time, but still definitely the trip of a lifetime for us. My head is still reeling from all that we were able to do in such a short amount of time!
We stayed in London (really our apartment was 40 minutes outside the city in Wimbledon) for three nights. Then we stopped at Windsor Castle before driving another hour and a half to our next stop at a tiny village about a half hour outside of Bath.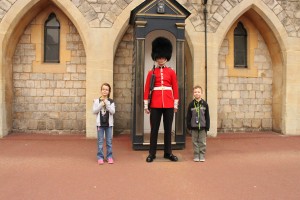 We spent 4 awesome nights there in a renovated stone barn before heading to Wales. We drove 2 hours, stayed for a couple of hours in Stratford-Upon-Avon for 3 hours touring Shakespeare sites, before driving 3 hours to northern Wales and our townhouse rental in the mountains.
We stayed in Wales for 4 nights before driving an hour to the ferry in Holyhead, Wales and taking a 3 hour ferry ride to Dublin, Ireland. We were able to stay in an apartment right on the Irish Sea (we were able to open up a skylight in the bedroom and look down on the rocky beach and water every morning!) in Skerries, about a half hour outside Dublin. After 5 nights, we took a direct flight back to Chicago.
Below I listed our top 5 favorite things we did in each of the countries we stayed and wrote a little about each of them.
 England
Hop on Hop Off Bus Tour – This was by far the most expensive thing we did, but it was worth it to see a large amount of the city in a short time since we only had two full days in London. The tickets also included a boat ride down the Thames River. We hopped off at both St. Paul's Cathedral where Steve and the kids walked the 323 steps to the top of the Dome lookout (I stayed back for this- me and heights don't mix too well 🙁 ) and at the Tower of London where we saw the Royal jewels.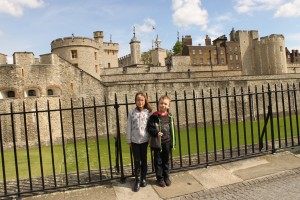 Bath- This was one of the most beautiful cities we saw in England. We started by touring the Roman baths. There was a really cute kids' audio tour we listened too, and we got to sample some of the water from the spring (warm and metal tasting, yuck!). Then after visiting a small park, taking a boat ride down the river and a Subway dinner, we went to the movies and watched Spiderman 2!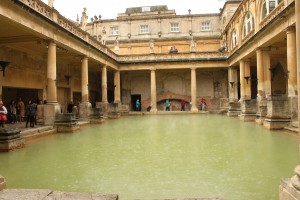 The Cotswolds- I had wanted to spend some time in the Cotswolds ever since I fell in love with pictures from this area. We drove to 3 different tiny villages on day: Lacock Village, Bradford-on-Avon and Castle Combe (many of these villages have been sets for films and TV shows).It was a relaxing day of just walking around admiring the gorgeous architecture and scenery.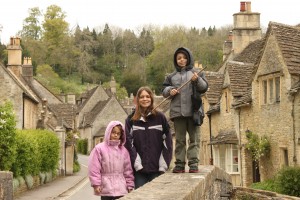 Stonehenge – Such an interesting place! Yes, it's a bit touristy, but the audio tour was well worth it. We were bused by shuttle from the visitor center to the site. Afterwards we checked out the small museum before driving to tour Salisbury Cathedral about 20 minutes away.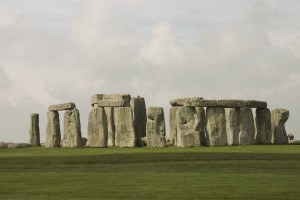 Stratford-Upon-Avon– Such a treat to see in person both the homes where Shakespeare was born and died. Unfortunately, we only saw the outside of the buildings since we were also driving to Wales afterwards and we happened to choose the weekend when they were celebrating Shakespeare's birthday so it was very crowded. Still, the town was pretty, especially along the river and in the gardens surrounding the church where we saw his grave.
 Wales
Llechwedd Slate Mines– We took a tour of a slate mine in northern Wales. This was an extremely sobering experience. The lives of these miners were so hard and most died by the age of 40. It was unbelievable to think that at age 8, the same age as Jared, boys were working down there 12-14 hours a day.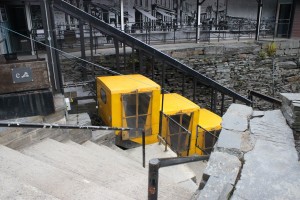 Train ride to the top of Snowdon Mountain– This was another big expense for us, but well worth it. We took an hour long train ride to the top of Snowdon Mountain- the highest peak in Wales. We were only able to stay a half hour at the top before our hour ride down the mountain but with the temp in the low 40's and freezing winds, I was ready to come down then! It was some of the most beautiful scenery I've seen.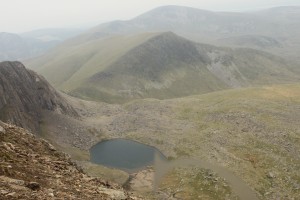 Castles- Wales has LOTS of castles! We visited three while we were there: Conway Castle, Caernarfon Castle, and Harlech Castle. I liked Harlech the most because it was small and from the top of the castle walls you could look out onto the ocean. The kids loved running through all the rooms and up and down the spiral stairs.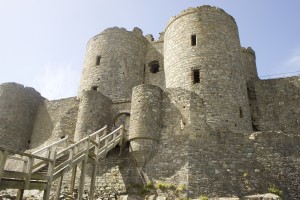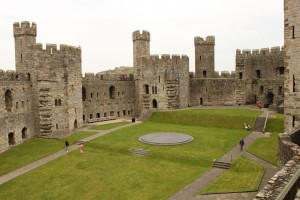 Lambs and the Mountainside– Since we were there in spring, we were there for the lambing. It's not an exaggeration to say we saw thousands of lambs dotting the Welsh mountainside. One time we saw two lambs that had somehow come over onto the side of the fence next to the street. Steve stopped the car and lifted the lambs back over the fence where they ran straight away to their moms. It was SO adorable!
The Ferry to Ireland– This ferry was more like a cruise ship! You could even go to a small movie theater on board if you wanted to. We walked outside for a little bit, although it was so windy it about knocked you down if you weren't holding on. Jared found a shop that sold Lego sets, so he built one during the ride.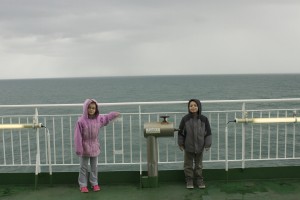 Ireland
The Monastic Ruins in Wicklow Mountain National Park– We took a 3 hour hike around some monastic ruins and around a lake at this national park. It was gorgeous here! It was so incredible to stand right in front of the round tower and see the entrance about 15 feet up where monks and villagers would crawl up to on a ladder to escape from Viking raids. Aweful!!!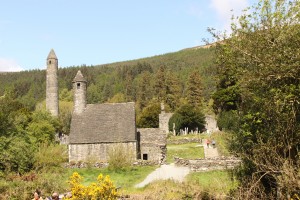 NewGrange and Knowth – This was an amazing experience! The mounds at both of these places are older than the pyramids in Egypt. We had great tour guides at both places. At Knowth, we were able to climb to the top of the mound and look out at the countryside. At Newgrange, they simulated what it would be like during the winter solstice when the sun rises and come shining through the narrow entrance.
The beach outside our apartment rental – One of the most relaxing times for our family was just walking along the rocky beach outside our apartment rental. The kids skipped rocks on the water and collected sea shells. We also had a seafood dinner (sort of an early Mother's Day dinner since we were gone during Mother's Day) at a small restaurant on the beach and could see our place across the ways.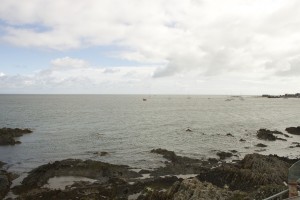 Powerscourt Garden– We saw the tallest waterfall in Ireland here (about 323 feet) and had a picnic lunch at this gorgeous garden. There was a small playground for the kids to play in, and we had fun jumping on rocks across a little stream.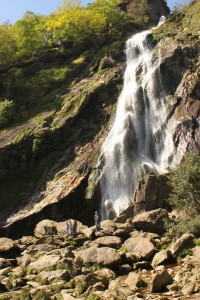 Dublin City– I wasn't that impressed with the city itself (London is by far more beautiful), but it was still interesting to see some of the architecture and stop in for a visit at the National Museum of Ireland.
Have you visited any of these countries before? Any other foreign countries? What traveling plans do you have for this year? I love to hear from you below!
{ 0 comments }