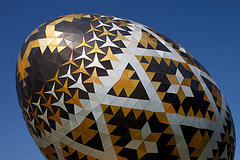 Do you celebrate Easter? If so, what images come to mind when you think about Easter?
Many people think about rabbits, baskets and chocolate eggs. Our family has a strong faith in God so we also think of new life, resurrection and salvation.
You probably have some favorite Easter traditions, too. Maybe it's hunting for Easter eggs, wearing a new outfit that Sunday or a great dinner with the family.
Today, I'd like share with you 10 out-of-the-ordinary Easter activities your family might enjoy, too.
 1) Visit a farm or pet store that has baby chicks, rabbits or ducklings.
2) Make your own natural dye. Here's a great video on YouTube that teaches you how to create your own dye for fabrics. You could sew and dye your own bag to collect Easter eggs.
3) Visit a local conservatory or botanical garden. Check out the new spring buds and pick out a bouquet for Easter.
4) Spend a week reading about rabbits, chicks, ducks and lambs. Here's some suggestions:  The Tale of Peter Rabbit  and The Tale of Jemima Puddleduck (this might be a fun week to do a little mini study about Beatrix Potter), Where do Chicks Come From? (A Lets-Read-And-Find-Out-Science Book), and The Little Lamb.
5)  Watch a video of how jellybeans are made. Here's a link to the YouTube clip from the show How Its Made.
6) Conduct some fun color experiments. Here are a few ideas I've found from some online sites:  Color Mixing Tray,  Egg in a Bottle Demonstration, and Making Colored Chalk.
7) Discover how other cultures celebrate Easter. Here's a few websites to get you going: The Huffington Posts's Easter Celebrations Around the World,  From Crownrelo.com Easter Celebrations Around the World, and CNN World's Easter Celebrations Around the World.
8) Decorate some Ukrainian Pysanky Eggs. You can make one from a kit like this one.
9) Make your own marshmallows. Here is a recipe from Wikihow.
10) Study the different holy days that surround Easter and learn about their origin. Here are a few book suggestions. Humphrey's First Palm Sunday, The Week that Led to Easter, and Bring Lent to Life: Activities and Reflections for Your Family.
 Photo Credit: Cogdogblog
What Easter celebrations does your family have if you celebrate that holiday?
{ 8 comments }