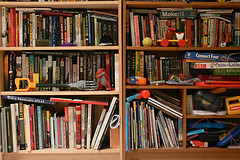 We had a very packed July- always on the go! We started off the month in Kansas City, Missouri at a relative's home. It was a really fun week; we did so many different things from visiting a living history museum to lighting off fireworks in the backyard. In the middle of the month, the kids and I went to Vacation Bible School where I was the head leader of 42 5-7 year olds (Yikes!). Throughout the month we also read a lot of fun books, the kids went swimming quite a bit (once at a large water park), and they went to their first "big kid" amusement park.
It's already past the middle of August and so far this month, although we've still had our share of fun and adventure, it's been much less hectic. I'm very thankful for that since next month we're going on a big trip, and I'll have lots to get ready before that.
Other highlights from the month include: learning a lot about Frank Lloyd Wright, working on handwriting, playing "Master Chef" (sooooo much fun!) and going on a 13 mile bike ride.
Books – Together
Gorilla Rescue
Sofie and the City
Mogo, the Third Warthog – the kids loved reading this book. It's a chapter book, about 100 pages long or so. It actually has several graphic death scenes in it of animals, so I was very surprised at how interested both kids were in listening to it while I read aloud.
The History of Counting– I highly recommend this book; I learned so much!
Can you Count Ten Toes? : Count to 10 in 10 Different Languages
Seeker of Knowledge: the man who deciphered Egyptian hieroglyphs
The Wright 3 – This was another favorite. We read this book together before bed each evening. It's a mystery book involving Frank Lloyd Wright and the Robie House.
Frank Lloyd Wright
Alexa's Reading List
The Cry of the Loon – A Samantha American Girl book
Curse of the Ravencourt– A Samantha American Girl book
Dracula: Trapped in Transylvania – a Cracked Classic book
The Ultimate Encyclopedia of Cats
Jared's Reading List
The Green Lantern: High Tech Terror
The Green Lantern: The Light King Strikes!
Star Wars Adventures: Luke Skywalker and the Treasure of the Dragonsnakes
Travel- Kansas City, Missouri
Jared, Alexa and their cousins loved listening to an on-going story I told them most evenings before bed. It was a continuation of the story I made up on the drive down to KC. It was a bit scary with talking scarecrows, hidden diaries and rescuing ravens. I love, love, love making up stories for kids!
Some other highlights from the week include:
Going out for ice cream and Kansas City BBQ
Visiting Missouri Town & Lake Fleming. Missouri Town is a living history museum from the 1850's. We looked in recreated homes, farms, schoolhouses and blacksmith shops. The kids found a huge ox to pet and chased around some sheep.
Rode lots of rides at Summit Waves, in Lee's Summit. Jared went off the diving board for the first time into 12 foot water (my heart was beating out of my chest the entire time!), and both kids went down large water slides for the first time. The water was freezing so I sat out, watched, and took lots of pictures J
Deanna Rose Farm– This is the third time we've visited this cute little farm. The kids loved feeding the baby goats out of bottles, seeing lots of other animals, and catching three or four fish each at the pond.
Buying fireworks at a huge warehouse and lighting them off and night
Running through the sprinkler, playing chase and ball with the dog, playing with figures and pretend games, watching a mamma cat nurse her two week old kittens, watching TV shows together
Listening to a few chapters of The City of Ember – The kids didn't seem that interested in this book. I really enjoyed the first few chapters, though. I might try to read it out loud at bedtime sometime.
On the way coming home, both kids read for almost two hours to themselves, colored and filled in activity books, played games on the Kindle, and made drawings.
Vacation Bible School – 1 Week
This year I was the team leader for the K-1 group at the annual Vacation Bible School at our church. We had 42 kids in the group. I was reminded again and again why I'm so glad that the kids get to learn in a personalized environment and have so much freedom of choice. This isn't to say that we didn't have fun, but all three of us where glad to get back to normal when the week was done!
We would gather together as a big group at the beginning for songs and then break down into smaller groups, travelling from room to room for about 20 minutes at each station. At the end of the morning we gathered back together as a large group for more songs, to watch a skit, and sit for the raffle drawings.
Here's what we did in each station throughout the week:
Crafts: Made dragon mucus (really just a version of slime J), a Chinese inspired toilet paper roll dragon, a foil and gem decorated cross, a glitter decorated cardboard crown, and a foam castle picture frame
Games: water balloon toss, capture the flag, baton, pin, capture game, soccer ball game and races
Story time: Threw marshmallows, pretended to be soldiers, learned new Bible verses and stories
Snack Time
Workbook Time – learned new Bible verses, colored, recited memory verses
TV/DVDS
Episodes of The Littlest Pet Shop
The Clutch Wars– a Lego movie
An Episode of Reading Rainbow – the story was Abiyoyo
The Homes of Frank Lloyd Wright
Refugees in Tanzania- This was a short documentary with Angelina Jolie on Showtime about orphan refugee fleeing the Republic of Congo for a Tanzania refugee camp. We had such great discussions about the horrors of war while watching this film and afterwards.
Kids' Animated History with Pipo – Episodes on India, Mesopotamia, and Carolingian
Episodes of So You Think You Can Dance?
Episodes of The 13 Ghosts of Scooby Doo: the complete series
Candleshoe –a really cute movie featuring a very young Jodie Foster
Iron Man 3 – In Theater
Episodes of Stephen Fry's America- Steve and I had been watching this series and the kids sat in on a few episodes. You'd definitely need to screen the episodes ahead of time, but it is a humorous way to learn more about the different regions of the United States and their different cultures and traditions.
Episodes of MythQuest – These episodes won't win any awards, but both the kids and I found them both entertaining and a great way to learn more about all types of mythology- Egyptian, Greek, Norse, Native American….  (You can watch it instant on Netflix).
Marvelous Math
Life of Fred: Book #5 Farming Lessons 6-14
Becoming an Addition Master – We went through a set of flashcards with all the addition facts through 12. If they could say the fact within 5 seconds, I put the card on a pile of addition facts they had mastered. The rest went into another pile. The next time we worked on the cards, I took the pile of cards they hadn't mastered and had them look through the answers of each card briefly before we went through the cards again.
We kept going through the cards until they could say each fact within 5 seconds of looking at the card. When they finished that, I then declared them Addition Masters!!!  They really enjoyed doing this and felt very proud of themselves afterwards. It only took about a week to accomplish this even though they do very little paper and pencil addition.
                Games/Puzzles/Kits/Activity Books
Wildlife DVD Game – This is a fun game where you watch short DVD clips about different African animals and then answer questions.
An experiment from the book Volcanoes by Janice Van Cleave
-made "putty rocks" from cornstarch and water- observed how pressure placed on the putty determined whether the putty moved smoothly or clumped up.
Writing/Spelling/Grammar
Sequential Spelling Book #1 – Lessons 8-15
Becoming a Printing Master – I asked the kids to write all the capital and lower case letters as neatly as they could on lined paper. Then we went through them and circled ones they needed more practice with. Then I showed them how to write each letter neatly and they practiced writing each letter 20 times. Then we did another assessment of how they wrote all the letters. We did this until we both felt satisfied that they knew how to neatly write all the letters. This only took about a week to do.
At Home Fun
Inside: helping straighten the house, lots of pretend games, making up songs, Play dough creations, building with blocks, freezing objects in ice, building villages with all my Tupperware, pretending to get married
Putting together big Lego sets
Playing Master Chef – I don't think I've ever seen the kids have so much fun or get so excited to do an activity. Once in a while the kids watch Master Chef with me. They are amazed at how the contestants can put together ingredients from a Mystery Box in a short amount of time. I asked if they wanted to play their own Master Chef.
I set up a "Mystery Box" for them with these six ingredients: animal crackers, dark chocolate chips, sugar, cinnamon, milk and a banana. They had 30 minutes to create "one stunning dish."
They were SO cute with their aprons on. They took the challenge very seriously and talked about what they were doing as they baked. They pretty much just dumped everything together in a bowl and stirred it up, after crushing up some of the crackers and slicing the bananas. Then they boiled it over the stove. When it was done, it actually tasted pretty good! It was kind of like a chocolate bread pudding. They are very excited to do the next challenge.
If you have kids who love to bake or cook, you should do this challenge with them. It's a great test of creativity and pushes them to move outside their comfort zones.
Outside: playing catch, catching fireflies and making homes for them from leaves, kicking around a beach ball, ride scooters, sandbox play
Running through the sprinkler in the front yard with Steve
Lots of bike rides around the block and schoolyard
Gardening
Harvested kale and carrots from the garden
Shredded the kale, washed, peeled and cut the carrots for dinner one evening
Out of the House Activities
Weekly: Library Visits, Grocery Shopping, Church, Gymnastics
Summer Reading Club at the Library
Bike rides to a close playground; one evening to a nearby Riverwalk
An afternoon with Grammy
–          Painted a wall in her garage
–          Swam at the outdoor pool
lunch and hung out at my mom's work ( a junior college)
Another afternoon with Grammy
-Swam at the outdoor pool
-lunch at my mom's work (junior college)
A 13 mile bike ride down the Salt Creek Trail
Uncle's Birthday Party – We walked to the local playground where my brother and Steve made up "challenges" for the kids (climbing, jumping). Then we came back to the house to slip and slide outside, play video games and a watch few TV shows.
An evening with grandparents – a short bike ride, outside BBQ and a few hours of watching old home videos
An afternoon at an outdoor pool with me and my brother – went down new waterslides and diving boards for the first time, learned how to dive, played shark in the water with me
Six Flags Great America – This was the first time going to a "big kids" amusement park. Both kids were a few inches short to ride the really big roller coasters (I was secretly glad!), but there was still enough to do to keep us there for 8 hours. It was cold and raining for most the day (we wore rain ponchos), but the plus side was really short lines!
Raging Waves Waterpark and spent the night before by cousins' house- The kids had earned free tickets to  Illinois' largest water park. On the day we went it was so cold outside (about 65 degrees!), so being a big baby about the cold, I sat out the entire day, watching everyone else instead. The kids were one inch short for most of the big rides, but they still had lots of fun.
On the Computer, Kindle, I-Phone, or LeapPad Explorer 1
Kindle: Angry Birds, Sims 3 Freeplay, Real Steal,
PC Games: Websites: DK's My Human Body
Photo Credit: gordsam
What were some of your favorite activities from July?
{ 3 comments }