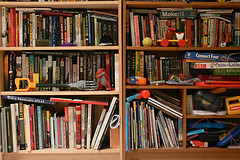 How has your summer been? Busy?
In 3 days it will be the end of July and I'm first now posting what we did in June! Writing has not been a high priority for me these past few months. I've been spending lots of time with my family. The kids and I have been playing lots of fun new games together, reading, going downtown to beaches, and roasting marshmallows in the backyard.
Some other highlights of June include: the kids' first overnight stay at grandparent's house when Steve and I went to Wisconsin to celebrate our 10 year anniversary, learning all about Vermeer and playing with pentominos, discovering American Girl books, lots of swimming and bike rides, and the beginning of a weeklong trip to the Kansas City area.
Books – Together
Pepper's Journal- a Kitten's First Year
Alexander the Great – from the series Kids Who Ruled
Alexander the Great – by Demi
Sand and Fog: Adventures in Southern Africa – incredibly beautiful photography of south Africa
In the Rain field: Who is the Greatest?
Lake of the Big Snake: an African Rainforest Adventure
All in a Day – This is a beautiful little picture book- all about truly living in the moment.
Patterns in Peru: An Adventure in Patterning
Jack's Time Machine
Mummy Math: An Adventure in Geometry
Chasing Vermeer– This was a wonderful book! I ran across it just scanning the shelves in my library. It's a very different kind of mystery involving puzzle solving, art and philosophy- hard to explain but very, very informative and entertaining.  This book peeked our interest in Vermeer so we checked out several books about him. I also checked out a puzzle book about Pantomimes (see the Games section below for a more detailed review).
It's also a story about children who attend an unschooling classroom. The teacher allows the class to learn about whatever subjects interest them. Very cool!!!!
Johannes Vermeer – from the series Getting to Know the World's Greatest Artists – I love this series! It's a mixture of cartoons and reproductions of original paintings. We have also watched several DVDs in this same series.
13 Artists Children Should Know – A beautiful book. We just read the section about Vermeer, but we will be going back to it if we decided in the future to study another artist.
Alexa's Reading List
The Encyclopedia of Animals- A Complete Visual Guide
Samantha's Surprise: a Christmas Story – An American Girl book
Samantha Learns a Lesson – a School Story – An American Girl book
Meet Samantha, an American Girl – An American Girl book
Samantha Saves the Day – an American Girl book
Changes for Samantha– an American Girl book
Clue in the Castle Tower – A Samantha American Girl book
Jared's Reading List
I've been so amazed at how Jared's reading has taken off. He goes for months wanting to sit with me and read books out loud almost every day to waking up one day saying he doesn't feel like reading anymore. Then after about two to three months he picks up a difficult book and reads it easily and wants to keep going again. It's so interesting how he knows when he's processed new reading skills and feels ready to progress even further. He went from reading the word cat to reading independently in about a year with very little time sitting down and reading with me.
Lego Star Wars: Darth Maul's Mission
Lego Star Wars: Anakin to the Rescue
Star Wars: Ready, Set, Podrace!
The Amazing Spiderman: Spiderman vs. Electro
In a Dark, Dark Room: And Other Scary Stories
Fantastic Four: Evil Adversaries
Travel- Kansas City, Missouri
I'll have much more to write about this trip next month, but we did leave on the 29th of this month to drive to Kansas City, Missouri, so I'm including a bit about our first two days of the trip here. We usually try to visit KC once a year to visit with Steve's relatives.
On Sat the 29th, we drove to the Kansas City area. It's about a 9 hour car trip for us including stops. The kids started off the trip reading books, playing games on the Kindle and doing puzzles in activity books we picked up at a Walgreens.
Then we started telling stories of when they were babies and the funny things they did. This led to stories of when Steve and I were kids and the funny or embarrassing things that happened to us. We make some of the best memories in the car when we all share stories together.
After we were tapped out of old stories to tell, I made up a story for the kids that took over an hour to tell. It turned out to be part one of an ongoing story I would tell the kids and their cousins each night during the trip. I usually make up a really long story each time we go on a lengthy road trip. The stories usually have to be scary and mysterious J
On Sunday we went to church together and then came back to Steve's aunt's house and just hung out together.  We took a short walk around a lake close to the house, too.
Our Anniversary Trip to Lake Geneva, WI
To celebrate our 10th anniversary, Steve and I took an overnight trip to Lake Geneva, WI…..without the kids! I've never been on an overnight weekend trip without the kids before. I did miss them and would think about them when we took a hike or boat trip, knowing they would love it, too, but it was SOOOO good to just be by myself with Steve for so long.
Both Steve and I and the kids were ready to be away from each other for a few days. I'm very glad we waited until the right time to spend the night away instead of leaving them somewhere overnight and having them in tears. They were very excited to sleep overnight at their grandparents!!!!
Here are some of the things the kids were up to while we were gone:
-visited two new playgrounds- one with a fun climbing wall
-watched Homeward Bound: The Incredible Journey and some episodes of Batman The Brave and the Bold
-played lots of pretend games with grandparents
-swam at the outdoor pool
-played video role playing games with Papa
-helped cook pancakes for breakfast
TV/DVDS
Episodes of Born to Explore about Moracco
Episodes of The Littlest Pet Shop
Episodes of Young Indiana Jones Volume 1
Nosy Mrs. Rat– a Reading Rainbow Episode
Kid's Animated History with Pipo  Disc 1 This is a wonderful series that introduces kids to an overview of ancient history. There are episodes on Greece, Rome, Vikings, India, Mesopotamia, Carolingian, Byzantine Empire, Egypt, Persians, Hebrews, Aztecs, Myans, Incas, China and Japan
Episodes of Little House on the Prairie Season 5
Episodes from Batman: The Animated Series
Oz the Great and Powerful – I highly recommend this movies- it was gorgeous!!!
The Animal
Thunderpants – I do not suggest this movie….at all!
Marvelous Math
Life of Fred: Book #5 Farming Lessons 1-5
                Games/Puzzles/Kits/Activity Books
Pentomino Puzzles – After reading about these puzzles in the book Chasing Vermeer, I ordered a set for us. They are very challenging- to say the least!!! The puzzles were difficult; we often needed to look at the solution in the back of the book.
Pentominos are 12 unique shapes, most of which resemble letters made up of 5 square that are joined together by the ends. You can create different shapes and pictures by combing the shapes in thousands of different ways – similar to tan grams.
10 Days in Africa Not only is this game great for learning more about the geography of Africa, it's an excellent game for stretching your planning and problem solving skills.
Cranium Cadoo – I had bought this at a garage sale when the kids were much younger and finally pulled it out. I think they'd actually be ready for the older Cranium version, but we still had lots of fun answering questions, drawing, sculpting and acting.
Fauna Alexa received this beautiful game for Christmas last year. If you have an avid animal lover, they will enjoy this game. An animal card is drawn and players place bets on statistics such the animal's habitat, weight, height, and tail length. Hard to explain but fun to play!
SpongeBob Square pants Water Wonders: A Hands-on Science Activity Kit
-played in the bathtub with a foam boat powered by a balloon and straw motor
-talked about displacement and water pressure
-Experimented with using a paper clip as a sail and a keel for our foam boat – which helped the boat to float better?
-discussed how weight distribution determines whether a boat sinks or floats
Writing/Spelling/Grammar
Sequential Spelling Book #1 – Lessons 1-7
Wrote and Drew Father's Day cards for Steve
At Home Fun
Inside: put together puzzles with Steve, built "secret agent hiding places" from pillows, couch cushions and other stuff around the house, lots of playing with figures
Built with Lincoln Logs
Dozens of hours of pretend play of an ongoing game about the Redwall animated series
Baked Snicker doodles and chocolate chip cookies – they did all work themselves from gathering ingredients to reading directions and measuring
Outside: rode scooters and bikes down the street, bike rides around the block to the nearest schoolyard to play with boomerangs, swinging, biked to local playgrounds
Family squirt gun fights
Played in the pool
Roasted marshmallows over the fire pit
Out of the House Activities
Weekly: Library Visits, Grocery Shopping, Church, Gymnastics, Swimming Lessons- finished up on June 4th
Haircuts
Summer Reading Club at the Library – I signed the kids up for reading club that runs through the end of July.  Kids need to read at least 100 minutes per week of any book they choose. We checked in at the end of the week and received small prizes.  I also received raffle ticket for each book I read to the kids.
Homeschool Group:
2 Park Days: playground equipment – lots of climbing, hide and seek, playing in the sand
Brookfield Zoo – We went with my mom and friend one day this month. With a larger group it's hard to see lots of animals (Brookfield Zoo is pretty spread out), but we managed to get to the Swamp House, watch the dolphins in the underwater viewing area, and have a picnic lunch.
Cermak Family Aquatic Center – Kids played on the water slides, pool and lazy river while I relaxed and read…. J
An afternoon with Grammy – Swam at the outdoor pool, playing for an hour at the playground, hung out with her at work for a few hours  (my mom's a tutor coordinator at a junior college- they saw a seeing eye dog- and went with my mom to get her hair cut)
Father's Day-After church we had a BBQ at Steve's parent's house.  Steve's sister taught Jared how to play an easy version of solitaire; an uncle showed Alexa a few cords on the ukulele and played an electronic Boggle game with her, too. Then we drove to my sister's house for dinner. The kids jumped on the trampoline, played in the little swimming pool, made little cartoons using an app on the Leap Pad Explorer and played other games with cousins.
Cousin's 8th Grade Graduation Party – They went to a playground with their cousins, had squirt gun fights, jumped on the trampoline and played video games
Dentist appointment – No cavities for the kids…..yea!!!!
Swam at Fullerton Ave Beach in downtown Chicago – Collected rocks, swam, ran along the shoreline and up the pier
Went on a 7 mile bike ride along a bike trail near our home. We passed by the Chicago Portage Heritage Site
On the Computer, Kindle, I-Phone, or LeapPad Explorer 1
Kindle:
PC Games: Websites:
Wii: Lego Indiana Jones 1
I Phone:
Photo Credit: gordsam
What were some of your favorite activities from June?
{ 2 comments }