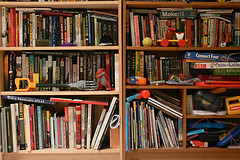 I'm back!!!
I'm sorry that I haven't posted anything new this past month. I've felt pulled in too many different directions lately, so I had to make some tough decisions and strictly prioritize my time. So that meant taking a break from writing any new posts this month.
One of my family's greatest passions is travel, so planning trips has taken up a lot of my time recently. I also decided to clean up my family's diet and start exercising 5-6 times a week (a goal I started in January). This has taken up a lot more of my time, but so far I'm down 18 pounds and feel really good! We're also going to have a garden this year, so setting that up has been time-consuming, but hopefully it will be rewarding in the end.
Also, my babies turned 7 this month!!!!  I really don't want them to grow up too fast. Another reason why blogging and posting can't be a top priority in my life right now is that I want to take advantage of the time I have with the kids while they are little when they want to spend lots of time with me. I loved age 6 and hope that age 7 will only get even better.
This month's highlights were: the kids' birthday party, a two night trip to Springfield, IL, the completion of a tree house, lots of fun monster stories read at bedtime, watching our first seedling sprout and exercising with the kids each morning.
Books – Together
Abe Lincoln at Last – A Magic Treehouse Book
Abe Lincoln- A Magic Treehouse Fact Tracker Book
Pretty Salma: a Little Red Riding Hood story from Africa
How do you know what time it is?
Hiroshima: the shadow of the bomb
Sadako and the Thousand Paper Cranes – wonderful little chapter book!
A Perfect Time for Pandas – A Magic Treehouse book
Pandas and Other Endangered Species – A Magic Treehouse Fact Tracker book
50 Monster Stories – We started reading one or two stories from this book together before bed each evening. I found it at Half Price books for $8. It has beautiful illustrations and presents short versions of stories from larger classic books like The Story of Siegfried and Of Gods and Monsters. There are also lots of ethnic folktales and legends.
Alexa's Reading List
Eragon (we're reading this together most mornings)
Jared's Reading List
Benny Uncovers a Mystery –a Boxcar Children book (Jared's still working on finishing this book- we read it together most mornings)
Travel – Springfield, IL
We had the opportunity to go with Steve to Springfield, IL for two nights this month. Steve had a dinner to attend at the Governor's Mansion on a Tuesday evening and a half day conference the next day, so we left on Monday to spend an extra day together. We had a wonderful mini-vacation! I feel really blessed that we can tag along on some of Steve's trips and that most of the trips are paid for by his work.
The kids swam four different times in the hotel pool. Their swimming lessons have really been paying off. Both of them were swimming well under the water, and I didn't worry at all when they would cannonball into the deep end.
The night Steve had to be gone the kids and I went to a restaurant for dinner, went swimming in the pool, came back to the room for baths, had a brownie treat from the restaurant we had brought back with us, and watched Beetlejuice together.
We also went to…..
New Salem Village  – This village was reconstructed on the site where Abraham Lincoln lived for 6 years before moving to Springfield. We walked around the village, checking out the store where Lincoln worked, the Tavern room where he slept and took a walk down to the mill where he helped out for a while, too. We also bought the kids arrowhead necklaces which they still wear every day.
The Abraham Lincoln Museum  If you ever get a chance to visit this museum, please go!!!! Steve and I went the year it opened before the kids were born. If you get a chance, click the link and check out what you'll see at the museum. Very impressive exhibits, unique theater/film performances and a fun room for little kids to dress up and play with toys that were around during Lincoln's time.
Toured Abraham Lincoln's Home  Both kids also really enjoyed touring Lincoln's home. There were only 10 people in our group, so it was a relaxed tour where you could linger and feel like you really experienced seeing the home. And it's free!
TV/DVDS
Spring Holiday Stories- the history of St. Patrick's Day, Earth Day, & Arbor Day
Abraham Lincoln – A Schlessinger Media production
Go, Diego, go! The Great Panda Adventure
My Little Pony: Friendship is Magic episodes
Episodes of Strawberry Shortcake
Marvelous Math
Life of Fred: Edgewood Chapters 7-15
Both kids have impressed me lately how well they do with real-life mental math. Alexa easily adds numbers like 78+36 in her head all the time. Jared loves to figure out problems like how many minutes he's been alive.
                Games/Puzzles/Kits/Activity Books
Smaug the Dragon from the Hobbit puzzle– 1,000 piece puzzle the kids and Steve put together
Lord of the Ring Helm's Deep Lego Set- birthday gift
A Batman Lego Set-birthday gift
Lego Pet Salon-birthday gift
Gardening
Raked up excess grass clippings, cleared out big twigs and sticks, pulled up weeds to get garden ready for Steve to till
Started broccoli, eggplant, tomatoes, bell peppers indoors
Transplanted a bean plant we had started growing in a cup in March.
Planted spinach, carrots and kale in the ground and watered little plants growing inside cups
Spring Games and Experiments
Checked the temperature of the soil outside using soil thermometers. We plan to do this once a week to plot out the change in temperature during the spring and into the first part of summer.
Writing/Spelling/Grammar
HEV Project Spelling Lessons 11-13
Both kids have been writing lots of notes and are much more comfortable spelling words on their own without asking for help.
At Home Fun
Inside: Lots of pretend worlds made up and games invented- they even surprise me at how involved and detailed their pretend games can get as well as how long they will play them. I know they did lots more inside but I was really bad about writing it down this month!!!
Outside: Legend of the Tree Monster, setting up "traps" for figures in the sandbox, swinging, bike riding, riding scooters, playing chase.
Helped Steve build a tree house from scratch.   It's incredible how Steve can just buy a bunch of wood and put together a tree house without following any directions. My mind sure doesn't work that way!
It was a wonderful experience for both kids (Jared mostly) to help Steve and work on a project with their dad. The house has a rope they can use to climb to the top (which scares me quite a bit!) and a bucket and pulley system so they can lower and raise the bucket to carry things up inside the house. It was a big hit at their birthday party!
Out of the House Activities
Weekly: Library Visits, Grocery Shopping, Church, Gymnastics, Swimming Lessons, Awanas
Homeschool Co-op:
I led a discussion with the kids about the book Sadako and the Thousand Paper Cranes.
After the discussion, one of the teenagers helped me show the rest of the kids how to fold paper cranes. At first it was very frustrating, but after my fifth crane, I finally got the hang of it and then it was a blast! We made cranes for about two hours.
Visited Steve at his work, said hi to co-workers, looked at the coy pound, a dental consultation for me; then Steve went out to eat with us and went to the kids' swimming class.
Attended a performance of The Coral King
Attended a performance of Sadako and the Thousand Paper Cranes – this was a wonderful production! I was surprised at how interested both kids were, especially Jared, in learning about the atom bomb, World War II and the effects of the bomb on the civilians of Japan. He asked dozens and dozens of questions this month. I learned so much more about this topic, too.
Kids' Birthday Party – We had the perfect day for their party. Our house is small (about 750 square feet), so fitting in 23 people for lunch would have been pushing it just a bit! Thankfully it was in the upper 60's that day, so we all ate outside (we have a wonderfully big backyardJ). Jared received mostly all Lego sets and a few Lego Wii games; Alexa received lots of Lego sets, too, books and a few Wii games.
There was lots of: watching their yearly birthday DVD, talking and laughing, many games of Bags, playing in the tree house, riding on scooters, cake and ice cream, and dance offs with aunts and uncles on the Just Dance 3 Wii game.
Kids' Actual Birthday – Steve took the day off of work so we could spend the entire day together. I made Snicker doodles for the kids (a special request from Alexa),they opened up our gifts to them, we built some of their new Lego sets together and played some new Wii games, went to the Brookfield Zoo where we saw a dolphin show, spent an hour at the Hamil Family Play Zoo, ate Dip n Dots, and saw lots of other animals, picked up dinner and watched some episodes of Strawberry Shortcake and Batman. Both kids said it was their best birthday ever!!!!  The night before their birthday we also went to Enchanted Castle, too.
Cousin's Birthday Party – Lots of inside games with cousins, swinging and playing outside, looking at pictures on the computer with Grammy, watching their cousin's birthday DVD, and having lots of fun J
Brookfield Zoo – My mom took the kids one morning to the zoo. They spent most of their time at the Hamil Family Play Zoo where they held a corn snake and pet a hamster. They also helped water the garden. Afterwards, they went to my mom's house where they helped to pick up sticks and rocks from her yard for pay.
Hanging out one evening at Grandma and Granddad's house while Steve and I went out to dinner and to see a movie – Played at McDonald's Play place, made up pretend games and home and watched Aladdin
Parks – Went to two playgrounds with grandparents
Haircut for Jared
On the Computer, Kindle, I-Phone, or LeapPad Explorer 1
LeapPad Explorer 1: Sugar Bugs
Kindle: new Angry Birds Star Wars levels
PC Games: Doggie Daycare, Sims 3 Pet Expansion, Zoo Tychoon 2
Websites: www.gogirlgames.com. www.lego.com, www.pbskids.org,
Wii:  Jillian Michaels 30 Day Shred –both kids work out with me 5-6 times a week in the morning.
National Geographic: Arctic Tale
I Phone:  Alexa spent hours and hours this month looking up different animals on YouTube videos.
Photo Credit: gordsam
What were some of your favorite activities from April?
{ 9 comments }