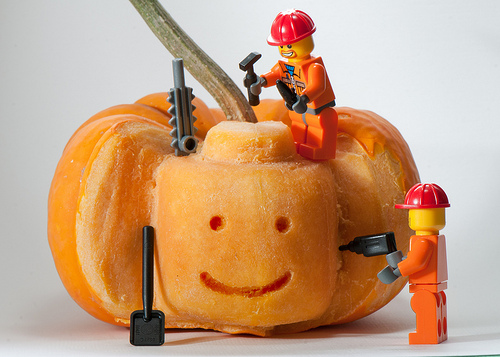 For the past two weeks my son has tried on his skeleton costume. He plays in it for hours. My daughter hasn't touched hers, but it's hanging up in her room, and she loves to look at it.
Every night we light up our jack-o-lanterns right before bed and sing spooky songs together. During the day we listen to our Halloween CD and dance to the theme song from the Adams Family, The Monster Mash, and Have you Seen the Ghost of John?
 Needless to say, celebrating Halloween last longer than just one day in our family.
While it is fun and games, I'm often surprised at how many other subjects and topics we learn about around Halloween time. We've explored the history of Halloween, learned more about famous ghost towns and conducted lots of fun experiments.
 Here are 10 ideas for things to learn about during the Halloween season
1. Learn more about bats. Check out some books on bats. Some fun ones are: There Was an Old Lady Who Swallowed a Bat, National Geographic Reader: Bats, and Zipping, Zapping, Zooming Bats.    Visit the zoo and check out the bats. Watch some DVDs about bats – here's an interesting one: The Secret World of Bats. Also, play some fun bat games.  Mathwire has some really fun activities and book suggestions about bats including: Pascal's Bats and Fat Bat Game.
2. Make some slime. Here's a good video to watch for a very simple way to make slime How to Make Slime.
3. Research the history of Halloween. Here are some sites to get you started: History.com (fun videos), Halloween History (from National Geographic), and the Halloween entry in Wikipedia.
4. Do an anatomy study. Pamela at Red, White and Grew put together some great ideas about doing an anatomy study including making fake blood, pretend "brains" and has uploaded a fun skeleton dance video.  Also, check out the Magic School Bus Human Body kit. It's awesome!  Since my daughter is big time into learning about the human body, it's been one of our most fun science kits.
5. Smoke Machine Chemistry.  Make your own fog machine with dry ice.
6. Read aloud together some classic Halloween literature. Some suggestions are: "The Raven" by Edgar Allen Poe, Mary Shelley's Frankenstein, Shakespeare's Macbeth or Hamlet, "The Legend of Sleepy Hollow" by Washington Irving, and The Strange Case of Dr. Jekyll and Mr. Hyde by Robert Louis Stevenson.
7. Make your own mummy. Here are instructions on how to make a mummy from a chicken (a dead one of course!)
8. Do some fun Halloween math activities.  Education World has some really fun math ideas including graphing your Halloween candy, creating a symmetrical spider and making a spider web from spaghetti and glue.
9. Visit your local cemetery.  See who can find the oldest grave. Research famous/historical people who might be buried there.
10.  Science Matters has a wonderful collection of science experiments you can do with all that candy you'll have after Halloween. Some experiments include: Tasty Atomic Models, Digestive System: Kinesthetic Model, How Many Licks, and Density: A Sweet Demonstration.
What are some fun ways your family learns around Halloween?
Photo Credit: kennymatic
 Have your read my free e-book: A Thrift Store Curriculum yet?  You can get it free when you sign up to receive below to receive my newsletter. Besides getting an e-mail notice whenever there's a new post on the site, you'll also get exclusive content such as freebies, tips and ideas.
Share on Facebook