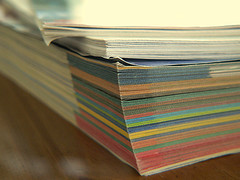 As interest-led, passion-driven learners, we don't follow a prescribed curriculum. We go out and explore and discover those things around us, through travel, the internet, libraries, people we meet and many other ways.  
Our tastes are very eclectic. We dabble in many different subjects and topics, staying with some for months at a time, while others only receive a few days attention. We're always on the lookout for new ideas and things to learn about.
That's why I love learning about new resources. My kids and I can spend hours poring through catalogs, circling things that look like fun and that peak our interests.
Here are 10 of my favorite catalogs for new ideas and resources.
I've also pasted a little summary from each of the sites to give you an idea of what they have to offer. Some of these catalogs do offer pre-packaged curriculums, if that interests you, but most of them have single products that are hands-on, engaging and high quality.
 1. Museum Tour  This site's mission is "To create a retail catalog of quality, entertaining, educational products to extend the museum experience into the home while, at the same time, supporting and improving the financial position of our non-profit member institutions."
2. Discovery Store  This catalog features products from the popular Discovery Channel programs, but it also features great a variety of different topics from space and science toys to arts and crafts.
3. MindWare  This is one of my absolute favorite catalogs. From their site: "MindWare is an award-winning creator, manufacturer, and distributor of Brainy Toys for Kids of All Ages. Our diverse product line includes games, puzzles, brainteasers, arts and crafts activities, mysteries, mazes and more. Our goal is to place high quality toys that teach and entertain into the hands of children and adults."
4. Fun Books  This company is one of the few companies that specifically targets interest-led learners and unschoolers. According to Fun Books: "We want our catalog to appeal to parents who understand that the traditional school model of learning is very limiting. Too many other catalogs are centered on pre-packaged curriculum materials. Strictly following a pre-packaged curriculum is like driving your car and never taking it out of first gear or never going faster than 25 miles per hour anywhere you go because that's the speed limit in a school zone. Sure, you could brag about how much faster you are traveling than if you were walking, or how much further you can go in a day compared to previous generations who relied on horses, but you still aren't taking full advantage of the possibilities open to you. If you're homeschooling, you don't have to stay in the school zone anymore. You can decide to drive on a country road, go off the roads, or go over 65 mph on the highway. Don't be afraid to get out there and explore the possibilities!
5. Activity Resources  This site is dedicated to providing quality, hands-on, math products. From the site: Activity Resources is a company created by a mathematics teacher for mathematics teachers. Mary Laycock has been a mathematics educator for 60 years. Her goal throughout her life has been to provide real understanding of mathematics through hands-on (manipulative) activities. Mary believes that a concrete (hands-on) approach produces the best understanding at any level from learning to count through calculus.
6. Nasco  I really enjoy the diversity of resources of this company. They offer excellent science resources that you can't find other places. Some of their topics include: Dissection materials, vocational agriculture, family/consumer sciences and hands-on health.
7. Rainbow Resource Center   You could use this catalog in your exercise program, it's that thick. Be prepared to spend a few hours at a time poring through this awesome resource. From the site: "In business since 1989, it is our mission to provide the best educational products to homeschoolers, parents, and educators at the lowest prices we can offer. We currently carry over 40,000 quality educational products in all subject areas, for grades PK-12 and beyond!"  It does have a large section with pre-packaged curriculum and does focus on grade levels, but it has introduced me to so many wonderful books, toys, games and other fun materials that it's still one of my favorite catalogs.
8. Hearthsong  From the site: "The first HearthSong catalog was printed in black and white, with pencil drawings of carefully selected toys and books and mailed from the home of founder Barbara Kane by her family. The name HearthSong was chosen to reflect core family values – the Hearth, a traditional symbol for the center of the home, and Song, a symbol of family spirit and of a special playfulness that parents and children enjoy together.
Over the next 25 years, HearthSong evolved into a nationally known and respected source for quality children's toys, games and crafts. Parents who found unique toys for their children decades ago tell us they're now thrilled to be finding the same kinds of educational, entertaining toys to give to their children's children.
9. Acorn Naturalists  A great resource for ideas and materials to help you explore nature. You can find resources related to: animal tracking tools and techniques, teaching science through art and music, science and nature activity kits, replicas, and just about any science topic you can think of.
10. Oriental Trading Company  Although many people think of this company as a leading provider of bulk supplies for classrooms, I've found so many low-cost, fun supplies and resources from this company that it's easily become a favorite. From art supplies like beading, jewelry and other crafts kits, to novelty toys, puzzles and games, there's a lot of really fun things to dig into on this site.
 What are some of your favorite catalogs or sites for fun resources?
Photo Credit: Vee Dub
 If you'd like to receive e-mail reminders whenever I post something new PLUS receive extra bonuses, tips and resources not included on the site, don't forget to sign up for my newsletter below. I'll also send you a copy of my e-book A Thrift Store Curriculum.