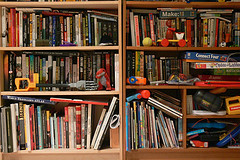 After a month of unexpected bumps in the road, like our two car accidents, my asthma attack and taking my son to the ER at 2 in the morning, it felt like we were really out of our groove this month.
It didn't really feel like we had done that much, but I was a little shocked when I looked over our monthly resource and fun list to remember all the things we did do.  
I don't have to write down the things we do or the resources we use, but it's something I really like to do and is fun to look back at over the years. It also helps to remind me of how much we're learning all the time, even during days that seem difficult in the moment.
Also, in sharing our month with you, I hope you can take away some ideas that will inspire your own learning, too.
(* There are no affiliate links in this post. I've included the links to make it easier for you to quickly check out the resources if they seem interesting to you.)
Books Read
Wangari's Trees of Peace: A True Story of Africa
World's Largest Plants: A Book about Trees
Summer of the Sea Serpent (A Magic Treehouse Book)
Winter of the Ice Wizard (A Magic Treehouse Book)
Carnival at Candlelight (A Magic Treehouse book)
Little House in the Big Woods – I was so excited to introduce this series of books that I loved so much as a little girl. I knew Alexa would like the books, but I've been so surprised at how much Jared is loving them too!
Valentine's Day: Stories and Poems
The Earth is Painted Green: A garden of poems about our planet
500 Places to Take Your Kids before they grow Up (Alexa likes reading through different listings in this book)
White Fang (I do most of the reading out loud to the kids, but this was one book that the kids read exclusively with my husband – I wasn't even in the room while they were reading it! It was such a great time for the kids to cuddle up with dad and read this book over several weeks)
You Wouldn't Want to be a Ninja – If anyone has a child who loves ninjas, this is an excellent book! I learned so much about the ninja life and hierarchy.
Tales of the Shimmering Sky: ten global folktales with activities – Excellent book!
The Moon's the North Wind's Cooky: night poems
Aligay Saves the Stars
Batman: Gotham's Villains Unleashed!
Superman and the Mayhem of Metallo
Activity Books/Kits
The Secret Life of Math – We did a lot of fun activities from this book this month including: made tally marks on chicken bones, played an ancient hand counting game called Morra,
Scientific Explorer's Magic Science Kit
Scientific Explorer's Mind Blowing Science Kit – Both this kit and the Magic Science Kit are really fun kits that are pretty inexpensive. We had bought them for Christmas. A lot of the experiments have to do with acids and bases and experimenting with color.
Magic School Bus: The Secrets of Space Kit
TV/DVDs
Born to Explore – Episodes on Australia's Rainbow Serpent legend, Uganda: Gorilla's & Pygmy's.
American Idol
The Lion, the Witch and the Wardrobe
Be My Valentine, Charlie Brown
Travel the World with Kids volume 1 (This is a great series of DVDs. It's produced by a couple who take their two young sons on many adventures with them around the world – great for ideas and resources about travelling).
Wonders of Africa: African Trade Networks
The True Story of Puss N Boots
White Fang (1991 Disney version)
Star Wars: The Clone Wars (animated series)
Out of the House Adventures
Attended a Japanese Festival (made an origami heart, watched a traditional drum performance, watched people dress up in sumo costumes and wrestle each other, played with Japanese toys)
Attended a performance of The Lion, the Witch, and the Wardrobe
Went to a Valentine's Day Party with a homeschool group – (played bags and ping pong ball toss, decorated cookies, played Valentine Bingo, decorated a bag, did several crafts)
Wonder Works Children's Museum – Alexa found stencils which she loved (don't know why we hadn't used them before!)
Open Gymnastics at Flying High Gym
Swimming Lessons
Library Visits & Monday Homeschool Co-op
Adler Planetarium – We saw the IMAX movie Earth, Moon, Sun – really nice for young kids – and visited several exhibits including one on telescopes and Astronomy in Culture.
Lake View Nature Center – We visited their annual winter exhibit. This year's theme is nocturnal animals.
Playground and Feeding Geese at the Pond
Magazines
High Five – My mom bought this as a present for the kids' birthday two years ago, and we read it each month together. We especially like the "That's so silly" and "Hidden Pictures" sections.                                                           
Games
 Mancala  - So much fun!
iPhone apps: Stack the States – check this one out! Very cool!; Sky View (thanks so much, Karen, for this idea! It's amazing!)
Some Kindle Fire apps we've been loving – Checkers, Hang-man, Tic-Tac-Toe, Kids Jigsaw, Kids Doodle, Of course there's always Angry Birds, too!
Some number games – I wrote down numbers 1-100 each on separate index cards and then shuffled the pile. After giving Alexa and Jared their own pile of cards, I flipped over the top card from each pile. Then the kids would say who had the larger or smaller number.
Another game- Take ten index cards. Write tally marks to represent the numbers one through ten, with each index card having its own number, so one index card would have one tally mark, another two tally marks, and so on. Then I'd say a number and the kids would have to find as many ways as they could to combine the cards to come up with the number I said.  So for number 7 they could combine the cards with tally marks 6 and 1, 4 & 3 and 2 &5.
A money game – They kids roll a die. They're given as many pennies as the number on the die. When they get five pennies, they exchange them for a nickel, a nickel for a dime, and a dime for a quarter. The winner is the first to reach one dollar.
At Home Fun
Lots of Lego & Superhero  & Ninja pretend games, fake tattoos, making up musical patterns on the keyboard, jump roping,  lots of mazes ( Jared asks us to draw our own mazes for him. Steve takes a half hour to draw really intricate mazes which Jared than finishes in one minute), lots of drawing.
On the Computer
Smithsonian Virtual Museum Tour, British Museum Virtual Tour, PopTropica, Starfall (we have the paid membership) and www.pbskids.org.
Photo Credit: gordsam
What was your favorite fun resoure or activity this month?
Share on Facebook