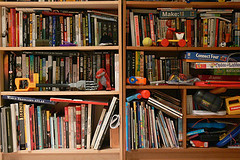 Today we're leaving Estes Park near Rocky Mountain National Park in Colorado where we spent the last eight nights renting a house with Steve's parents. We'll be spending the night in Omaha, Nebraska and heading home tomorrow.
It's been an incredible trip, and I'm going to write a separate post about it in the next few weeks, but for today I'm going to share what we were up to during the beginning of the month.
What a full August we had! Lots of great books, a really, really great new magazine book club, an awesome new website Alexa found, lots of fun trips outside the house and both kids can now ride bikes without training wheels!
Books
The Case of the Shrunken Allowance – We probably spent a few hours together working the questions in the back. I always ask the kids if they want to do the questions, too, after we finish reading the book, and so far they've enjoyed doing it.
Max and Moritz; with many more mischief-makers more or less human or approximately animal
Zekmet, the stone carver: a tale of ancient Egypt
Learning about mummies
Andy Shane and the Queen of Egpyt
Bill and Pete Go Down the Nile
Mystery Ranch (A Boxcar Children Mystery) Alexa's read this by herself
The Boxcar Children #1 – Alexa read this by herself
The Egypt Game  – This is a really great novel for kids who love reading about Egypt. Six kids find an abandoned storage area and meet there to dress up and play an Egypt game. But then things start to get a little strange.
Bob Books #5  - Jared was getting frustrated with reading so he stopped for a few weeks. Then he came up to me and said he really wants to get better at reading. It's a struggle for him, and so many times I tell him to just give it a rest for awhile and when he comes back to it in a few months it probably will be easier, but he plows his way through because he's really, really determined to get to a point with reading where he can just pick up a book he wants to read and just read it on his own. I'm trying to tell him that it takes some people a little more time, and that the Bob Books he's reading now, the last set in the series, are leveled at a Grade 2 anyways, but he's a pretty stubborn little boy!
TV/DVDS
Lots of Olympics
Bean   – Watching this movie was inspired by seeing "Mr Bean" for the first time during the opening ceremony of the Olympics
Mummies Made in Egypt – A Reading Rainbow Episode
Antarctic Antics…and More Hilarious Animal Stories  (A Scholastic Storybook Treasures DVD)
Episodes of The Super Mario Brothers Super Show
Episodes of Godzilla: The Original Animated Series
Episodes of Jackie Chan Adventures
Episodes of Dragon Tales
Spy Kids 2: The Island of Lost Dreams
Journey 2: The Mysterious Island
CDs
African Music for Children
Games/Puzzles/Kits
Kiwi Crates – Wild Safari Theme – While I read the instructions out loud, Jared put together by himself the cardboard jeep. He did really great with matching up washers and rivets. This led him to search through Steve's tool chest to look at the tools. He found a hammer than screws apart and has a bunch of other things inside it including pliers and other equipment.
There was also punch out cardboard animals the kids could decorate with different stamps they made themselves. We stamped patterns on our animals and then put them on stands. Later, at their grandparents' house, they played a safari game where Grandma hid the animals all over the house and they had to go on a safari and hunt for them.
Katy Keen Paper Doll Book & Katy Keene Movie Premiere Paper Dolls – A woman at my mom's work gave Alexa these vintage paper doll books. Alexa and I had fun cutting these out together and dressing up the doll.
Race to a Dollar Game – Each player throws a die. Whatever number they land on, that's how many pennies he or she receives. You can trade in your pennies for nickels and dimes at the beginning of your turn. The first player to earn four quarters wins the game.
The Life of Fred: Apples – This isn't a game or puzzle but an elementary series math book. I had heard great things about the Life of Fred series of math books for older kids, but this month I found out that they have a series of books for kids who are at the point of adding single digit numbers pretty easily.
We only read the first chapter together and answered a few of the questions, but the kids really liked the story a lot. And I was pretty shocked that they wanted to write out the answers using paper and pencil themselves…I was just going to do it myself. I'll let you know how this is going each month and if we want to buy the second book in the series.
Magazines
Top Secret Adventures   Alexa and Jared could not stop jumping up and down with excitement when this came in the mail this month. They had to do it right then! We sat down for three hours and worked our way through the entire adventure – beginning to end. It's a monthly puzzle/clue/adventure book that comes every 4-6 weeks. It's about $15 a month, but it comes with a large wall paper poster of the world, a book about a different country every month, a puzzle book, a keychain and more. If your kids like finding hidden pictures, word games, matching, and other types of puzzles and if they like learning about geography or other countries, this is an awesome resource.
Here's a blub from the website: Top Secret Adventures lets your child have puzzle-solving fun while exploring the globe one country at a time. Kids get a thrill playing detective and unraveling a whodunnit mystery by solving puzzles and searching for clues. The suspense builds as suspects, priceless objects and places are eliminated one by one until WHO, WHAT & WHERE answers (and super sleuth skills), are revealed.
At Home Fun
Outside: riding bikes and scooters, swinging, playing in the sand, doing somersaults back and forth across the back yard.
Inside: Lots of pretend play games, figure games, lego play, making hideouts and forts with the chairs, sheets and blankets in the living room, playdough and beads.
Out of the House Activities
Library Visits & Grocery Shopping & Church
A lot of bike rides around the neighborhood and to the playground
Brookfield Zoo – We went together as a family to see the dolphin show. Before the show started we went in the Fragile Desert and Rainforest buildings and saw twin black-footed kittens that had been born two months ago. We learned that these small cats are vicious enough to take down a giraffe! After the show was over, we walked out into a severe thunderstorm. I wasn't too excited about it, but the kids really loved getting soaking wet during the long way back to the car!
We also went another time with my sister, nephews and my mom. Highlights were: The Fragile Desert and Australia house, Tropic World House, playing in the playground and Dip N' Dots.
Swimming at the outdoor pool several times
Little Red School House Nature Center  My mom took the kids here while I packed for our trip. They also played badmitton, learned some Spanish songs, and went to the playground.
Gymnastics Class – The kids had their first gymnastics class at Flying High Gymnastic Academy this month, and they loved it! Jared did so amazing, doing a handstand and flips on the bar. Alexa is so much more cautions physically, but I think this class will be perfect for building up her confidence.
Two afternoons playing at Grandma and Granddad's House – They made up an Olympic game with the Village People set.
Cantigny – We went with my sister and nephews to Cantigny's Wild Wednesday program. It was ok. They had set up some tables with some craft activities – paint a pet rock, make pictures with stamps, make a puppet from a paper bag – out in the garden area. This held the kids' attention for about a half hour. Then they wanted to run down and climb on the tanks – the real reason Cantigny is so special for the kids. There are about 20 old tanks there that kids can climb all over as much as they want. A little piece of heaven for Jared!
Morton Arboretum – We went here to check out the Tree House Tales exhibit I saw advertized. We were pretty disappointed because there were about six little houses, but they definitely weren't tree houses. Each house was made from a different type of tree and shaped how the name of the tree sounded. So they had a house made in the shape of a doghouse from the Dogwood tree. It was a cute idea, just not what we were expecting. Still, we had a fun two hours together playing and walking around the gardens.
Lake View Nature Center Wild Wednesday  We wanted to get in one more Wild Wednesday before it ends this month. There were stories and then we met a little capuchin monkey. Afterwards we checked out more animals in the nature center (tarantulas, turtles, birds, and snakes), had a picnic and read under a tree, and played in the playground.
Family Day and Kiddie Carnival Games at My Mom's College – Every year in August the college where my mom works puts on a Family Day. They have a pretty good spread of BBQ pork, chicken, salad, veggies and more. Usually, they have a little bounce house for the kids, but it rained this year. But I think the kids had even more fun playing the kiddie games like beanbag toss, golf and hockey putt, and bucket toss. Even my 94 year old grandma played! She wanted to win extra tickets for the kids. Then they cashed in their tickets for sunglasses and straw safari hats. Afterwards we went back to my mom's house for ping-pong games with my brother, and badminton games with my mom.
Brunch Day at Steve's Parents House – We try to get together with Steve's parents and Steve's siblings every few months. We had lunch and then looked at the pictures from our East Coast trip. There was also hide-and-seek, riding the scooters around a school's lot and the skatepark, and ice cream cones.
McDonald's Play Place – It may not be the best place to eat, but one of our traditions when Steve is gone on a trip is to go to our McDonald's Play Place and get an ice cream cone (or a Mocha Chocolate Chip Frappe for me….a very guilty indulgence of mine!).  The kids always find a new friend to play with, and I usually get an hour to read!  Steve's parents also brought the kids here this month, too, for ice cream and playing with other kids while Steve and I went out on a date.
On the Computer, Kindle or I-Phone
Kindle:  Plants Vs. Zombies,
Computer:  www.pbskids.org, http://www.brainpopjr.com , http://www.brainpop.com/ , https://mascot-games.london2012.com/  http://animal.discovery.com/ www.pollypockets.com
http://www.arkive.org/eurasian-hoopoe/upupa-epops/video-00.html  – Alexa was on this site for hours and hours this month. It's an amazing website for kids who are crazy about animals.
Here's a blub from the website: ARKive is now putting that right, gathering together the very best films and photographs of the world's species into one centralized digital library, to create a unique audio-visual record of life on Earth, prioritizing those species at most risk of extinction.
PC Games: Zoo Tychoon 2, Animal Genius, DK World Explorer
Photo Credit: gordsam

Share on Facebook