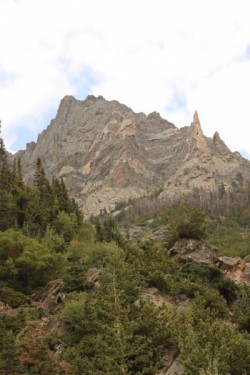 I shared with you my family's August Unschooling Fun and Resources last Saturday, but I wanted to write a separate post about the trip we took at the end of August.
We were gone ten nights. The first night we drove from our home near Chicago to Lincoln, Nebraska. My husband's grandmother had been hospitalized the previous week, so his parents had driven up to near Kansas City, Missouri to spend time with her a few days earlier. They met us at the hotel in Nebraska the night we arrived.
The kids are really, really into swimming now, so it was so much fun for them to play in the pool with their dad and grandmother. I'm not ashamed to say that I'm a huge baby about cold water and am not a strong swimmer. I had just as much fun taking pictures and video from the side and soaking in the hot tub!
That night we watched a Little House on the Prairie episode from Season 3. In the morning, we ate a great hot breakfast that was included with the room, and drove the rest of the way to our rental home in Estes Park, Colorado – about a five minute drive from the entrance to Rocky Mountain National Park.
After spending eight nights in Estes Park, we drove back home, spending one night in Omaha, Nebraska.
I'd like to share with you the things we did during our week there. I hope if you are planning on travelling in the same area, you'll find some tips and ideas for your trip, too.
LOOK OUTS
Many Parks Lookout
Forest Canyon Lookout – We saw about five elk and the bottom of the valley from this lookout.
Alpine Visitor Center Lookout- This was a gorgeous lookout- one of the highest lookouts in the park. There is also a restaurant, store and exhibits to look.
HIKES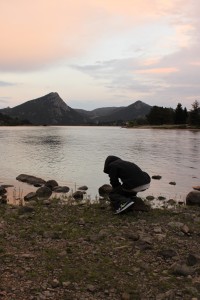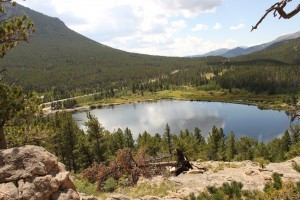 East Longs Peak Trail to Eugenia Mine  – There was an abandoned silver mine site about an hour's hike up the mountains. While the kids cared more about climbing over everything, it was very interesting to see the old boilers and track posts where the old cars ran.
HISTORIC SITE
Holzwarth Historic Site – I had the most fun going to this site on our trip. It showed an old ranch from the 1920's that a family had run before the park took over the property. Jared and Alexa practiced lassoing a cow (a pretend wooden one, unfortunately not a real one!), and we walked inside several of the old cabins.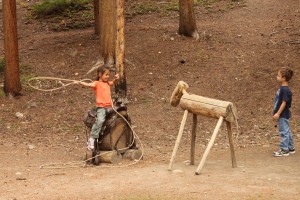 WATERFALLS – these also involved hikes, too
Alluvial Fan – Steve loves to do risky things, so he had the kids jump across part of the waterfall to the other side. I choose to not jump across and hiked down the rest of the way with his father!
Hiked the Glacier Gorge Trailhead to Alberta Falls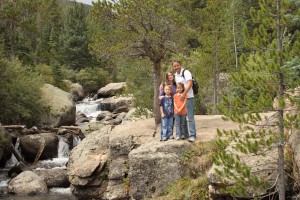 MOUNTAIN SUMMITS
Old Man Mountain – This mountain was a two block walk from the house we rented. It was the first time in my life that I climbed up a mountain from its base to its summit. I have a really hard time with heights, so this was a big deal for me. About 2/3rds of the way up, while I was crawling on my hands and knees up the mountain, I burst out crying I was so scared. I shouldn't have looked down! But we made it to the top of the 8,304 foot elevation. It really was amazing up there. The kids splashed around in a little pool made by melting snow.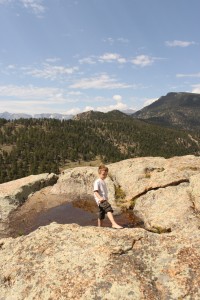 WILDLIFE
Big horn Mountain Sheep – I had wanted to see these sheep more than any other wildlife on the trip. It was incredible watching them walk up the mountainside.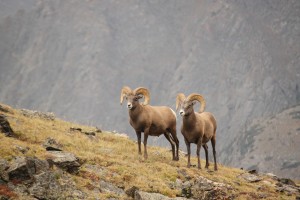 Elks Rutting near Sheep Lake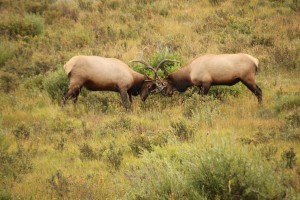 MUSEUM & PLAYGROUNDS & STORES
Local Playground in Estes Park – This park was so much fun! They even had huge boulders in the park, so the kids could pretend like they were hiking up a mountain. Of course, earlier in the week we had spent four hours hiking up a real mountain, so it wasn't as impressive, but it would have been nice for younger children to pretend.
Ore Cart Rock Shop – What a fabulous little shop! Alexa was beyond excited to buy a real spinosaurus tooth.
Buying taffy and ice cream
Local grocery shopping, take-out pizza and BBQ
It was such a memorable trip for us. Each new trip I take reminds me of my deep passion for travel and exploring. Each family has something they love to do best. Some families love art, some sports and some raising animals. Our family is passionate about travel, exploring new places, things and ideas, and literature.
What is your family passionate about? What are some of your favorite memories from this summer?
Share on Facebook