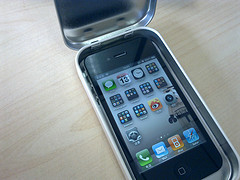 I'm a bit of a podcast junkie.
I love listening to podcasts, especially about writing. Since I bought my iPhone, cleaning the house is much more tolerable when I can carry my phone from room to room listening to great programs!
Lately, I've been looking into podcasts that the kids would enjoy. I've found quite a few that they'll enjoy now, and some really great ones I think they'll enjoy when they're a little older.
I wanted to share my finds with you today. Enjoy!
1. The Radio Adventures of Dr. Floyd
This podcast reminds you of the old time weekly radio shows. Think Little Orphan Annie but with a zany, historical twist. In each episode Dr. Floyd – the world's most brilliant scientist- tries to thwart the plans of his evil arch nemesis, Dr. Steve. You'll meet lots of historical figures on the show including: Benjamin Franklin, P.T. Barnum and Hippocrates. Kids of all ages would enjoy this podcast.
Learn about the latest scientific discoveries in short, three minute segments. I found the narrator an engaging story teller, translating difficult scientific subject matter into fascinating stories. Middle age kids and teens who enjoy different science topics would like this show.
While I don't think my kids will want to listen to this podcast any time soon, when I stumbled on this podcast, I found myself pretty fascinated by all the "quick and dirty tips to make math easier." It's definitely a podcast for older kids, but the host Jason Marshall did an awesome job presenting different math tips and tricks. Besides episodes like How to Amaze Your Friends with Number Tricks, there are also interesting episodes like How to Use Math to Send Encrypted Messages and How to Calculate the Day of the Week of Any Date.
Alexa loved listening to the stories on this podcast. Each week there's an episode about a different composer. They play some of his music and then tell a story about his life. Kids of all ages would enjoy this podcast.
5. SciQ
I guess I'm cheating a little with this one because it's really a video podcast instead of an audio one, but I know a lot of you have kids that would enjoy watching these episodes. Each week, the young hosts of the week tackle a different science topic to try and raise their "Sci-Q" Topics include: An Underwater Laboratory, The Lego League, The Dolphin Boat, and Movie Makeup.
Photo Credit: bfishadow
Does your family have a favorite podcast?
Share on Facebook