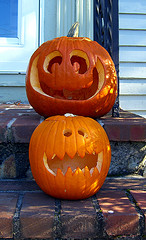 Halloween is a big – HUGE- event at our house.
The kids love dressing up. They usually decide on their costumes months in advance. This year we bought their costumes in the middle of September so they could dress up and play with them right away. I actually kind of like this because they get a lot of use out of them instead of just wearing them for one day.
Last week the kids and I sat down for a few hours together pouring over websites, Pinterest, and brainstorming ideas for making the most of this holiday.
Here's a list of 15 Halloween Activities that have made our Wish List so far:
1. Make a Halloween paper chain.  You know how you make those paper chains that go around a Christmas tree? You cut strips of colored construction paper, and then link them together to make chains? We decided to do this with orange and black paper to count down the days until Halloween.
2.  Listening to these CDs:  Halloween Kids Fun Party Music, Halloween Party for Kids, Halloween jams: Kids Dance Party, Drew's Famous Kids Halloween Celebration, 57 Kids Greatest Halloween songs, games and stories, Halloween Haunted House: Over 70 minutes of haunted house sounds for kids of all ages
2. Watch these DVDs:  A Very Brave Witch and other Halloween Stories (Scholastic), Alvin and the Chipmunks: Halloween Collection, Under Wraps, It's the Great Pumpkin, Charlie Brown, Tutenstein Volume 3: The Fearless Pharaoh, The Berenstain Bears: Trick or Treat, Garfield Holiday Celebrations
3. Watch The History Channel: The Real Story of Halloween on YouTube.
4. Lots of Goosebumps books and DVDs – Anything Goosebumps is one of the kids' latest obsessions. They're actually pretty scary; I'd imagine some younger kids might not be able to watch these, but for some odd reason, my kids have never been scared watching "scary" things on TV. (Not that they would watch Freddy Kruger or anything like that!)
5. Attending Chicagoween.
6. Playing some Halloween math games including:
Hershey Kiss Memory- You write on the bottom of a Hershey kiss ten equations, say 8+3 or 7-2. Then you write the answers on the bottom of ten more Hershey kisses. When you match the equation to the correct answer, you can eat both Hershey kisses!
Fact Family Pumpkin Game – You buy those little plastic pumpkins you can find at Dollar Stores. On each pumpkin write a number, say 10-20. Then, on Popsicle sticks you write down all the equations that equal those numbers. Put all the sticks in a bag and then randomly pull each stick out. Put the equation in the pumpkin bucket that matches the correct answer of the equation.
7. Make Bloody Jelly Donut Eyeballs – Jared is so excited to do this one!
8. Do some of the experiments in October's Super Spooky Science Bundle (You can buy the PDF doc at Currclick for just 50 cents!)
Some of experiments are:
The Screamin' Balloon
The Mysterious Hovering Bubbles
The Black Bloom of Doom
9. Make a Fizzy Eyeball
10. Make a Foaming Ooze Jack-O-Lanteern
Photo Credit: walknboston
Do you have a favorite Halloween activity?
Share on Facebook