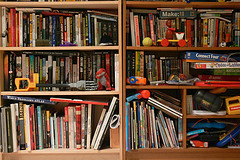 It seems like I've lived in layers of clothes, hats and gloves this February- even inside my house! It's been a cold, cold month here in Chicagoland. We've had snow on the ground nonstop for almost three months now.
I've never liked the cold anyway, and now I REALLY hate the cold! I'm so ready for spring.
Even though we've had many days with the high below zero, the kids and I have managed to still get out of the house and do many fun things. Some highlights from this month include: the kids performing in their gymnastics Winter Showcase, going "behind-the-scenes" at a local grocery store, starting a new DVD series, attending several great theater/music performances, and playing lots of fun math games.
Here's what happened the rest of the month:
Books – Together
Did Castles Have Bathrooms? And Other Questions about the Middle Ages
Good Masters! Sweet Ladies! Voices from a medieval village
Harriet the Spy  -a long read – 300 pages!
George Whitefield: clergyman and scholar
Alexa's Reading List
Artemis Fowl– she finally finished reading this book with me
Jared's Reading List
The Magician's Ring – he finally finished reading this book with me
TV/DVDS
Kings and Queens of England
Life in the Middle Ages: The Nobel
Episodes of American Idol
Episodes of Monk
Episodes of Winks
Episodes of Once - This is our new favorite Netflix series! It's not a kids show, and we do talk together about some of the more "grown-up" topics that come up. The show follows a set of fairytale characters who have been cursed and transported to a present day town called Storybrook. Each episode follows a story that takes place in fairytale land from the viewpoint of a different character each week and also follows a parallel story that takes place during the present time.
Episodes of the Ultimate Spiderman & Spiderman Unlimited
The Secret of Moonacre – watching it again- last year watched it like 5 times in a row!
Marvelous Math 
Life of Fred: Honey Lessons 16-19
Tik Tak Time
Addition and Subtraction Flash Cards
Making Friends with Numbers- Lessons #1:1-3  This is a new workbook for us. It looked really interesting, so I bought it and asked the kids if we could go through it together. I thought it presented ways to look at multiplication and numbers in an intuitive and unique way.
Games/Puzzles/Kits/Activity Books
Several 100 piece Star Wars puzzles
My Plate worksheet packet – Look at www.choosemyplate.gov . I printed out a packet on the Field Trip Factory website in preparation for our Ultra Foods trip (look below for more info).
-We looked at how the plate is divided and percentages they suggest between the 5 food categories.
–Analyzed a nutrition facts label looking at serving sizes, how much calories per serving size, percentage of vitamins found in each serving
-Created their own new game with rules
Writing/Spelling/Grammar
Sequential Spelling Lessons # 63-77
Continues to practice cursive writing in the Kumon Cursive Words workbook
Made Valentine's Day cards for Steve
Wrote a letter to granddad for his birthday
Alexa started to carry around a little notebook and started writing in it wh Harriet the Spy
At Home Fun
Inside: The kids are still into making up lots of pretend games and spend several hours a day doing this.
-cutting out masks out of construction paper
-playing with walkie talkies,
-More cooking- Trader Joe sugar cookie kit, helped a few nights with making dinner
Outside: walking Jessy around the block
Out of the House Activities
Weekly: Library Visits, Grocery Shopping, Church, Gymnastics- Jared moved up another level! Swimming Lessons- this was the last month for these
Gym and Swim at the Y- The kids started this up again.
Awanas: - Made posters, drew pictures, read book about George Whitefield
Feb 1st was the last day of a 3 night sleepover with cousins- Played outside in snow for an hour and a half with the dog. Lots of pretend games inside the house. Some Kindle play. We all went to McDonald's Playplace for dinner and sundaes.
Homeschool Group:
-Science of Snow study; Read the book The Science of Snow and discussed it. Built models of snowflakes out of toothpicks and mini marshmallows from the The Kids Winter Handbook.
-Frieda K Art Study from the Meet the Masters art curriculum- It started with a one hour power point presentation about the author. Then we followed the author study with a half hour project of a still life drawing.
Sledding with Steve at a hill near our house
Weekend with family when Steve's cousin came to town- Steve's cousin came to town unexpectedly  one weekend, so we had a lot of extra family time. During that weekend we: went out to dinner for an uncle's birthday, had brunch at grandparents house, and spent an afternoon at an aunt's house where they played lots of Final Fantasy 3 with their aunt.
Gymnastics Winter Showcase – So proud of both kids! Jared preformed in the boys Intermediate and Alexa in the Advanced Beginners. They gave out trophies at the end.
When the trophies were passed out, Jared was at first excited when he saw 1st place engraved at the bottom of the trophy, but then he saw that ALL the kids had 1st place engraved on their trophies. He said, "Why do they have to put 1st place on the bottom of each trophy when we all didn't earn first place? We would have been happy with just a plain trophy." Why indeed
After the competition, Jared grew tired, something that rarely happens, so I stayed home with him while Alexa and Steve went out to restaurant afterwards for an uncle's birthday party.
Had my parents and in-laws over for Superbowl- My mom was hemming a two baby blankets for my sister's new twin boys, and Jared and Alexa took over her project. They spent quite a few hours learning how to sew and hem . We also had a fun little game of balloon volleyball and ordered a pizza.
I also came up with a scavenger hunt for the kids. I wrote down ten different rhyming clues and hid them around the house. Each clue led to the next until they came to the last clue where they found their "treasure" – two dollar bills.
Chicago Symphony Orchestra Alien Performance – They have such great family matinees here. The main story for this performance was of two aliens children (played by adults) who come to earth, land in the middle of a concert and try to get the conductor to play their alien symphony. Performance ended with the theme from ET which was pretty awesome
Willowbrook Wildlife Center- I've been wanting to take the kids here for a long time and finally made it out there this month. This organization is a nonprofit that acts as both a nature center and place to bring injured animals. Jared was beyond excited to hold a fox snake and pet a rat and dove. We also saw a hawk, eagle, three-legged fox and bobcat.
We also learned that at age 13 the kids can volunteer to be junior interpreters and talk about and help other people interact with some of the animals there. Both Jared and Alexa expressed interest in doing this when they get older.
Playdate at a friend's house with Jessy- It was fun to watch Jessy playing with other dogs; she had a lot more energy than they did! Kids played a little and started to watch the movie Dispicable Me.
Alexa's eyedoctor visit- Alexa has had to wear a patch over one eye for a few hours a day for about a year now, but her vision is steadily improving.
DiNo Light performance at McAninach Arts Center – A gorgeous production, the story told entirely with music and actors with lights woven into their costumes. Steve was able to attend with us this time and came out to eat afterwards with us.
Ultra Foods trip with other homeschoolers-I ran across a great site called The Field Trip Factory  It's a company that sets up local field trips for groups and it's absolutely free!  I registered for a small group of us (7 kids) to participate in a behind-the-scenes look at a local grocery store. We were able to go in the back of the store to see the large coolers in the back, watch the butchers cut up meat and observe how they grind the beef into hamburger patties, ate crackers and cheese in the deli section, watched bakers decorate cupcakes in the bakery using an airbrush machine, and leave with cookies and gift bags to take home. I'd highly recommend looking what they offer in your area.
Willy Wonka theater performance at Spotlight Theater in Oak Park- This was a good production, unfortunately we sat in back of a very noisy bunch of kids who also chose to jump up and down and block our view a lot
Watched the Lego movie in the theater with aunt and uncle- Before the movie, they had a wonderful time playing chase in the dark in their grandparents' basement and then set up a fort in their aunt/uncle's apartment afterward the movie ended.
On the Computer, Kindle, I-Phone, or LeapPad Explorer 1
Kindle: Ironman game
PC Games: Websites:  www.lego.com, www.cool-mathgames.com, www.petfinder.com (Alexa fascinated with looking up animals who are up for adoption and reading about them)
Wii:, Skylander Giants, Let's Dance 3
Nintendo DS-Pokeman – Alexa spent her own money to buy a Nintendo DS.
Photo Credit: gordsam
What were some of your favorite activities from February?
Share on Facebook