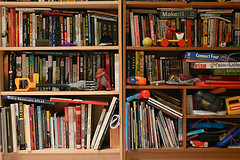 Once again, I'm hopelessly behind in posting our learning logs. As you'll find out over the next few weeks, we've had a heavy travel schedule. Since I am so behind, these next three months learning logs are going to be pretty much bare bones. I've listed most of what we've accomplished, but I'm not going to have much added commentary.  I've still included links so you can check out each resource in more detail if you'd like.
The main highlight of the month was attending the annual In Home Conference in St. Charles. I worked as the adult workshop coordinator this year which meant I was in charge of finding and coordinating all the adult presenters for our local mid-sized homeschooling conference.
It was so much fun! Lots of work, but meeting people like Dayna Martin, Rebecca Rupp and Amy Dingmann made it worth all the work
We also stayed in an executive suite at the hotel resort for two nights for free, as well as lots of swimming and going to fun workshops. The kids like the Reptiles workshop the best where they held a baby alligator and corn snake.
We also had some fun times with several birthday parties, as well as cousins spending the night and going on a first day of spring hike with us.
I'll see you back in a week with our April learning log
March 2014 Unschooling Adventures & Resources 
Books – Together
The Mystery at Big Ben – A Carol Marsh Mystery
Cathedral by David Macaulay
The Magna Carta: the cornerstone of the Constitution
Solving the Mysteries of Stonehenge
Alexa's Reading List
Beagles 101 – bits and pieces of this
Anne of Green Gables Great Illustrated Classics
The Golden Compass – read about half of this
Jared's Reading List
Under the hood- a Batman graphic novel
TV/DVDS
 6 disks in the Life in the Middle Ages series by Schlessinger Media- The merchant- The Monk- The History of the Middle Ages – The Knight- The Serf-Social Structure in the Middle Ages, and The Doctor
Stonehenge decoded: a lost city revealed
Travel the World with Kids: Wales
2 Disks from the Animated Tales of the World series- Wales: Merlin and the Dragon  and Wales: King March- a Schlessinger Media production
Episodes of American Idol
Episodes of Star Wars: Clone Wars 
Episodes of Pokemon: Black and White
Marvelous Math 
Making Friends with Numbers 1:4-16
Games/Puzzles/Kits/Activity Books
Snap Circuits – Jared has spent hours on his own this month with this set
Magic Science: 50 Jaw-Dropping, Mind-Boggling, Head Scratching, Activities for Kids
-Magic Writing -trying to make an invisible message appear – this one didn't work out too well
-No Hands! – Picking up an ice cube using only a string – This one was a little tricky but some kids in the group got it to work
-Scared Pepper -Making pepper move without touching it (surface tension)  – Worked great!
Writing/Spelling/Grammar
Sequential Spelling Lessons 73-80
Alexa has been keeping a diary/journal
Birthday cards to Steve
Jared making a list of monster names, villians, lists of Star Wars figures
At Home Fun
Inside: wrestling games with Steve, the usual hours and hours of pretend games. One game in particular- setting up soldiers and blocks to ward off attacks by the queen alien spider (after watching Ender's Game!),
Sitting with Jared looking at his Lego catalog
Drawing and writing welcome home pictures for Steve after one of his three night trips
Alexa decided to make brownies on her own one afternoon
Outside: some scooters, taking Jessy for walks around the block, cleaning up dog poop!
In Home Conference in St. Charles, IL – 2 nights overnight
My workshop – Favorite Resources for Kids ages 5-12
Staying in an executive suite- Three times swimming, Family Dance, out to eat, renting and watching Ender's Game,
Kids' Workshops: 
Cryogenic Demonstration Family Presentation with Jerry Zimmerman
Reptiles: The Four Modern Families with Field Trips on Wheels Foundation
4th Annual Family Foam Fight- Pool Noodle Pulverizer Tournament with Orion Cullings
School of Rock Rookies with Joanna Vassilatos
Out of the House Activities
Weekly: Library Visits, Grocery Shopping, Church, Gymnastics, Gym and Swim at the Y (four corners, kickball, soccer, tag)
Homeschool Group: 
-Made homemade catapults using boxes, rubber bands, hole puncher, pencils and spoons. Very fun!
-Snap Circuits
- I spent one morning doing several experiments with the kids from the Magic Science book * see the Games section of this learning log above for more info
A winter walk in the woods with Steve and our dog Jessy
Uncle and Grandfather's Birthday Parties- Both on the same day,
A friend's birthday party at a gymnastics center
A friend came over to play for a few hours before going with the Awanas – playing in the snow outside with the dog, watching a few TV episodes and video games, playing "scientist"
Spent an afternoon at a friend's house – Playing dress up
Spent an afternoon at my mom's college and house – Chess, video games with my dad, ping pong
Spent most of the day at my sister's house with my mom – helping take care of the  babies by feeding them and holding them, going to the park, dancing to music videos, making animal sculptures out of Sculpty Clay
Cousins spent the night – We went on a first day of spring hike in the Fullersburg Woods, feeding the ducks, playing in the nature center, made french bread pizzas together and then had sundae's at McDonald's Playplace and returned to some Dr. Seuss stories before going to bed. Also, some Kindle Angry Birds and Leappad games.
Attended a performance of Swimmy, Friedrich and Inch by Inch by the Mermaid Theater at the McAninch Arts Center - puppets
Special surprise birthday party for Granddad at church -cake, chili lunch, This is Your Life presentation, fun photo session, afterwards at Grandma and Granddad's house with Jessy
Homeschool Climbing Wall Day- two hours of climbing fun!
Haircuts for all three of us
Taking Jessy for her pre-op appointments and her surgery (a spay) – reading lots of posters on the wall about the link between overweight animals and diseases, posters on hear worm, ringworm and other diseases.
Steve's Birthday party at his parent's house
On the Computer, Kindle, I-Phone, or LeapPad Explorer 1
Kindle: 
PC Games: Websites:  www.lego.com, www.petfinder.com, www.cool-math.net. www.mindcraft.com
Nintendo Wii: Mario Cart, Skylander Giants, Lego Indiana Jones
Nintendo DS-
I Phone – Jurrasic Park Builder, Tiny Death Star
Photo Credit: gordsam
What were some of your favorite activities from March?
Share on Facebook