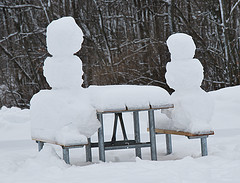 Tomorrow is the first official day of winter. It's already snowed a few times where I live, so the rest of my family is definitely in the winter mood.  I'm not a cold person, though, so I don't really like to acknowledge that winter is actually here until the calendar tells me it is!
In spite of the cold, there are a few things  I do really look forward to every winter:  going on nature walks in the woods, pulling the kids in the sled (ok, my husband really does that J), drinking lots of hot chocolate and cuddling up in blankets with the kids for hours, reading lots of great books.
So, I have my traditional winter things I like to do, but this year I had some ideas for some unusual things we could do, too. I'd like to share those with you today.
Here are 10 Out-of-the-Ordinary Wonderful Winter Activities
 1. Read some winter literature. Some suggestions for younger children:  Owl Moon by Jane Yolen, The Snowy Day by Ezra Jack Keats, Katy and the Big Snow by Virginia Lee Burton.  For middle readers:   Julie of the Wolves by  Jean Craighead George,  The Golden Compass by Philip Pullman, The Long Winter by Laura Ingalls Wilder. For older readers,  Voyage of the Narwal by Andrea Barrett, The Call of the Wild by Jack London and Dr. Zhivago by Boris Pasternak.
2. Set up your own Winter Olympics. You could do this as teams within your own family or compete against other families. Do some research on the different events that take place during the Winter Olympics.  Find out which sports activities are available in your area. Then set out a schedule for participating in those sports throughout the winter. You could do it just for fun, or set up teams and compete in the various games.
You might also want to do a little more study about the winter games, too. Research more about the history of the games, check out some awesome videos on the science behind some the winter sports, or read an inspiring biography of a Winter Olympian champion.
3. Have a snowball fight in the summer. Why am I giving you a suggestion for something to do in the summer while it's still winter? Because you need to prepare now! Make as many snowballs as you can that will fit into a space in your freezer. (We're really lucky that we have a large deep freezer in our basement.) Then, during your 4th of July celebration (if you live in the US) or other summer holiday festival, take them out of the freezer for a summer snowball fight!  (I found this fun idea in the book The Kid's Nature Book: 365 Indoor/Outdoor Activities).
4. Play winter bingo. Gather together any magazine pictures, photographs or illustrations you have that remind you of winter. Mark off a grid of five square across and five squares down.  Paste each picture you find on the squares. You can carry around your square cards during a nature walk or when you take long drives in the car. The first person to match a whole row up, down, or diagonally wins the game!
5. Create a winter photograph montage.  For each day of winter from December 22 through March 19th, take one photograph each day that reminds you of winter. It's fine to take the usual pictures of ice, snow and skates, but don't forget those other things like cuddling up in front of a fire or warm woolen socks. At the end of the season, create a digital montage or print out the pictures and arrange them on hard cardstock or a nice canvas.
6. Plan a winter picnic. Pack up a picnic basket of cozy winter foods like warm soup and a thermos of hot chocolate and some thick blankets. Go for a walk in the wood and have your picnic there, or build an igloo in the backyard and eat inside your newly built snow house.
7. Take part in the Audubon Christmas bird count.   I've pulled this directly from the Audubon site:
"The count period for the 112th Christmas Bird Count runs from December 14, 2011 through January 5, 2012.
From December 14 through January 5 tens of thousands of volunteers throughout the Americas take part in an adventure that has become a family tradition among generations. Families and students, birders and scientists, armed with binoculars, bird guides and checklists go out on an annual mission – often before dawn. For over one hundred years, the desire to both make a difference and to experience the beauty of nature has driven dedicated people to leave the comfort of a warm house during the Holiday season.
Each of the citizen scientists who annually braves snow, wind, or rain, to take part in the Christmas Bird Count makes an enormous contribution to conservation. Audubon and other organizations use data collected in this longest-running wildlife census to assess the health of bird populations – and to help guide conservation action."
8. Watch an ice musician perform.  This guy makes a living creating music out of ice. Check out this video on Youtube.  How could you create musical instruments of your own out of ice?
9. Watch Shackleton's Voyage of Endurance.  My husband read the amazing story of Ernest Shackleton, a legendary explorer who, during 1914-1916, was stranded with his crew of men for over a year on Antarctica's ice-bound seas. It's an incredible story of humankind's ability to survive even in the harshest conditions.
10. Learn about winter festivals from around the world.  Check this site for a list of winter festivals that are celebrated around the world. Choose a new festival or holiday from the list to celebrate this new year.
Photo Credit: bobosh_t
What unusual winter activities do you do in your home?