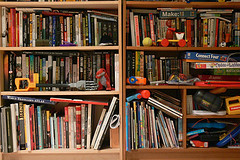 I'm still playing catching up with my learning logs so I didn't write a lot this month about the things we did- pretty much just made out a list for you! But I've included lots of links in case you want to research any resource in more depth.
Highlights of the Month: Went to lots of birthday parties this month. We also attended two plays that were really cute.
But the biggest highlight of the month happened on April 26th. We boarded a plane for London! We were so blessed to spend 17 days traveling across England, Wales and Ireland. Next week's post will be our top 15 highlights from that trip. 
Books – Together
The Middle Ages: An interactive history adventure
The Sailor Who Captured the Seas and Other Celtic Tales
Patrick Patron Saint of Ireland by Tomie dePaola
Started reading Inkheart at bedtime
Alexa's Reading List
The Golden Compass- finally finished reading this! I ordered the second book in this series for her to bring with on the trip
The Subtle Knife – started reading the sequel to the Golden Compass
Jared's Reading List
Besides his Lego catalogs, not much else
TV/DVDS
Life in the Middle Ages series by Schlessinger Media- The Doctor
Cathedral- a PBS production based on the book by David Macaulay
Castle– a PBS production based on the book by David Macaulay
3 disks from the series Animated Tales of the World– England: Cap 'O Rushes, Ireland: The Boy Who Had No Story and Ireland: Fionn
The Secret of Kells- what a gorgeous animated story!
William Shakespeare's Stratford – a great documentary taking a tour of the 5 famous Shakespeare's birthplace
Episodes of Phineas and Ferb
Episodes of Winks
Episodes of Once Upon a Time
Episodes of American Idol
Episodes of Star Wars: Clone Wars 
Episodes of Pokemon: Black and White
Episodes of Jackie Chan Adventures
Games/Puzzles/Kits/Activity Books
Magic Science: 50 Jaw-Dropping, Mind-Boggling, Head Scratching, Activities for Kids–
Broken Pencil and Disappearing Pencil: experiments involving reflection and refraction
Sticking Cup – Using air pressure to stick objects to one another
Attracking Cans – using Bernoulli's principle (air pressure)
Raw or Cooked – How to tell if an egg is raw or cooked by spinning it ( center of gravity)
Writing/Spelling/Grammar
Sequential Spelling Lessons 81-88
Still working on learning cursive with their Kumon My Book of Cursive Words book and are almost finished
Jared is really into writing lists now (now where did he get that from I wonder?). On Easter, he spread out all his candy and made a long list of all the different categories of candy he received 🙂  He also wrote many lists of heroes and villains from his Lego catalogs.
Alexa has also written quite a few journal entries in her notebook, too along with several birthday notes to family and friends.
Marvelous Math 
Life of Fred: Ice Cream Lessons 1-10 – Kids have all multiplication facts memorized and are working on two digit multiplication as well as 4 digit division. It's amazing to me at age 7 what they can do only doing formal math type work about 1 1/2 -2 hours every week. Learning math doesn't have to be painful or take a lot of time!!!!!!!
At Home Fun
Inside: Building with Legos, pretend games
Helped Steve paint our bedroom
Alexa is very into watching music videos on YouTube, listening to music on ITunes, and singing songs from the movie Frozen
We've started an on-going project of organizing the entire house in preparation for a garage sale at the end of August. Almost every day of the month, the kids' and I spent a half hour going through every item in their room and organizing it. So far we have 4 very full garbage bags full for the sale! We still have the playroom upstairs, the basement, and the rest of the bookcases to go through.
Steve grandmother and aunt came for a visit – dinner at our house, dinner at Steve's parent's house
Kids were so helpful with getting ready for our big trip: Grooming Jessy and giving her a bath, scrubbing the kitchen floor, vacuuming, cleaning out the microwave, packing, dusting,
Outside: some scooters, taking Jessy for walks around the block, shot bows and arrows, playing "ninja", helping Steve lay down rocks along the side of the fence, made a home for roll pollys, swinging on swing
Out of the House Activities
Weekly: Library Visits, Grocery Shopping, Church, Gymnastics,
Homeschool Group:
-I lead another morning of Magic Science Tricks with the kids * See the Games section of this learning log for more info
-Rembrandt lesson from Meet the Masters – Powerpoint presentation and quiz. Art project – learning drawing techniques for showing perspectives, drawing rooftops showing perspective
Kids' went by my mom two days this week – They did a lot of work for my mom and earned some money by dusting, vacuuming, doing dishes. They also: went shopping with her,
My Princess Party birthday party – Friend's birthday party: dressing up, makeup, games, "tea" party, runway show, presents and cake
Schoolhouse Rock performance at the Marriott Theater in Lincolnshire
Cousin's Birthday Party – Also Easter egg hunt, playing with water balloons, and a Piñata
Easter – Steve's parents' house – dinner and Easter Egg hunt, time with out of town relatives
Five Little Monkeys' performance at Schoolstage performance at the McAninach Arts Center at College of DuPage
Homeschool Climb Day at Vertical Endeavors in Warrenville 
Awanas Award's Night – out for ice cream afterwards
On the Computer, Kindle, I-Phone, or LeapPad Explorer 1
Kindle: 
PC Games/ Websites:  www.lego.com, www.poptropica.com,
Nintendo Wii: Mario Cart, Skylander Giants, Super Mario Galaxy II
Nintendo DS-Pokemon White
I Phone – 
Photo Credit: gordsam
What were some of your favorite activities from April?