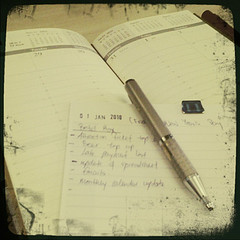 When I was a teacher I was required to keep lesson plans-detailed lesson plans that outlined every page we would read, every writing assignment I'd give to the kids and every new vocabulary word we'd learn that week. In theory, this seems smart, right?  It's a good thing to plan ahead for what you want to accomplish, to give focus and structure to your day, right?
The problem with lesson plans is that they don't revolve around you. They're supposed to be outlining what OTHERS will do. Now, I'm a planning person by nature. I love to have goals, but I understand the importance of flexibility and that priorities shift, even hourly sometimes.  I like to have a big picture of what's important to me, but I know that if I don't accomplish my plan each day than there's a reason and purpose for it.
Schools, and often many homeschooling families, want to plan out an entire week or even year's lessons ahead of time. They want to say what will take place and when it will take place; they want to stick with the plan and feel "behind" if they don't. Their "plans" often come from a curriculum program that doesn't have individual children's interests or strengths in mind.
It's impossible to plan in detail what your child will learn even a few days from now; if you try to stick with the plan you'll either be frustrated at how life changes those plans or you'll miss the wonderful, spontaneous opportunities that come along the way. read more
{ 0 comments }