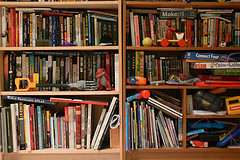 I knew December would be a busy month, and it felt busy, but as I put the finishing touches on this list, I was amazed at how much we did this month! I'm sure things were the same in your house, too.  And this was after I worked hard and not letting us get so busy that things became too stressful.
Each year I try hard to keep our schedules as open as possible. I'm pretty happy with how I did this year, but I've learned a few more things, like not scheduling anything the week before Christmas so we can do more fun things around the house, that hopefully I can implement next year.
On Christmas Day, Alexa came down with a fever. Jared came down with a fever and croup a few days later. And now I'm fighting off another sinus infection (despite having our crawl space sealed, drain tiles put in and a heavy-duty dehumidifier running). But I spent almost a week snuggled up with Jared at night, something I hardly ever get to do anymore now that he wants to sleep in his own bed.
I have quite a few new resources to share with you. Look at our Christmas games and toys. Lots of fun stuff there. You'll probably also like the CDs and Things we did at Home section, too.
Here's to a wonderful New Year!
Books – Together
A Visual Dictionary of Victorian Life
Frankenstein- A Monstrous Parody
Leprechaun in Late Winter (A Magic Treehouse book)
Leprechauns and Irish Folklore (A Magic Treehouse Research Guide)
The Little Match Girl- this is an absolutely haunting and beautiful book by Hans Christian Andersen.
The Legend of the Poinsettiata
The Remarkable Christmas of the Cobbler's Sons
Hawaiian Night before Christmas
The Secret Santa Mystery (A Scooby-Doo book)
Garfield's Night before Christmas
The Cobweb Christmas- the legend of tinsel
The Berenstain Bears and the Nutcracker
Why Christmas Trees Aren't Perfect
Alexa's Reading List
Mid-Atlantic (A Let's Discover the States book)
Encyclopedia Brown Finds the Clues
Jared's Reading List
The Flying Vampire
Little Bear and the Marco Polo
Flat Stanley and the Haunted House
TV/DVDS
Storywatchers Club: Adventures in Storytelling: World Folktales v1
How the Grinch Who Stole Christmas
I Want a Dog for Christmas, Charlie Brown
The Nightmare before Christmas
Rudolph the Red Nosed Reindeer
Dreamworks Holiday Classics Special
A Turtle's Tale: Sammy's Adventures
Episodes of My Little Pony: Friendship is Magic
CDs
Hallelujah, Handel! –a Classical Kids Production
Highlights from Handel's Messiah
More Irish Folk Tales for Children
Lot of Christmas music on the car radio
                Games/Puzzles/Kits
Life of Fred: Cats Chapters 9-19
Top Secret Adventure Puzzle Book– This month the book was about Germany. I learned so much!
Christmas Games & Toys
My brother bought us a new Wii game system this year. It's soooo fun! We spent most of the break checking out all the sports games that came with the system package-bowling, golf, boxing, baseball, tennis, sword fighting, archery, Lego Star Wars.
Lego Monster Fighter Sets – Jared loves all things monster – skeletons, vampires, Dracula, Frankenstein. These Lego sets were at the top of his Christmas Wish List. He and Steve put together about 2,200 pieces in 6 days.
LeapPad Explorer 1 – This was one of Alexa's most asked for gifts, but she hasn't played it that much. She likes the app where you have to trace the letters the best.
Caves and Claws– This is a fun game to play as a family. It's a cooperative game which means everyone has to work together to win the game. You are a team of archeologists and must go through the jungle looking for artifacts to bring back to your base camp. Each artifact is worth a certain amount of money. Along the way there are dangers. You are given some remedies to help, but when they are gone, you lose and are stuck in the jungle.
Pictureka!  We only played this once, but I think once the newness of the other toys wears off, we'll come to this again. It's a hidden picture type of game. You race against the clock and other teams to find hidden pictures.
Fauna-  I loved this game! Unfortunately, I think the kids are still a little too young to appreciate it now. Alexa seemed to like it, but you have to do a lot of estimation of length, weight, and tail length of animals which is still a little hard for them to grasp right now. It's a simple game where you draw a card that has the picture of an animal on it. Then you have to guess the area or areas the animal lives and place betting chips on a world map. You also bet on the animal's weight, length and tail length. It's a little more complicated than that, but it's a beautiful game and teaches so many great things- estimation, geography, and biology. I highly recommend it.
Mystery Quest-Secret Island – Jared enjoyed this computer game. It's basically a solitaire and hidden picture game.
Animal Life So far Alexa and I have spent a few hours cuddled together reading this book. So many gorgeous photographs!
Sims 3 and the Pet Expansion– Alexa was so excited about this computer game! She loves creating her own characters, house and animals.
Christmas Fun
Christmas and Skeleton mazes – I just did a Google Search for these and printed off some copies.
Shopped at the Dollar Tree for family presents – Each year we take the kids to the Dollar Store where Alexa buys presents for all the women and girls in the family and Jared buys for the men and boys. Later in the week, they helped wrapped the presents and filled out the tags.
Baked several Christmas cookies together:
Hot Cocoa cookies – Lots of work-just ok-won't be making this one again!
Gingerbread cookies- Lots of fun decorating the cookies like Santa
The kids spent an afternoon with my mom where they baked three different types of cookies with my grandmother. They also helped pull dried vines off the fence, played ping pong, and helped get dinner ready and set the table.
The kids went caroling three times this month (actually all three times were in the same week)
One time was on a Sunday afternoon. We went with my parents, Steve's parents and my sister, nephews, and grandmother. Steve played guitar and the kids and I sang a special number (Alexa dressed up as Mary and held a doll and Jared dressed up as Joseph). Afterwards, Jared and Alexa helped pass out candy canes and tracks to the patients. Afterwards, we bought shakes and hung out at my sister's house.
The second time was at Awanas. Steve and his dad went with the kids while I stayed home to clean the house and write. The group went up and down the street, knocking on doors. They said most people seemed surprised to see them since most people don't carol door-to-door anymore.
The third time we went with my mom and several of her friends to a nursing home we visit every year. The group met for lunch first, and then drove 45 minutes to the home. I really enjoyed watching the kids shake bells, play the drums and dress up at the wise men bearing gifts. We always make such wonderful memories.
At Home Fun
Outside: Finally, some snow! And it came on the first day of winter, too. As soon as the kids woke up in the morning, they dressed in snow pants and coats, ran outside and immediately buried their faces in the snow. (They've done this every year so far on the first snowfall. I'm so sad thinking about the first year they won't do thisL).  I came out and we played chase, threw snow at each other, and I pulled them around the backyard in the sled for awhile.
Inside: Mission games: It's a selfish game I made up when I feel too tired to do run around type of games. I make up different "missions" for the kids and they have to report back to me. They might have to go upstairs and "spy" on the enemy (stuffed animals), or take my phone, go outside, and record enemy sounds on my phone. But they really do like it, too, so I don't feel too bad about making it upJ
Lots of wrestling games and hours and hours of pretend play; Lego and figure play.
Princess Dreams Record-A-Book:  Alexa had received a few of these record books last Christmas. We found them again, and Jared and I spent a morning recording stories complete with sound effects.
The Kids Winter Handbook, Janice VanCleave's Science around the Year, Winter Day Play!– The kids and I sat together with some post-its, marking those activities that we'd like to do in the next few months.
Colored a printed reproduction of the Congo flag. If your kids ever want to do this, there's a great free site that I use to print up blank flags. Go tohttp://www.crwflags.com/fotw/flags/cbk.html.
Crawling around inside the crawlspace– We had our basement crawl space sealed, drain tiles and a sump pump installed and bought a huge SaniDry. Both kids loved crawling around the new, clean space. I'm hoping this will make a difference for my asthma and sinus problems.
Christmas Day-At 7:00 we heard whispers at our door. The kids were arguing among themselves whether it was ok to wake us up. So cute! We opened our stocking and presents from each other, played with new things for awhile, and the Steve and I got ready for my parents and brother to come over. After an early afternoon dinner, we opened more presents. That when my brother gave us the Wii as our family present. We all played sports games for most of the afternoon and evening, as well as a few board games and Legos.
New Years Eve-My parents were supposed to come over, but my dad had to stay overnight in the hospital again (second time this month). But my brother came over for a few hours, and Steve's parents stayed until midnight. After pizza, we had a Wii bowling tournament, played with some Legos, and played a drawing game (everyone writes down a phrase on a piece of paper and then pass it to the person on your left, they have to draw a picture of the phrase and place that piece of paper behind the first paper, then the next person has to write down a phrase based on what the second person drew. You keep alternating between phrases and pictures until you've gone all the way around the circle. Then you look through the pictures and phrase together. Always a great way to get lots of laughs!).
Alexa made it to 10:30 and Jared to 11:00. Jared was so mad at himself the next morning for falling asleep before midnight!
Writing/Spelling
HEV Project Spelling Videos– Alexa saw these when I was looking at the site this month. She LOVED the spelling videos! She started watching them right away and asked if we could go through the videos together every day during our activity time together.
We set up a little three day routine once a week. The first day we watch the video and they copy the words in their notebook. The second day they fill out the free worksheet (first time doing a worksheet and they liked it). The third day I give them the words to spell and they write them in their notebook. It's funny, but they're so excited that when they've finished learning 100 words, I said they could have a spell off. For now they really like this, so we'll keep going until they want to change things up.
Out of the House Activities
Co-op Group at the Library:
–          Pretend you're a Reporter Activity-The kids all sat around me in a circle. I asked them to pretend they were reporters and had just walked into their editor's office. The editor told them there had just been a robbery at a bakery and they needed to interview the bakery owner for a story.
Then they sat for about 10 minutes and wrote a list of questions they wanted to ask the owner. When they came back in the circle, they interviewed the bakery owner (played by meJ) and asked as many questions as they could in 20 minutes. Then they went back and spent about 20 minutes writing their article. They all took turns reading their article out loud for the whole group.
I had a great time with this and so did most of the kids (ages ranging from 5-12). I got to make up a funny story and the kids really enjoyed learning new details about the stories the more detailed their questions became. We also took time to talk about the need interview many different people so the story was not one-sided, how to verify facts and the issues of libel.
–          Experiments with mixing M&Ms using the directions and free lesson plans from a free online science textbook at www.inquiryinaction.org
Weekly: Library Visits, Grocery Shopping, Church, Gymnastics, Swimming Lessons, Awanas
Memorized some verses and did some handbook work for Awanas
Two Bike Rides with Steve – Crazy to be able to say that in December! One of the rides was just 7 days before Christmas Day.  What a warm beginning of the month we had!
Roasted marshmallows in the fire pit outside
Met with friends at a Bounce House place one morning
Visited my Dad in the Hospital– My dad had to go to the ER again for another angiogram (his sixth ER visit of the year). We drove to visit him one morning.
Dentist Visits- It's been a tough month for Jared. He has really soft enamel and the roots of two of his molars have died causing abbesses. So this is the second tooth he had to have pulled and then have a spacer put in. He'll also have to have two cavities filled 3 days after Christmas. He is incredibly brave, though. Poor little guy!
An evening with Grammy when Steve and I went to his work Christmas party – They made secret messages to each other in code and then they had to decipher each other's message (1=A,2=B), watched Lemony Snickets' A Series of Unfortunate Events…again!
Went to a birthday party brunch for 2 aunts: The kids made up several pretend games. One aunt ran around the house with a blanket on her head as the "ghost" chasing them. Alexa sat down with another aunt and learned how to write some cursive letters.
Several afternoons and evenings at Grandma and Granddad's: Cow gun and rubber band fights, watching the Fox and the Hound, climbing up play equipment at McDonald's, a few Avengers episodes, practicing gymnastics, pretending to be cows.
An afternoon with Grammy and cousin Owen: After my mom and Owen watched the kids at  their gymnastic class ( both Jared and Alexa have moved up a level!), they did made an Angry Birds mosaic, completed Angry Birds mazes, and played outside and inside making up pretend games while I finished the rest of my Christmas shopping.
Another Christmas celebration Day at my mom's house – We celebrated 4 days after Christmas with my sister since she couldn't be there Christmas Day. We opened presents and then had dinner. After dinner we enjoyed talking with each other and looking at and playing with new gifts.
On the Computer, Kindle or I-Phone
Kindle: Angry Birds (Star Wars, Seasons: Christmas)
PC Games: Explorapedia, Zoo Tychoon 2
Computer: www.coolmath.com, www.starfall.com, www.pbskids.org, www.gogirlgames.com , www.switchzoo.com  (you combine different parts of animals to make new animals).
I Phone: A $2 app Alexa really likes called Martha Speaks Story Maker. It's really cute.
Photo Credit: gordsam
What were some of your favorite activities from December?
{ 1 comment }