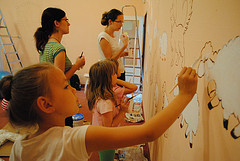 Thanksgiving and Christmas and other holidays are just around the corner. It's often a time when we look for ways to volunteer and give to others in need.
Young children usually love to volunteer.  They love being active and helping others. If you think closely about what they love to do and tap into those interests, you'll find that volunteering not only helps others, but it provides a great way to bond as a family, develops new skills and shows kids that they can make a difference in the world.
Check out these 20 different ways for kids under 12 to volunteer.
Share them with your kids and see if any ideas peak their interests.
1. Walk an elderly or sick neighbor's dog.
2. Put together a Thanksgiving basket for a family in need. I do this with my children each year with our church. Many churches do this, so contact local churches to see if they'd need any help.
3. Count birds, pulls weeds or clean up trails at your local nature center. Most forest preserves will require that young children under the age of 14 be accompanied by a parent.
4. Share drawings, sing songs or make up a play for elderly people in nursing homes. Most of these elderly people do not receive visitors. We volunteer every Christmas by passing out candy canes and singing carols, but older people get lonely throughout the entire year.
5. Plant a garden and share its yields with local homeless shelters or contact local churches for families in need.
6. Clip coupons for organizations like the Overseas Coupon Program where you can send both expired and non-expired coupons to help military families.
7. Read stories to younger children and plan literature activities at the library. Most of these programs allow volunteers as young at 11 years old.
8. Buy inexpensive Christmas decorations at thrift stores and decorate the homes of elderly or sick friends and neighbors who cannot do it themselves.
9. Teach a workshop for younger children. Kids love to learn from other kids. Even kids as young as five years old can think of something to do with the two year olds. They'll need adult supervision, of course, but some children love to share things that they love to do with younger children.
10.  Color or draw a card for a child for people you know who are sick, in the military or who need encouragement. Check out Make a Child Smile's website.  
11. Put together gift bags for children in need. My kids love buying toys, but it's important for them to know that other children don't have the same resources they do.  Oriental Trading Company is a great discounted company that sells fun novelty toys in bulk. Send for five different toys, put them in bags and deliver them to local shelters, woman's shelters or churches.
12. Make and deliver a meal to those who are shut-in. Many kids love to cook and bake. Why not use that interest and help those in need at the same time? Contact Meals-on-Wheels or your local church to help find families in need.
13.  Put on a concert at a local church or hall and donate ticket money to a favorite charity. This is a great way for budding musicians to strut their stuff. Have them gather some of their other musician friends for more variety.
14. Write and illustrate your own book and then give copies away to sick children in hospitals. Check out IlluStory Make Your Own Story Kit. If your kids love to make up stories and draw, they can create their own professionally designed, hardcover book. They can take copies of those books to hospitals for terminally ill children, read them the story and give them a signed copy.
15. Set up a garage sale and give the profits to their favorite charity. You can advertize at local places like the library and park districts and on Craigslist. If your kids like to bake, they can make brownies and cookies to sell.
16.  Ask your local animal shelter if you can help clean cages, walk pets or do other related work. Kids who love animals will jump at the chance to volunteer this way. It may be dangerous, though. You might wind up bringing home a few of the animals yourself!
17. Start a neighborhood newsletter or blog. Kids can ask neighbors if they'd like to subscribe to their blog or newsletter. Your newsletter or blog can be a way for neighbors to share things they'd like to give away, things they need, and services they can barter with others
18. Send books to those overseas who don't have access to a lot of books.  Children of missionaries, diplomats or parents who have jobs in third world countries don't have access to a lot of books, especially those written in English. Frequent thrift stores and garage sales and look at sites like Freecycle or Craigslist for free books that you can send to kids in foreign countries. Contact those kids first and ask them what type of books they like to read.
19.  Start a non-profit organization. Sound daunting? It does to me, too, but there are many children who have done just that. Check out this article at kidzworld.com to read about a few amazing kids who started their own non-profits. You might even write them personally to get some tips on how to get started.
20. Offer to take pictures at a birthday party or other event and make a scrapbook. My daughter loves to take pictures, and I know many other kids do to. Why not offer to take pictures at a birthday party for a busy mom? I love to take pictures, too, but when you're in the middle of a busy party you often forget to take the pictures or it's just too difficult. Put together a digital scrapbook when you're done as well as e-mailing them the pictures.
 Have your children volunteered? What have they enjoyed doing?
Photo Credit: David and Katarina
Sign up for my newsletter and get e-mail updates whenever I post something new. Plus, you'll also get tips, recommendations and bonuses not found on the site. I'll also send you a free copy of my e-book A Thrift Store Curriculum.