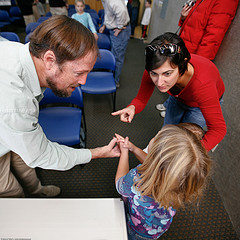 Unschooling and Interest-Led Learning often receives a bad rap both in the media and the larger homeschooling circles. The belief that children learn best when they follow their own curiosity and passions is often dismissed as something utopian or unrealistic. There's also the belief that unschooling is somehow easier and more hands-off than traditional homeschooling methods.
But why?
Having worked with kids ages 12-18 in the school system and especially having two of my own, it seems clear, just by closely observing and talking with kids, that when their passions are tapped, they learn a tremendous amount in a short period of time. When they are tackling their own problems and goals, most kids show a tremendous ability to concentrate and accomplish great things.
We don't buy a curriculum and follow someone else's lesson plan each day. We don't have set hours of the day when we do "school." Because of this, there's constant research, answering questions, spending long hours doing activities and projects at all hours of the day or night, lots of travel and trips, and hours observing our children and introducing them to new ideas and topics. It can be down-right exhausting!
So, what does it take to be a parent of an interest-led learner?
 Belief
The number one key to making interest-led learning successful in your home is to believe that it's the key to successful learning. If you don't believe this, then you're going to have doubts when there are days when your kids look like they're not learning anything because they haven't done anything "academic" looking that day. So how to you make sure this is something you can really believe in?  Ask yourself these three questions.
1.  Closely observe your children when they are absorbed in their interests. Are they learning deeply?
2.  Force your child to do some type of learning. Ask her about it the next day. Has she learned anything deeply?
3. What traits do you want your child to have when they are an adult? Self-starter, creative, passionate, determined, life-long learner, critical thinker?  Or good at accepting information blindly, coloring within the lines, and relying on others to tell him what to do next?
Energy
Homeschooling in general takes lots of energy, but unschooling requires you to be "on" all day long. When my kids have questions at night or are really involved in a project and need my help for several hours at a time, that's a priority for me. Of course, I do set aside time to do my own projects, too, but when my kids need me, that's more important. So what are some tips for sustaining that energy?
1.  Do work you love alongside your children. Be available to them, but work on things you're passionate about too, sometimes. Oftentimes, just you being next to them is enough.
2.  Take some time alone, even if it's just a few hours a week.
3.  Value sleep more than housework.
Imagination
This is especially true when your children are younger. Young children love to play, especially pretend play. So being an imaginative person and involving yourself in that play is really important. But it's also important to be able to imagine possibilities for your kids, to imagine ways to help them reach their goals and meet their needs. What are some ways to do this?
1. Have a creative outlet. I love writing, but it could be photography, art, or scrapbooking.
2. Really get involved in your children's play and play hard. I've found my storytelling abilities getting even better by the hours of pretend play with my kids each week.
3. Take time each week to free write all the ideas and dreams you have for your family. Be outrageous and as over-the-top as you can.
Dedication
Because it's difficult to have the belief, energy, imagination, and resource ideas to guide your interest-led learner, there can be days when you just feel like it would be easier to send them to school or buy a grade level curriculum and just assign a certain number of pages and projects each day. How can you stay dedicated to providing an environment where your children can be free to follow their interests, learn at their own timetables and explore the world around them?
1. Start your own blog and write about everything you are learning as a family. When you think your kids haven't been learning enough, read through your old posts. You'll be amazed at all the learning that's taken place.
2. Keep in touch with other homeschooling moms with the same educational philosophy. Read similar blogs.
3. Have regular dedicated days when you get out of the house and explore new things. They don't have to be the same days every week, but determine that you will spend at least one day a week going out and trying something new.
 Resources
Interest-led learners learn best by hands-on experiences, being introduced to and experiencing a wide variety of topics and connections and doing work that personally meaningful and makes a difference in the lives of others. For that to happen, as a parent you need to constantly keep your eyes open for new ideas, topics and places to introduce to your children. This doesn't mean spending a lot of money. Many things can be done for free. Here are some tips for finding great resources.
1.  Order as many fun looking catalogs as you can. Pick one night a month to sit down with a cup of something hot and yummy and highlight those things that look interesting. Do the same day one day a month with your kids.
2. Type down a favorite book, game or other resource you love into Amazon's search. Then scroll down to the Customers Who Bought This Item Also Bought section. I've found the best ideas this way. Also, use the keywords hands-on activity kits, or hands-on activity books for some awesome ideas.
3.  Check if your area has a free monthly parent magazine.  In most of these magazines, they will list a monthly calendar of activities, tours, and free days to cultural, educational and just plain fun places to visit.
 What important characteristics do you think interest-led learning and unschooling parents need?
Photo Credit:mikebaird
Have you signed up for my newsletter yet? You'll get e-mail updates whenever I post something new on Wednesdays and Saturdays PLUS extra bonuses, tip and free things. Also, I'll send you a copy of my e-book: A Thrift Store Curriculum.