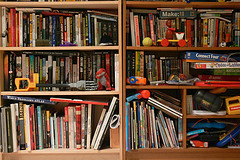 After a hectic first two months of summer, this month was wonderfully lazy in comparison. We hung around the house a lot and didn't travel at all. September looks to be the same way, too, so far. It was a month of both wrapping up old projects like our Minecraft Homeschool class and diving deeper into ones we started a few months ago like our History of Chicago unit. We also spent a lot of time with family.
Highlights from the month: A week of climbing camp at an indoor climbing facility near our home, going to the 1893 Chicago World's Fair exhibit at the Field Museum, reading thorough many of the Series of Unfortunate Events books with Alexa and speculating on the mystery, countless hours of epic Star Wars Lego battles, and getting in as much pool time, bike riding and park play as we could during these last few weeks of summer.
Books – Together
 The Story of Jean Baptiste du Sable
Jolliet and Marquette: Explorers of the Mississippi River
The French and Indian War
Read more sections from Chicago History for Kids
The Gathering Blue – ( a Giver series book)
David's Adventure at the Chicago World's Fair
Alexa's Reading List
A Series of Unfortunate Events: Bk #5 The Wide Window
Jared's Reading List
Ranger's Apprentice Bk 1: The Ruins of Gorlan – still reading this with me out loud
Skimmed through pages of The Lego Book and The Lego Playbook
TV/DVDS
Connecting Worlds: The Story of the Chicago Portage – this is only about 2 miles from our house- a place where we often bike -so it was very interesting and relevant for us to learn about this
The Era of Colonization by Schlessinger Media
The Last of the Mohicans – A Children's Animated Classic DVD
Episodes of Star Wars: The Clone Wars – Spent lots of time watching this with Steve
Episodes of Master Chef
Episodes of So You Think You Can Dance? 
Episodes of Sherlock (The PBS show) Fantastic show BTW!
Rise of the Planet of the Apes
Games/Puzzles/Kits/Activity Books
Minecraft Homeschool– 7 Wonders of the World -ended during the third week of this month
This month we started by studying the art of sculpture, looking at its ancient beginnings and observing and discussing several famous sculptures from Egyptian time until now.
Then the kids had to create a sculpture in the Minecraft environment that looked exactly like the skin of their Minecraft character in the game. They also voted, one vote per day for a week, for their favorite Minecraft sculpture of pixel art entered in the Minecraft Artprize contest.
We had been going strong with this class for most of the summer, but the last two weeks we basically skipped. The class was 12 weeks long and a lot of work to do in the midst of a very busy summer filled with other activities, including trying to spend as much time as we could with friends and family who attend school and won't have as much time to be with us after the middle of August.
It was a good introduction to Minecraft, and the kids said they'd like to take a Minecraft class again in the future. But since it's a lot of work and there are several other things we'd like to do instead in the fall that will take up quite a bit of our time, we've decided not to sign up for a fall class.
Writing/Spelling/Grammar
Sequential Spelling Book 1 Lessons 101-111
Editor in Chief series by The Critical Thinking Co – Beginning 1– and did Mini Review Lesson 3-4, Review Lessons 1-4, Lessons 5-6, Mini Review 5-6, Lessons 7-8, Mini Review 7-8, Review 5-8, Review Lessons 1-8, and Lesson 9
Marvelous Math 
Life of Fred: Jelly Beans Lesson 6-16
I noticed the kids were having some problems with remembering the steps in 3 by 3 digit multiplication and long division since we never do worksheets for these problems, so I asked if they would just do one example of each problem before we do our chapter of Fred.
There was some balking at first, and I said they didn't have to do this, but I explained how in any type of work there is a certain amount of practice needed to reinforce skills so they become second nature. How that by practicing until something becomes second nature allows your brain to work on more difficult concepts. They went with me on this and wound up saying that doing the practice problems wasn't as bad as they thought it would be.
At Home Fun
Inside: Lots of jumping and flipping on the bed, wrestling games
Jared loves his pretend play and will do this for hours by himself sometimes. He's also spent countless hours with Steve this month setting up dozens of Lego sets in the garage and having "epic battles."
Had a resurgence of puzzle play this month. The kids said they want to put together all the puzzles we have in the house.
Steve helped the kids make parachutes with thick napkins, yarn and Jared's soldiers. Then they'd drop the soldiers from the second floor window. Sometimes Alexa would drop the solider and Jared would try to hit it with his nerd rifle on the way down.
One night when I was sick Steve and the kids made a frozen pie with vanilla yogurt and lemonade concentrate.
Sculpting with Sculpty Clay and Playdough 
Outside: Pretend games in the sandbox, nerf gun sniper riffle, chase with Jessy
Out of the House Activities
Weekly: Library Visits, Grocery Shopping, Church, Gymnastics
Several vet, dentist and orthodontist appointments -I'm going to get Invisalign, so while I was getting my impressions taken, the kids went up with Steve to his office (dentist office is in the same building), and hung out with him there for awhile. We took a short trip to see the coy fish, too, in the building's lobby.
Pool with Grammy – last outdoor pool day of the year 🙁 But they just constructed an Olympic sized pool at my Mom's work in the rebuilt fitness center, so I'm hoping the kids can go there once a month during the winter months.
Centennial Beach in Naperville with my sister and her family, and my mom – This pool was created out of a quarry, so it's like a beach in that the water level gradually deepens from the "shore" line.
The kids spent time swimming (Jared was the only one to go down the water slide) and playing in the sand. Of course they talked my mom into buying them an Icee afterwards!
Took a walk with Jessy to several parks where she swam in a creek for the first time
BBQ at Steve's boss's house – Steve's boss has an annual BBQ at his house each summer. He has it catered by Famous Dave's. When we first started going to these BBQ's our kids were the youngest kids there. Now they're becoming the oldest! But Jared and Alexa played a little bit with the 2 and 3 year olds and also enjoyed playing with the dog,too.
A week of Climbing Camp at Vertical Endeavors- The kids LOVED this camp! They went for one week from 9-1 each day and played games, climbed walls-often climbing over 30 times in a day- and had a special pizza party the last day. They even gave each camper a tee-shirt when it was over. Both kids want to do this again next year. Of course until then they'll have their monthly homeschool climbing day to look forward to.
Field Museum – I took the kids to see the latest exhibit at the Field Museum -The 1893 Chicago World's Fair. It was fantastic! We learned so much about the origins of the Field Museum, saw exhibits originally displayed at the fair and had been placed in storage until now, and played with some fun interactive exhibits.
Family bike rides and walks – We rode to a park close to home one evening  and played tag for awhile. Of course the kids often enjoy short rides with Steve after dinner while I clean up. One afternoon this month when I was sick, Steve also took the kids to a small nearby splash pad.
 A Brookfield Zoo day with friends- We try to get in as many zoo days as we can before the cold weather, so we often meet up with friends there.
Family Night at my mom's work – I think this was the 4th or 5th year we've gone to Family Night at the college where my Mom works. My 96 year old grandma was there, too, along with  two of my nephews who were spending the night at my mom's. It was pouring rain that day, so the bouncy houses were set up inside as well as several carnival type games such as ping pong toss, make the basket and ring toss.
Morning at park playing hide and seek – This was supposed to be a homeschool park day, but everyone else cancelled out because of the heat, so the kids and I had an hour long hide and seek game throughout the entire park. I don't usually like playing hide and seek, but even I had fun! And afterwards both kids said it was one of the "best moments of our lives." You can't beat that!
Evening at Grandma and Granddad's – Date night for Steve and I so the kids spent the evening with grandparents playing the game Survivor, going out to eat, visiting the climbing park, and picking out something from the "grandma store."
Weekend with family – One Saturday evening we had Steve's sister and her husband over for dinner. It was a really relaxing, enjoyable time spent talking, roasting marshmallows over the fire pit (until the mosquitoes came out in full force), Alexa and her aunt playing Final Fantasy together, Steve, Jared and his uncle playing frisbee in the back and trying to keep the frisbee away from Jessy and ending the evening watching funny dog videos on YouTube.
The next afternoon we had Steve's parents over for lunch and just hung out talking afterwards for awhile.
On the Computer, Kindle, DS, or Wii
 Kindle: X-Men, Wonder Zoo
PC Games/ Websites:  www.lego.com
DS: Final Fantasy ( watching lots of walk through videos on YouTube)
Wii: Lego Star Wars, Super Smash Brothers Brawl 
Photo Credit: gordsam
What were some of your favorite activities from August?
{ 2 comments }